As if we needed another reason to get overly teary about "Love Actually," one of the stars of the film, Emma Thompson, has revealed that she drew inspiration for her storyline from real-life heartbreak.
The British actress is featured in one of the romantic comedy's few not-so-happy endings when her character, Karen, discovers that her husband, played by the late Alan Rickman, is having an affair with his assistant.
In one of the film's most gut-wrenching scenes, Karen realizes he gave the other woman a necklace she thought was intended for her.
"That scene where my character is standing by the bed crying is so well known because it's something everyone's been through," Thompson said at a fundraiser in London on Sunday, according to The Telegraph.
The "Sense and Sensibility" star struggled with infidelity in her own marriage to actor and director Kenneth Branagh. The pair fell in love on the set of the 1987 BBC drama "Fortunes of War" and married two years later. They became a beloved acting-directing duo in the early '90s, starring in films like "Peter's Friends" and "Much Ado About Nothing" together.
However, their rom-com took its own dramatic turn when they publicly separated in 1995, blaming their busy work schedules. Later, rumors surfaced that Branagh had begun an affair with actress Helena Bonham Carter the year before, while filming and co-starring in "Mary Shelley's Frankenstein."
"I had my heart very badly broken by Ken. So I knew what it was like to find the necklace that wasn't meant for me," Thompson said Sunday. "Well, it wasn't exactly that, but we've all been through it."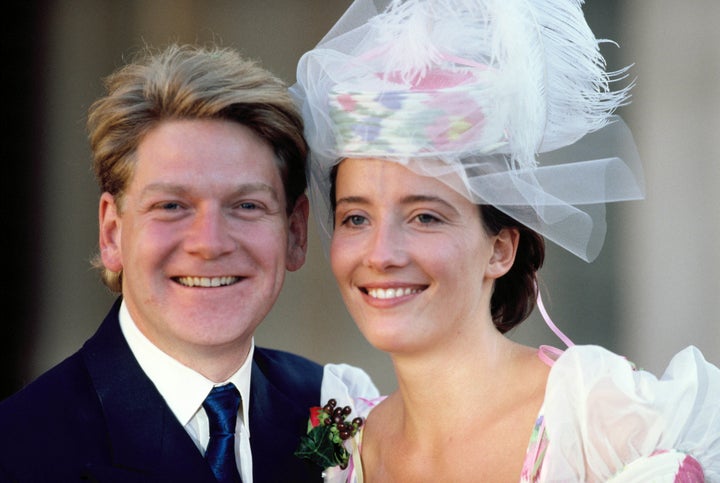 Thompson essentially confirmed that the affair was more than just speculation when she revealed that any bad blood about the breakup was "under the bridge" in a 2013 interview.
"I've had so much bloody practice at crying in a bedroom, then having to go out and be cheerful, gathering up the pieces of my heart and putting them in a drawer," she told The Telegraph.
"You can't hold on to anything like that. It's pointless," she added. "I haven't got the energy for it. Helena and I made our peace years and years ago."
The Oscar winner went onto marry actor and producer Greg Wise in 2003 and they now have two children together. That same year, Branagh tied the knot with his current wife, Lindsay Brunnock.