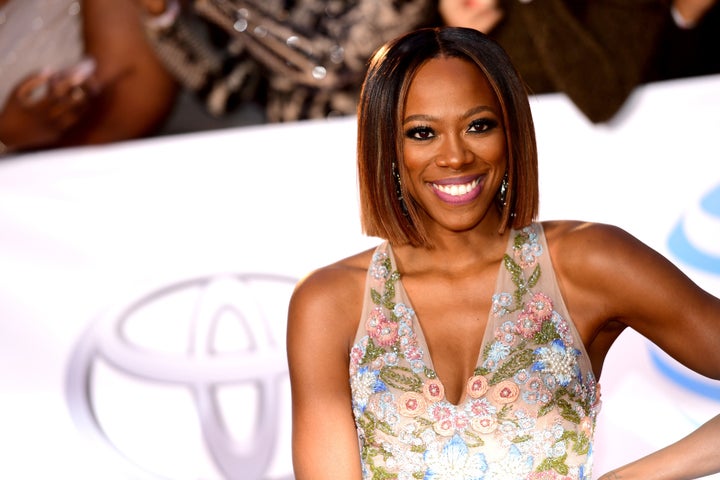 Yvonne Orji knows what she wants and knows how to get it.
The 34-year-old known for her role as Molly on Issa Rae's "Insecure" has been putting in work for years. Upon returning to the U.S. after working on HIV prevention in Liberia, Orji took a leap of faith and abandoned her original game plan of becoming a doctor for a career in comedy.
"I remember my mom [saying], 'I don't know… this acting thing, I don't know,'" the Nigeria-born, Maryland-raised actress told HuffPost of her mom's reluctance to buy into her career change. "Then Lupita won an Oscar, and then she said, 'Your friend has won.' I didn't even know Lupita at the time … but it became real for my mom."
For seven years, Orji hustled to perfect her craft. She wrote, took acting classes, waited tables and seized every available opportunity to perform when she moved to New York. She eventually got a job as an artist in residence at the University of Richmond before moving to Los Angeles to write for TV One's "Love That Girl." While in LA, she wrote a web series loosely based on her own life, "First Gen."
It took nearly a decade of consistent grinding, but Orji finally got her break in October 2016, after auditioning for what's now one of the biggest shows for black millennials. She's also toured with Chris Rock and has a forthcoming project with Kevin Hart and Tiffany Haddish.
She shared that the recipe to her success has been preparedness and faith.
"'Stay ready' has been like my mantra before 'Insecure' and all. A lot of people hustle differently, and I was like, you know what, let me hustle and create and let me have something to show, cuz my hustle led to opportunity," she shared.
Orji spreads this message in her latest campaign with Colgate Total, in which she advises folks to "stay ready and you don't have to get ready," because opportunity is likely to knock when you least expect it.
"For me, staying ready has always been like the preparations, do the behind the scenes or do what you think that's not sexy that nobody will see, but when they do see it, it's like, 'Oh, snap … what she's doing on her own, we'll add to that and it'll blow up.'"
The other side of the formula, Orji's Christian faith, is what keeps her going when the path to the finish line isn't always as clear.
"I let [my faith] guide me, because if I try to take the wheel, it's about to be a mess," she said. "I can only see what's in front of me, but God can see what's behind, what's ahead of me, what's beside me, and it just makes it so much easier to release control, cuz at the end of the day, if He brought me to it, He's gonna have to bring me through it."
It's only up for Orji, who's currently filming Season 3 of "Insecure." She takes the space she occupies seriously, championing the complexity and diversity of black people that should be celebrated on screen.
"I learned so much about black friendships, black experiences, through the show. I'm like yo, I'm learning a different type of blackness by being in the show," she said, calling the opportunity a "blessing."
"There are different types of experiences, and all of them are valid and all of them deserve to be portrayed in a real way."
Orji even dished a tad on her take on Molly's messy-ass relationship with Dro ― who claims to be in an open marriage ― in the forthcoming season.
"I told Issa, I said listen, can you just give me like 2 episodes of happiness? She was like, 'Nah. If we do that, then the show's over,'" Orji said. "Y'all know my character is hecka messy and I hope she gets it together for my sake and for hers."
"Insecure" Season 3 airs later this year.