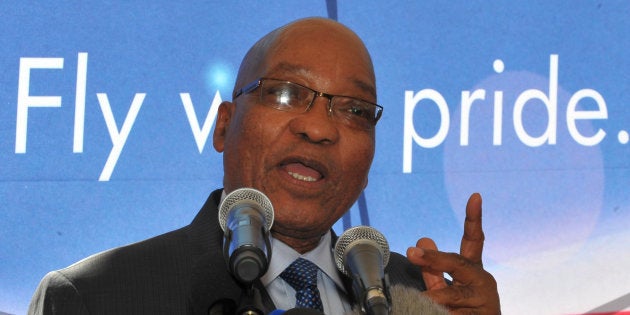 It's a far cry from the presidential airplane, but former president Jacob Zuma did not seem to mind having to fly commercially, when he was spotted on a Kulula Airlines flight on Wednesday. According to Eyewitness News (EWN), a Facebook user, Simon Hodgson, posted a picture on social media of himself and the former president aboard a Kulula flight on Wednesday, with the caption, "Didn't expect my Wednesday to start like this."
A smiling Zuma was photographed wearing a suit and a South African flag on his blazer lapel. He is no longer booked on private flights at state expense, after leaving office earlier this year.
He reportedly visited Winnie Madikizela-Mandela's home in Soweto on Wednesday to pay his respects to the late struggle icon's family.
Last week, President Cyril Ramaphosa was spotted aboard an economy class Safair flight to Durban. News24 reported that his spokesperson, Khusela Diko, said Ramaphosa would always use the most practical and cost-effective mode of transport.
Zuma's high-flying life appears to have come to a swift end on the ground, too. In an interview with the Sunday Tribune earlier this month, his brother, Khaya Zuma, said the former president spends his days relaxing at Nkandla and reminiscing with family about his youth.
"We sit under the tree and watch livestock grazing in the fields in our beautiful village of KwaNxamalala with my brother. Those are priceless moments we share lately. He is a happy man," Khaya Zuma reportedly said.
He added," We spend a lot of time with my brother reflecting on our childhood days. We didn't have time when he was president to talk, because he was always busy."
But Zuma will not be relaxing this week if his court appearance goes ahead. He is scheduled to appear in court on Friday on 16 charges of fraud, corruption and money laundering, although his legal team is reportedly trying to prevent the court appearance, and is will appeal against the state's decision to prosecute him.