Sainsbury's has announced it is launching 'no touch' chicken products in May, so squeamish millennials who hate handling raw meat can avert the process entirely.
The plastic pouches will be available on three chicken products and will enable customers to tip pre-cut marinated chicken pieces straight into a saucepan, without getting their hands dirty.
The move comes after research by Brand Potential found two thirds of people are "very concerned about hygiene and contamination" when it comes to handling raw meat, particularly chicken. Almost a third of respondents have an aversion to touching raw chicken and over 40% would actively choose to buy products in packaging where they don't have to touch the meat.
Katherine Hall, product development manager for meat, fish and poultry at Sainsbury's, told The Sunday Times: "Customers, particularly younger ones, are quite scared of touching raw meat. These bags allow people, especially those who are time-poor, to just 'rip and tip' the meat straight into the frying pan without touching it."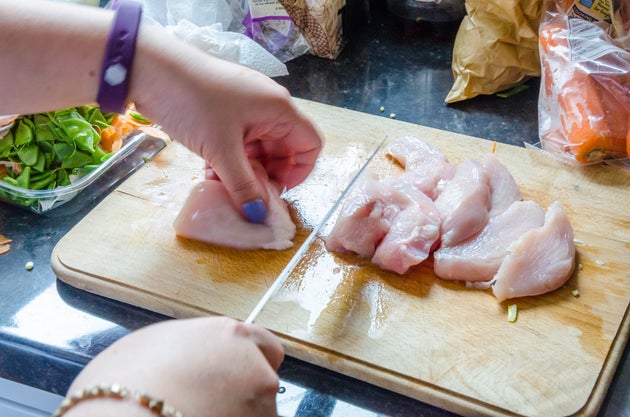 Sainsbury's mini chicken breast fillets cost £2.50 for 320g, while their new chicken pouches, which come ready-marinated, cost £3.50 for 300g. The three flavours are citrus tikka chicken, chilli and garlic chicken, and Teriyaki Asian style chicken.
If you want to save yourself £1, here are some tips for handling raw meat and steering clear of food poisoning:
:: Store raw meat at the bottom of the fridge so juices can't drip onto other foods and contaminate them with bacteria.
:: If defrosting, make sure you defrost in the fridge rather than at room temperature. If you defrost in the microwave, make sure you start cooking immediately after.
:: Wash hands thoroughly with soap before and after handling raw meat.
:: Don't wash raw chicken. The FSA states that cooking will kill any bacteria present, including food poisoning bug campylobacter, whereas washing chicken can spread germs by splashing.
:: Use a plastic chopping board for preparing meat and keep this separate to the chopping boards you use for bread and vegetables (if you can).
:: Do not under any circumstances prepare vegetables on an unwashed chopping board after you've cut raw meat on it.
:: Thoroughly wash utensils and chopping boards after preparing raw meat, making sure you use hot water and don't scrimp on washing up liquid. If meat juice escapes onto the kitchen worktop, make sure you clean it up.
:: Poultry, pork, offal (including liver), burgers, sausages, rolled joints of meat and kebabs all need to be cooked thoroughly before eating.