A U.S. woman gave birth alone in a hotel room in Turkey, with only YouTube tutorials to guide her through labour — after she doubted she was really pregnant.
Tia Freeman, the 22-yer-old who shared her extraordinary birth story on Twitter, was travelling on holiday from the U.S. to Germany on March 7 via a connecting flight in Istanbul, when she started having contractions.
Instead of going to a hospital or finding a doctor during her 17-hour layover to help her deliver her son, Xavier Ata, Freeman says that "in true millennial form", she used the internet to help.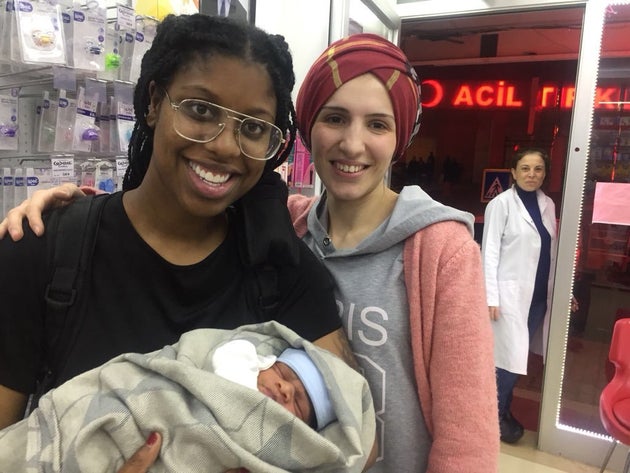 Freeman, who works for the U.S. Air Force, says that when she first found out she was pregnant — by which point she was in her third trimester — she was completely in denial about what was happening.
Primarily because she had been on birth control at the time, and secondly because she didn't want to waste a summer holiday she had booked in advance. So instead of visiting a doctor, she boarded the flight.
During the 14-hour journey, she started to feel unwell: "I don't know if it was the salmon, or it was just my time — but out of nowhere I start cramping up. I've still got like an hour left before we land. I just knew I had food poisoning."
But when she landed and was queuing to go through immigration, it got worse and worse. At which point she realised she was in labour.
I make it to my hotel & now I'm sure I'm in labor. There is no way in the world I'm not in labor because I can barely standup at this point. So I'm in a foreign country, where no one speaks english, I don't know this country's emergency number, & I have no clue what to do. pic.twitter.com/sk6k10zdu5

— Tia Freeman (@TheWittleDemon) April 24, 2018
Instead of calling for help, she filled up the bath in her hotel suite and set up her laptop, so she could watch YouTube videos of childbirth.
She says: "It's weird how focused a person becomes when their adrenaline starts going. Because at no point ever did I freak out. Like, I just did what I had to do."
So yo it's GAME TIME. I don't have time to be nervous. It's time to get shit done. I spring into action. Filling up the tub with warm water #WaterBirth, grabbing a towel to bite down on, grabbing another towel to wrap him/her up with whenever it pops out pic.twitter.com/PVu2SWLCiG

— Tia Freeman (@TheWittleDemon) April 24, 2018
Using her timer on her iPhone, she worked out that her contractions were only a minute apart at this point.
My contractions were already at a minute a part lol I was late as hell. I BARELY made it to my room. 😂😂😂 so I throw the towel in my mouth and start pushing. And I have NEVVVVEEERRRR felt any pain like this in my life. I felt like I was being split open. WHERE WAS MY EPIDURAL?! pic.twitter.com/HGlootcNHu

— Tia Freeman (@TheWittleDemon) April 24, 2018
"Luckily it happened pretty quickly. I only had to push about five or six times before a baby popped out. Lol; now let me tell — you babies are buoyant! That little joker said 'bloop!' and floated right on up to the top of the water," she says.
She then had to deal with the placenta, which was still inside her. Rubbing her abdomen, she waited for it to pass.
Almost immediately as I sit down it plops out. The hotel had these sanitation baggies in the bathroom so I just picked it up by the cord and dropped it in the bag. Now it's still attached to him so now I've got to google how to cut an umbilical cord. pic.twitter.com/urJHrIu9mN

— Tia Freeman (@TheWittleDemon) April 24, 2018
So I didn't have any clamps like it suggested but what I did have were shoelaces lol. Hear me out 😂. In Turkey everyone drinks tea/coffee so every hotel room had an electric kettle. So I just boiled some water to sterilize the laces so that I could use them as clamps. pic.twitter.com/2vObBQz6eu

— Tia Freeman (@TheWittleDemon) April 25, 2018
After she had cut the umbilical cord, she "cleaned up the bathroom, breastfed her baby and went to sleep." The next morning she went to the airport to catch her next flight.
When I get there the airport workers are freaking out bc you can tell this baby is fresh. I legit didn't have any baby clothes & made him something out of my favorite blue oversized button down (RIP 😢). Anyway they thought I was a human trafficker trying to smuggle out a baby. pic.twitter.com/dc0BCDv75J

— Tia Freeman (@TheWittleDemon) April 25, 2018
So they called in customs, the police, a doctor & a nurse (to check the baby & me to see if I actually gave birth), and the airline higher ups. I was bombarded with questions (naturally) but finally I proved that I wasn't a trafficker. During this I called the @USEmbassyTurkey. pic.twitter.com/HH9zQybcHB

— Tia Freeman (@TheWittleDemon) April 25, 2018
She says: "The doctors were shocked to hear my story. I made national news, and people would stop us to take pictures all the time — and a random elderly woman grabbed my boob as I was breastfeeding."
Turkish Airlines staff also bought her an outfit for Xavier, because she hadn't had time to buy anything herself.
Side Note:

Shoutout to @TurkishAirlines this was hands down the best flight, attendants, services, and overall workers I've ever experienced. Everyone was so nice! They bought him his first outfit lol. Because he was damn near naked when he arrived 😂 pic.twitter.com/8R1TbasUJx

— Tia Freeman (@TheWittleDemon) April 25, 2018
When she got home, she had to tell her family that not only had she been pregnant, but she had already had the baby.
Oh and no one knew I had a baby until days after I gave birth to him (not even my mom) so I sprang this story on everyone 😂😂😂😂

— Tia Freeman (@TheWittleDemon) April 25, 2018
Well that is one birth story we haven't heard before.