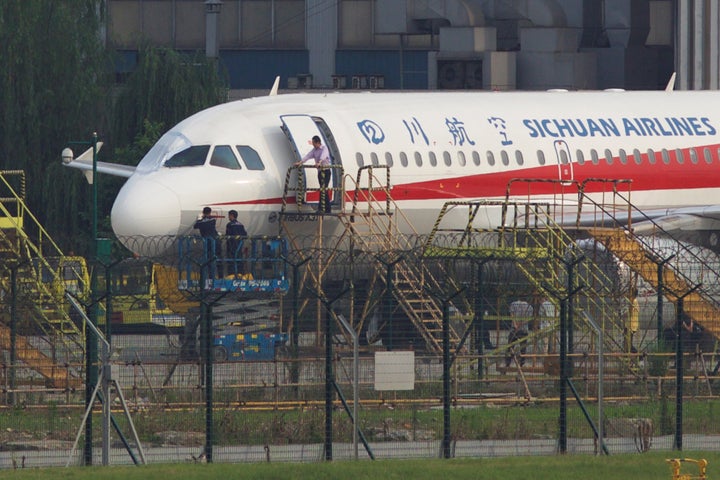 A Sichuan Airlines pilot has been hailed a hero for landing an airliner safely on Monday after a windshield broke mid-flight and his co-pilot was sucked halfway out of the cockpit.
The captain, Liu Chuanjian, told reporters there was "no warning sign" before the front right windshield of the Airbus A319 suddenly "cracked and made a loud bang."
"The next thing I know, my co-pilot had been sucked halfway out of the window," Liu said, according to Reuters. "Everything in the cockpit was floating in the air. Most of the equipment malfunctioned ... and I couldn't hear the radio. The plane was shaking so hard I could not read the gauges."
The co-pilot, who was wearing a seatbelt, was pulled back into the plane, reported Reuters. He suffered scratches and a sprained wrist. Chinese aviation officials said one other flight crew member was injured.
Sichuan Airlines flight 3U8633 was reportedly about 30 minutes into its journey from the Chinese city of Chongqing to the Tibetan capital of Lhasa on at the time. The aircraft was about 32,000 feet in the air.
Passengers described a loud bang, and said they felt the plane go into free fall for a few seconds before it stabilized. One passenger told Xinhua News Agency the plane felt "like a stone falling from a height." Video shared on social media showed passengers wearing oxygen masks.
In the cockpit, the broken windshield caused significant damage. The Wall Street Journal reported part of the flight control panel fell off, and the cockpit was exposed to the "freezing, low-pressure atmosphere outside."
Despite the harrowing circumstances, Liu managed to safely make an emergency landing in Chengdu, a city about 250 miles east of Chongqing. None of the plane's 119 passengers was reported injured.
Authorities said they were investigating the cause of the windshield failure.
Millions of people in China commented on the pilot's actions on the Twitter-like social media platform Weibo, according to Agence France-Presse, with the most popular post titled "My Hero Captain."
In April, a Southwest Airlines passenger was killed after an engine explosion caused a cabin window to shatter mid-flight. The passenger, Jennifer Riordan, was partially sucked out of the plane and died of impact trauma.
Another Southwest flight was forced to make an emergency landing in early May because of a cracked window.