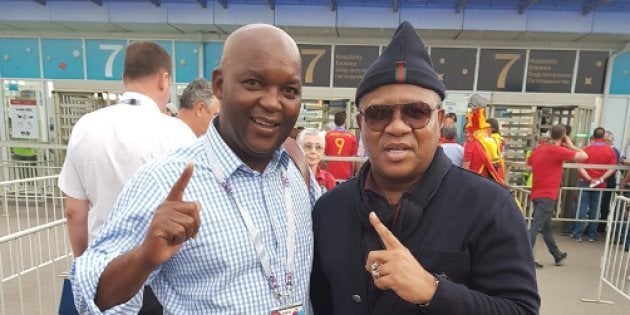 Remember the 2010 Fifa World Cup slogan, when the world's biggest tournament was in South Africa? "Feel it, it is here"?
Well, it seems former sports minister Fikile Mbalula and Mamelodi Sundowns coach Pitso Mosimance are definitely feeling the hype of the 2018 Fifa World Cup in Russia — together, that is.
The pair seems to have a bit of a bromance going, as Mbalula has been posting photos of the two attending World Cup games together.
With my number one coach "Jingles"Fikile Mbalula to Pitso Mosimane on Twitter
They were first spotted in Sochi, where they attended the blockbuster Spain versus Portugal game that ended in a 3-3 draw.
Mbalula has long been known to love high-profile sporting events. In 2015 he attended the "Fight of the Century" between Floyd Mayweather Jr and Manny Pacquiao.
Mosimane, of course, is the coach of eight-time PSL winners Sundowns and is a CAF Champions League winner, so the zeal for football is understandable. The pair were again seen on Sunday, this time in Rostov as they watched the match between Brazil and Switzerland.
Mbalula was not done there — he was also spotted with former Bafana Bafana coach Joel Santana and business mogul Tokyo Sexwale.
With the World Cup still in its embryonic stages, we look forward to watching the bromance between Mosimane and Mbalula develop...