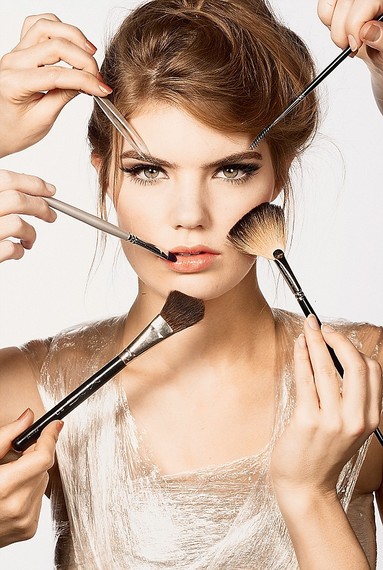 You don't need the salary of Cindy Crawford to look like Cindy Crawford. You also cannot believe everything you read on Google. With that said, there are hundreds of at home beauty tips using natural and essential oils, and other beauty products found at your local pharmacy. In the case that I might inundate you, here are just a few of them that I recommend.
1. Grow Your Hair Longer and Quicker: Rosemary Essential Oil. You don't need to purchase the Weleda Rosemary Oil treatment, you can and it works well. However you can just purchase the Rosemary Essential Oil, online or at Whole Foods, and put 2-6 drops on your scalp and rub it in, do this daily. The Rosemary stimulates your hair follicle creating hair growth. If time allows, once a week do a 60-minute hair treatment with Extra Virgin Olive Oil, mixed with a few Rosemary drops. You can cover your head with a plastic bag in order to keep the heat in, then wash and condition.
2. Treat Acne or One Stupid Zit: Tea Tree Essential Oil or Melaleuca Essential Oil, just dab the oil directly on the affected area before bedtime and it should be nearly gone the next morning. You can repeat for 2-4 nights.
3. Do It Yourself Make Up Remover: Organic Coconut Oil will take off all make up. It is also great to use as an overnight masque or moisturizer. Even if your skin is considered oily, Organic Coconut Oil is a great treatment for all skin types.
4. Even Skin Tone: If you are looking to even your reddish skin tone on your face, I recommend the Loreal Magic Anti-Redness Correcting Primer. You just put a little on before your powder or foundation, and your face is instantly lighter. Anything green helps mellow redness. If you are looking to even the skin tone on your arms and legs, you can use Sally Hansen Airbrush spray found at CVS, or you can use MAC body make up. Both are amazing.
5. Repel Insects, Specifically Mosquitoes: I know this might not be considered a beauty trick per se, but waking up with 15 bug bites isn't necessarily attractive. Put 4-8 drops of Eucalyptus Essential Oil, into your palms and rub on your ankles, legs and other exposed areas.
6. Swollen Eye Treatment: Usually if you are waking up with swollen eyes, you must have allergies. I recommend Lavender Essential Oil to be rubbed on your temples, your throat, and even the bottoms of your feet before bedtime. The oil being rubbed on your feet will go directly into your bloodstream, and might even make you sleep better because it is very relaxing. This treatment alone has alleviated my swollen morning allergy eyes. I also recommend anti-aging eye cream morning and night. Cucumber eye creams are wonderful, as well as most of the ones you can purchase at Sephora.
7. Hair Dandruff: The best treatment for hair dandruff is the Paul Mitchell Tea Tree Shampoo and Conditioner. Use this every other day and it will completely eliminate dandruff issues. (This might be a tip for your man, but either way it totally works!)
8. Soften Feet and Get Rid of Dead Skin: Mix ¼ cup Listerine, ¼ cup vinegar, and ½ cup warm water, and soak your feet in this for 10 minutes. Then rinse them with a mixture of your liquid body soap and some Sugar in the Raw, the sugar is used to exfoliate and rub the dead skin off. If you are looking simply to soften your feet, just moisturize them with lotion before bedtime, and put on a thin pair of cotton socks. Your feet will be much softer in the morning.
9. Full Body Cleanse: I recommend the Vibrant Cleanse from Whole Foods. It is an Organic powder form of Lemon, Cayenne and Organic Maple Syrup. You can drink 6-8 glasses of it per day, and drink as much water and tea as you want. Do this 3-30 days.
10. Flatten Your Tummy: Nothing works, but sit ups and salads. Don't buy a bunch of pills to do this, they simply don't work.