Ladbrokes, one of the UK's oldest and most established bookmakers, recently introduced a new betting service that allows fresher's to bet on their own final degree classification.
The new service, which is available now at www.Ladbrokers.com/students, covers odds for any fresher's degree classification in any of the UK's top 20 Universities. The odds are cleverly measured by taking into account a student's University, degree subject and A-level results.
For example, a student such as myself with an Economics degree from Manchester University and 3 A's at A-level could receive odds of 9/1 for a 1, 5/6 for a 2:1, 12/5 for a 2:2 and 6/1 for a 3.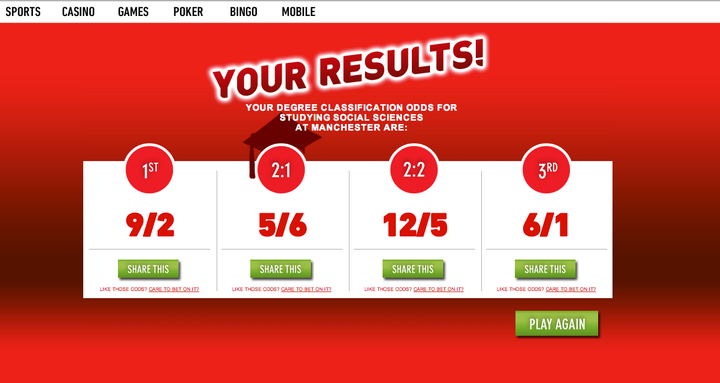 For Ladbrokes, the new student betting service is presumably nothing more than a PR and marketing stunt. After all, with a maximum stake of £10 per student, it significantly limits the type of damage or negative outfall that could arise from the service.
According to Alex Donohue from Ladbrokes, who was in charge of the scheme: "Every year we get requests from parents who want to back their pride and joy to go on and get top grades at universities. We decided to build a site that streamlines the process and sets it up in a more formal way."
However, what appears like a publicity stunt does still force us to look at the current state of student gambling and ask questions as to whether opening up a new marketplace specifically for students was a smart move for Ladbrokes.
The current state of student gambling isn't exactly great. A recent survey from SavetheStudent.org has shown up to 20% of students had resorted to gambling to help with their student finance. Another survey conducted by ITV in 2013 revealed that 5% of students had turned to gambling to help cope with the rising costs of University.
The problem for the student population is that gambling, which used to be a past time for the adult population, is increasingly becoming a more popular recreational hobby among young adolescents. Students now regularly visit local casinos after a heavy night out. A Leeds University survey showed that 60% of students said that either they or their friends gambling frequently. According to the Leeds city council there are more than 130 bookies, casinos and bingo halls in the surrounding area.
Unfortunately that article also reminds us of victims of gambling addiction who have lost their entire student loan and come close to taking their own life because of gambling debts.
Personally, I have never really understood the psychology behind addiction. However it does seem clear to me that students are part of a particularly vulnerable group in society given the high debts, overdrafts and limited income that most of them receive. For many students, gambling could be seen as one of the only ways out. In fact, this is the same argument for why payday loan lenders have been banned from University campuses across the UK.
The Editor of OddsWinner.com, a site which covers sports betting odds and news, told us that opening new markets tends to be more of a marketing stunt for bookies then a political mission to attract customers in that market:
"One of the unique challenges for bookmakers in this age is to open up new exotical and novelty markets that can attract lots of publicity, engage users via social media and reach out to recreational punters. For example, in recent months Paddy Power have launched new markets that cover anything from the Royal baby to Edward Snowden and even One Direction stars. The fact that Ladbrokes has decided to offer odds for freshers on their final degree classification, with the unique ability share their odds via social media, is another example of this new era of marketing. "
In any case, while I don't think gambling should be completely banned to students (after all, I did used to enjoy a friendly, social game of poker whilst at Uni), I do think society needs to be careful about the type of message they're sending across to younger generations.
While placing a £10 bet on a final degree classification might seem like a harmless and interesting prospect, in reality it represents a slow encroachment that gambling operators and casinos are having on the student population.