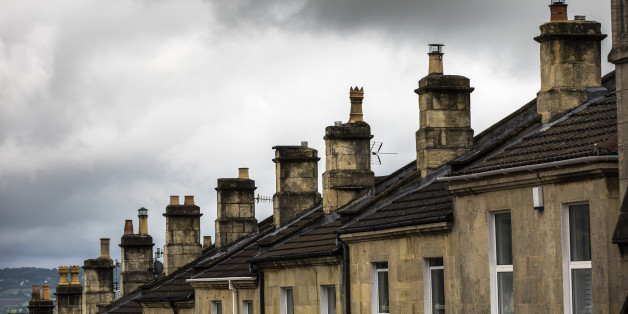 Bloomberg via Getty Images
Most of the major parties housing pledges during the General Election were less ambitious and less radical than necessary if we are to fix the worst housing crisis in living memory.
Theresa May restated the Conservative pledge to boost house-building to 200,000 homes a year, while Labour matched this and threw in a much-needed pledge for half of these homes to be social housing. The Liberal Democrats pledged a more impressive 300,000 new homes a year, but avoided making serious commitments to build large amounts of social housing.
A more ambitious house-building target of at least 240,000 new homes per year is necessary to fix the current housing shortage, this should be coupled with a larger target on social house-building - one which goes above and beyond Labour's manifesto pledge to increase construction of social housing to 100,000 a year.
There is already a consensus within Labour that councils should be allowed to borrow to build council houses but this will not come even close to achieving the 100,000 target, let alone exceeding it. All the way back in the 1950s council house-building peaked at well-over 200,000 per year suggesting more ambitious targets on council house-building are neither utopian nor extreme - what is needed is simply the infrastructure funding that Labour has already pledged (but not specified how much will be allocated to social housing).
We should seriously consider introducing a legal right to housing as is already the reality in Scotland and France, yet this will only be practical if we address both the housing shortage and the lack of low-cost accommodation. Combined with increased social housing a legal right to be housed could have a significant impact on rough-sleeping, which the government have unconvincingly pledged to halve.
Sheffield Council is already leading the way on affordability, building a leading amount of affordable housing. Corbyn and John Healey's planned Department for Housing could easily be used to lead the way in encouraging councils to build larger volumes of affordable housing.
Linked to the concept of affordable housing, which the government currently defines as 80% of market value, is Sadiq Khan's 'London Living Rent' scheme in which many new homes are up to 30% below market value. Rolling out a similar scheme across the entire country would be even more attainable with a new Department for Housing and funding from Labour's proposed billions of investment in new infrastructure. Even under Theresa May, we have seen billions of pounds of extra spending allocated to infrastructure and it would be plausible to direct this kind of funding toward housing. Housing is after all both a social good and an economic investment. A specific target for new homes in the private rented sector to be available at a living rent or below would be a significant step forward in combating the crisis of unaffordable housing.
A Survation survey in 2015 found that less than a tenth of the electorate opposed compulsory legal limits on rents and a solid model of rent controls needs to be drawn up, one that works across the UK or that at least recognises that London is not the only city with soaring rents. Capping rent rises at the level of inflation, as proposed in the last two General Elections by the Labour Party, will not be enough in London, Brighton or Edinburgh. The UK's most expensive cities deserve a rent freeze, coupled with serious investment in social housing and living rent accommodation. We could even go so far as to give councils the power to bar landlords from charging more than a maximum rent for each council tax band. This maximum could be linked to local earnings or go along the lines of Diane Abbott's 2014 proposals in which monthly rent is capped at 50% of the building's annual council tax bill.
Private renters now have little security in their tenancies, and for those my age have never experienced another world. Yet, prior to 1989 tenants had the right to unlimited tenancies unless they broke their contract. Given that home ownership is in decline, resurrecting this right is essential to protecting a tenant's security. Popular proposals for three-year tenancies are a big improvement on the current state of the housing market, but we should also be asking if it is possible to go further given the fact longer term tenancies were the norm only a few decades ago.
It should go without saying that Britain is facing its worst housing crisis for decades, if not longer - yet it is also a massive opportunity to radically reform the housing market and put tenants before landlords.