The Brexit debate has sparked a surge in the number of UK investors choosing to buy gold or defence. Whatever you think of staying or leaving, that looks a smart move as the uncertainty rises.
People tend to buy gold for investment because they fear a currency crisis, a stockmarket crash, or broader financial turmoil. The UK's June referendum on leaving the EU could bring all three judging by the fast-growing number of British savers switching a portion of their money into gold and silver.
Most remarkable is the growth of precious metals demand amongst younger savers - a group rarely associated with buying gold, but more likely to vote to remain in the EU according to opinion polls.
Here at BullionVault - where private individuals can buy vaulted gold and silver quickly and cheaply online - some 30% of our existing UK user-base is aged 60 or over. Amongst new users opening their account in February in contrast, that has fallen to only 7%, while the proportion aged under 30 has jumped from below 4% to almost 17%.
That younger age-group "support continued EU membership by almost two-to-one," according to a survey last month from pollsters YouGov. Voters aged over-60, in contrast, support Brexit by 56% to 44%.
Overall, the total number of new UK precious metals investors is rising sharply too, growing well ahead of the wider global upturn in gold and silver interest since January. Compared with last year's daily average, BullionVault has seen the number of new account openings worldwide jump 60% in 2016 to date. But the UK is up 89%, while all other regions are up 43% on average.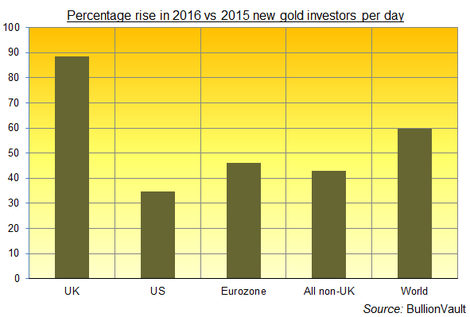 These new UK gold and silver investors are also switching a greater amount of money into precious metals as well. First deposits from UK residents, ready to buy gold or silver, are averaging £8,600 this month, a huge 73% jump from the previous 12-month average.
Finally, the news agenda around Brexit is showing a marked impact on new UK interest in buying gold. David Cameron this weekend confirmed 23rd June as the date of the EU referendum. The number of new UK account registrations at BullionVault yesterday jumped 47.5% from the last 12 months' average for a Sunday.
Does the Brexit debate perhaps mask other reasons for this jump in UK savers wanting to buy precious metals? I don't think so. Broader financial markets face risk everywhere, from the Eurozone to the US and emerging markets. But the out-sized rise in UK gold buyers comes as the drop in London's FTSE 100 in fact lags the bigger drop in other major stock markets, losing 5.2% since New Year while the US equity market loses 6.2%, Germany's Dax falls 12.6%, and Japan's Nikkei slumps 16.1%.
Moreover, the gold price has jumped more in Sterling terms than against any other major currency - thanks of course to Brexit uncertainty spooking forex traders. But that 18% rise has failed to excite newspaper journalists, who continue to tell their UK readership about the 16% rise in Dollar prices instead.
Will jumping into gold because of Brexit uncertainty prove wise once the vote arrives? Longer term, there are good reasons to think of gold as 'investment insurance' for UK assets - a way of diversifying your shares and bonds so that losses are smaller, and returns are smoother, whatever the political outlook. But for now, Brexit fears for the Pound and the FTSE seem to be driving this big rise in UK savers choosing to buy precious metals for the first time. We only expect it to keep growing as the referendum draws closer.
Related