Alicia Millar, co-chair of PRISM, Reed Smith's LGBT network in Europe, the Middle East and Asia (EMEA), has been shortlisted for the Diversity Champion award at the British LGBT Awards
Since when are you out at work?
I have been out at work for at least 15 years, since I started working in law in fact. Before then, I had to face the sad reality on how being gay was perceived in the workplace and how it would even be relevant in the workplace. At my first 'career' job, on the induction day, I was due to meet Andrew, the payroll guy. Beforehand however I was told : 'by the way he is one of them'. I didn't really know what to do with this information. It didn't cross my mind something like this could happen. I was sad because I didn't say anything, should I have? Nevertheless, said Andrew has been a dear friend ever since, and was best man at my wedding.
How did you feel the first time(s) you came out to your family, friends and workplace?
My coming-out moments were always slightly strange. I have always felt somewhat embarrassed to have to come out again and again. I grew up in a very open family. My parents taught me to see the person, the human in people being before other things. When I came out to my father, he said 'I don't care what you do in bed, live your life the way you want'. My parents are both wonderful.
I knew I was different from a very young age. I went to an all girls schooI, there I saw bullying about sexuality and feminine identity and I certainly didn't come out until I was at University. Going back to London, my home town, after University was weird because I had to came out to my childhood friends, and I was a very different person to who I was when I left.
It seems your sexuality has turned out to be an advantage in the workplace for you? how is it the case?
Actually I would say that it is my professional difference, my confidence and drive that creates the advantage, not my sexuality. I have certainly learnt through experience to normalise reference to my sexuality in the workplace, for example I talk about my wife whenever the "how was your weekend?" conversation starts.
Do you think 'being different' is more a drawback or an advantage that everyone should use to progress in their career?
I believe people that come out and want to become Role Models need to have the mindset for it . You need to be brave, you have to be prepared to be in the spotlight at all times, you need to consider why it matters to be a role-model. You need to use this as an armour, for your personal resilience. Mindset is everything.
Reed Smith seems to be a very supportive employer. How have they supported their LGBTI employees and for how long?
There has been an employee lead network going for many years which indicates the Reed Smith culture is very supportive of its employees. We have an out LGBTI partner at the board level, and have out LGBTI partners in other leadership positions, plus several other employees that are out. We also have senior leaders who are LGBTI allies and champions. I truly feel that Reed Smith is leading the way for LGBTI role models within the legal industry.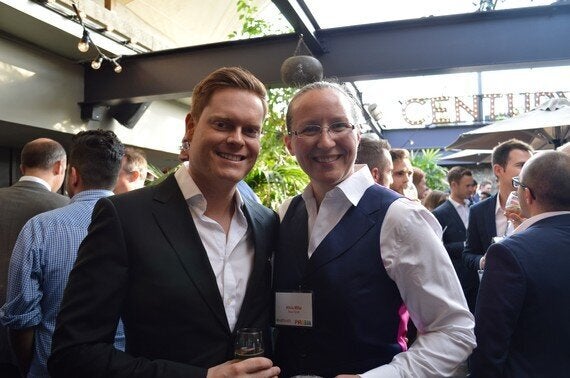 Who decided to create PRISM, Reed Smith's LGBT & Allies network ?
I joined the firm in 2014. I met the wonderful Huw Morris, we started talking about all the possibilities and potential for making a difference, to be so much more than merely a social network, and so we decided together to drive PRISM. I have always believed an employee lead initiative has the best chance of sustainable cultural change within organisations, and felt Reed Smith was open enough to support that, to create a genuinely inclusive workplace for all.
Reed Smith made it to the 100 Stonewall top LGBT-friendly employers, how did you personally contribute to this achievement?
Huw and I lead the submission for Stonewall WEI and I am very proud that we made it to place 72 considering that it was our first submission and companies struggle to enter this prestigious list.
Do you have the feeling that social selling is now part of any sales process?
I feel that you need to know your client, appreciate their needs, their business and understand their value-drivers in order to sell to them. Our product, what we sell, is our people - their expertise. Those who buy our services are very similar to us, other lawyers and professional experts. All of our sales processes are tailored client by client.
You are happily partnered. Is your partner also out at work and engaged for LGBT rights?
My wife does not identify as LGBT, she simply met someone, fell in love, got married and that someone happened to be a woman - me! She is engaged with LGBTI rights and equality in the workplace. She is passionate about challenging biases within professional career development.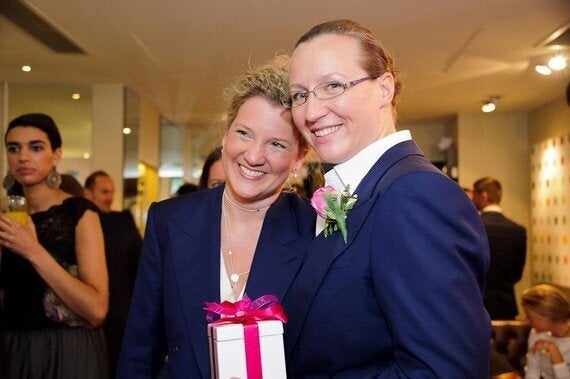 Your role at Reed Smith includes personal and professional development. Do you think you have to be yourself to encourage people be as well? Do you encourage people to come out?
I always encourage people to be themselves, and if they felt they couldn't be out in the workplace I hope I can be a support and visible champion for them. There are different motivations to address on why people are in the closet. I will always ask why people are not out and try to put myself in their place before I would judge them. My biggest worry is if it's out of fear or a perceived risk. There are plenty of "in's" of course, not every out LGBT person necessarily wants to be a visible role model.
You have been nominated as Diversity Champion at the British LGBT awards, how do you see your role as Role model?
It's exhausting! I understand why some people actively choose not to be a visible role model because everybody will scrutinise everything you do, they look at the way you speak about things, how you live your life. On a personal level it is genuinely tiring, physically and mentally. I am quite an introverted person. The more visible I am, the more I need to rebalance and be away from the spotlight.
Have you had any bad or good experience during your life about being lesbian that you would like to share?
The best moment was being nominated as Diversity Champion at the British LGBT awards this year. I felt very proud and humbled that my engagement and dedication to the LGBTI equality was truly recognized.
There have been a few not so good experiences unfortunately, one was being spat at on the tube for doing nothing more than sitting rather close to the female friend I was with. A couple sitting in front of us had been looking at us very intently and muttering, then when leaving the train one of them spat at us and the other said "you're just disgusting" and left the carriage.
One particularly bad experience though, I was walking down the street holding hands with my partner at the time, and we heard this comment : "Can I watch next time?" My partner was incensed and told him : "How would you feel if I said you, you, black man, dance for me?" Then things turns aggressive and ending with the back-track from wanting to "...watch next time" to how against God and the natural order we were. All this just from holding hands in the street.
A funny one that always baffles friends and family, and has now been turned into a game... 9 times out of 10, when I go to a public bathroom, I get double looks. I have a habit now of walking in with my chest forward to show that I am female and therefore should be in the ladies bathroom!
Are you an LGBTI consumer? Do you choose to wear LGBTI-friendly brands, LGBTI-friendly destinations, LGBTI-owned restaurants to eat etc.?
Nowadays I don't really seek out LGBTI places like specific bars and clubs. To be honest I'm more concerned about places that allow us to bring the dog! Thinking about LGBTI representation in advertising, I would like to see more adverts that are inclusive for everyone that have obvious LGBTI presence e. same-sex relationships.