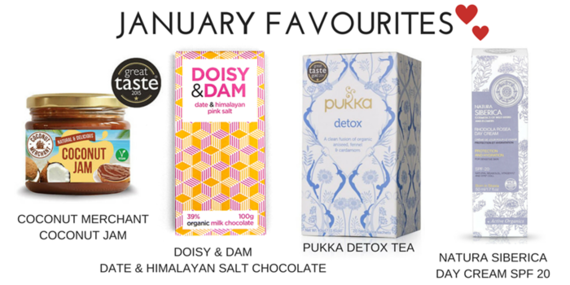 Let's just not go into that conversation that it is already February shall we? I love seeing & reading Top Five and Top 10 products or monthly favourites from other people. It always inspires me to get out of my comfort zone and try out something new. I think I did well in January as I discovered so many new products so I thought I share them with you guys. Obviously most of them are food products. Surprise, surprise.
Coconuts are boss. Fact. All coconut product is really high in fat and fat tastes good. It is as easy as that. However, it contains medium chain fatty acids which give your body instant energy and it doesn't get stored in the fat cells. Hooray!
Since I discovered Coconut Jam there is no way back. It is thick and creamy, sweet and coconutty. It is made purely from coconuts and it doesn't have any added sugar. It has a spreadable consistency and tastes insanely good. Perfect on toast but I usually put it into my porridge instead of honey. Or when I'm really naughty just eat it with a spoon. ( Shhh their Baked Coconut Chips & Coconut Oil are the best I've tried!)
The brand launched their milky range last year and I instantly tried all of them. I really love their dark range too, the coconut & lucuma is my favourite. However, from this range I was blown away by the salty one. It is just a perfect combination of sweet & salty. Lately, I adore this combo. I carried out a little test and I bought a bar of chocolate from all the different brands who do salty chocolate out there. Guess what? Doisy & Dam came out first, without a doubt.
Pukka Detox Tea with Fennel, Aniseed, Licorice & Cardamom
I love tea, anytime of the day but I noticed that tea at 5pm does taste nice. Britons know something ay? I usually drink Lady Grey from Twinings with lemon or Chai tea with a splash of soya milk. I came across this tea because my friend was sampling it in Planet Organic. I instantly hooked on it as I love licorice. The tea is really light, sweet and spicy. I'm not drinking it because it helps cleansing, I drink it purely because it is yummy.
I discovered this brand last year when I was in Copenhagen. The shop was beautiful, the design was really cool and the staff was super friendly and helpful. Luckily, I found the brand in Wholefoods. The cream is made with Siberian herbs and roots and the brand works closely together with indigenous people in Siberia and Russia. The cream hydrates my skin nicely and I barely have to use any concealer or foundation. Plus it has SPF 20 and smells nice, spot on!
My non New Year's resolution is to do more yoga. First, because I cycle to work everyday and then I sit at least 8 hours everyday so a good stretch is always a relief. I find yoga very invigoration and I feel empowered after it but sadly I just don't practice enough. Going for a class is out of my schedule so I had to look for another solution. Yogaglo is a website where you can choose from more than 3000 classes depending on your mood. I usually do Vinyasa or Power Yoga classes, around 45-60 minutes. My favourite teachear is Amy Ippoli, she is amazing and so much fun. So get on your mat and practice, practice, practice.
I hope you like my monthly favourites and let me know if there is any product you are after and it might make it into next month's top 5.