In October 2011, when my husband and I found out we were expecting a second baby, we were over the moon. Like most expectant parents, after the 12 week scan we felt safe enough to start telling friends and family about our impending arrival. Whenever someone asked me if I was hoping for a boy or a girl, I gave the standard answer that all mums-to-be give, 'I don't mind as long as it's healthy'.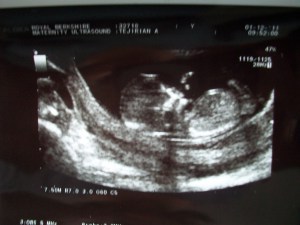 The wait for the 20 week scan seemed like an eternity. Three years earlier, when I was pregnant with Susie, the 20 week scan had terrified me. I couldn't believe that in the delicate and complicated process of making a baby, nothing could go wrong. I worried for weeks beforehand that there would be something wrong with my baby. On the day of the scan I couldn't stop shaking until I saw Susie on screen and was told that she was fine.
So, waiting for my second 20 week scan three years on was a different experience. My body had done it just fine before. I wasn't worried. My exact words to my husband minutes before we entered the scan room were, 'I can't believe how nervous I was before Susie's scan. This time I'm not scared at all.' The irony of those words stays with me every day.
It was a girl! The sonographer went through all of her body parts in turn, 'Brain. Fine. Spine. Fine' etc. Her final check was on the heart. And then she spoke the words that changed our lives: 'There's something wrong with your baby's heart'.
Time stopped while she went to find a doctor. Once the doctor had finally finished looking at our baby's heart, her words wafted over me in waves. 'Baby's heart is too big, blood is flowing the wrong way, you need to be referred to the John Radcliffe hospital urgently'.
The next day we found ourselves at the John Radcliffe. A fetal cardiologist, spent what felt like hours scanning our baby's heart. From watching the blurred images on the screen I had no idea what she was viewing and measuring. But knowing that the baby's heart was only 2cm in size, her skill took my breath away.
When she had seen enough to make an exact diagnosis, she sat us down to explain her findings. The baby had a rare and serious heart condition called Ebstein's Anomaly. Essentially, one of the valves in her heart had not formed properly and her outlook was not good as a result.
The doctor went through all of the possible options with us. Termination was offered but never an option. If our baby was going to die it would be nature's choice, not ours. Our job was to give her every chance possible to live.
We decided to call her Grace.
From that day on we saw our doctor at the John Radcliffe almost every week. She never gave us false hope and we were well educated about the reality of our baby's condition. At around 25 weeks, things were not progressing well and Grace was not expected to make it to birth. We came away from every appointment knowing that all we could do was wait. Wait to see if Grace would stop moving during the week or if she would make it to see the doctor again.
While she was expected to stop moving and stop living, Grace had other ideas. She was the most active baby! Every time I sat or lay down, Grace was kicking, punching, rolling and flipping around in my belly. Compared to my lazy Susie who used to go hours without moving (and make me out of my mind with worry), Grace was having a 24 hour party. It was the reassurance and hope that we desperately needed.
Defying all odds, Grace made it to 32 weeks. Our doctor insisted this was unexpected and that it would now be safer to deliver her than to continue with the pregnancy. She warned us that the first few hours after birth would be critical and there was only a slim chance of Grace surviving them. But I had hope. She had made it this far.
On the day of her birth, there was a real crowd in the operating theatre. Surgeons, nurses, midwives, neonatologists and medical students. Grace had a proper audience for her arrival. And when she finally arrived, she made a faint noise before being whisked onto a little table and hooked up to life support. All I could see was a little foot in the air while they worked on her. Then she was rushed past us on her way to the intensive care nursery.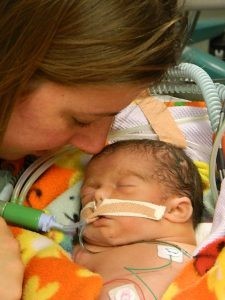 That first night, she did so well. Our doctor said it was 'better than we had ever dared to hope'. Various other doctors came to see us to let us know how well she was doing. And when she was finally ready to meet us, my husband wheeled me down to the intensive care nursery and we saw our baby for the first time.So tiny, perfect and beautiful, dwarfed by wires and machines but alive and fighting none the less.
When I went back to recovery and my husband went home, I stayed awake all night thinking about Susie and Grace. They would be best of friends and the worst of enemies all at the same time. Susie was going to boss the hell out of Grace and Grace would to take it with a resolute grin. Stupidly, I didn't worry about Grace that night. In my eyes she had made it. She was home and dry. I thought ahead to the day we could finally take her home.
A midwife came to get me at 5am. Grace had gone into cardiac arrest and the doctors had only just managed to bring her back. I was rushed down to be with her and my husband was called. Finally I had to face the cold, hard truth. Grace would not make it. Despite the doctors' very best efforts, she was just too ill to live. We were told we had a choice. We could continue the life support and face the certainty that Grace would die while hooked up to the machines. Or we could withdraw her life support and let her die peacefully in our arms.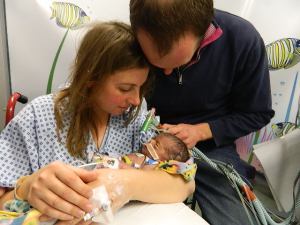 We made the heartbreaking decision to withdraw her life support. It was the kind thing to do. She had fought such a brave fight but now her little heart couldn't cope. Our little girl died because her heart was too big. At least we were able to have one cuddle without wires and machines as she died. She died in the arms of parents who loved her so much. I hope she felt that love.
What do you do when hope is gone? Amidst our grief, that was tough for me because throughout the whole journey, hope had guided me. My husband had never let himself have hope. But it didn't make his grief any less, so I suppose it didn't really matter in the end.
Four years have passed since we lost Grace and I have allowed myself to have new hope. Building Grace's legacy has given me a focus and a purpose. From the fundraising we carried out in Grace's name to the volunteer work I now do for children's heart charity Tiny Tickers, Grace's short journey motivates me daily. I am determined to make sure that she has the impact on this world that her poorly heart denied her from making herself.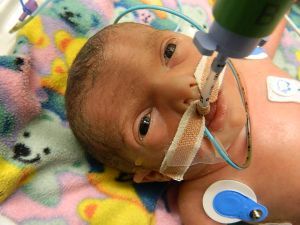 We are forever grateful to the wonderful doctors and health professionals who looked after us and did everything humanely possible to save Grace. This gratitude is particularly extended to the sonographer who first spotted her heart defect.
I have since learned that only one in three babies with heart defects have their conditions picked up at their 20 week scans. What about the other two babies? They have to take their chances.
One thing is certain, if Grace's heart defect had not been picked up during my pregnancy, she would have been stillborn. In most cases, early detection saves babies' lives. In our case, it meant that we were well prepared for what lay ahead. And more importantly, it enabled us to spend a precious few hours with our baby girl before she left.
Words will never be able to effectively express our thanks for that.
Aimee Foster is mum to Susie (6), Freddy (1) and baby Grace. She volunteers for Tiny Tickers, a small charity dedicated to improving the early detection rate of heart defects in babies in order to give them a better start. To find out how you can support babies with congenital heart defects this Heart Week (7th - 14th February), visit their website.