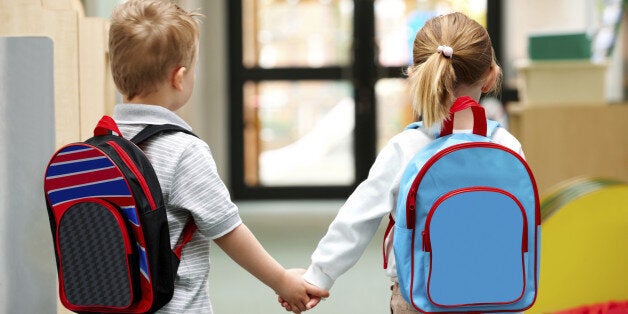 This week social media is alive with pictures of little children smiling at the school gate, clutching brand new book bags and sporting shiny shoes. Tips for parents on how to cope with their child's first day, tales of parents who couldn't wait for this moment and of those who are dreading it fill my news-feed on an hourly basis.
We should be joining them, you and I.
As I drop your big sister off at school for her first day back, I glance at the reception classrooms with trepidation. For the first time I see the classroom your sister inhabited during her reception year in a new light. Knowing we should be among the hub-bub of photos and hugs outside the doors causes an additional kind of sadness to wash over me. This is one I haven't yet experienced in the spectrum of sorrow you left me with.
For the first time, I see the friends you'll never have and the mums I'll never to talk to. Introductions we'll never make, play-dates we'll never attend and jokes we'll never share. These friendships hang in the air like a fine mist. They are an invisible curtain of abstract words and experiences hanging over the playground.
Until now, these people have only existed, as you do, in my imagination. Yet suddenly here they are. I can actually see them. If life had been kinder to us, we would be with them on their first day of school and part of their lives from today onward.
I can almost touch the birthday parties you'll never attend and Christmas plays I'll never see you in. Friendships will bloom without your input. They'll never know you were supposed to be there.
I want to run over and tell them all you should be there. I want to meet your teacher and view the spot on the classroom carpet where you should be sitting. I feel angry that you've been robbed of your rightful place yet again. A kaleidoscope of missed experiences unfolds before me, running like a river through my heart.
Of course, I'll look like a mad woman if I go over there. Some days grief makes you mad, to an extent that's hard for others to understand.
As I see tiny child after tiny child enter their new classroom, I wonder how you would have fared on your first day. Would you be one of the bounders, running in without a backwards glance, or a leg clinger - unable to let go of me? Perhaps you would take after your sister who was a mixture of the two? The few hours we spent together during your only day of life didn't leave me with any answers to these and many more questions.
I don't even know what you would look like in your royal blue cardigan and grey dress. I imagine your hair and eyes to be dark, as they were during your short life. I picture a cheeky grin and an air of confidence about you as you wave me off.
And suddenly, there you are. The ghost at the classroom door.
You were notably absent from our first-day-of-school photos this morning. You should have been arm-in-arm with your sister and brother. A stab of guilt slices through me as it so often does when I think about you. Would your brother even be in those photos if you were? Would he even exist? I tell myself to abandon this guilt-filled conundrum for the time being. The answer lies just beyond my reach.
There is a hole in all our family photos, a gap where you should take your place. A voice missing when your brother and sister laugh together and a pair of legs which doesn't quite keep up with them when they run and play. A shadow with human form joins in with all our endeavors. Your presence grows stronger with our desire for you to be part of it all.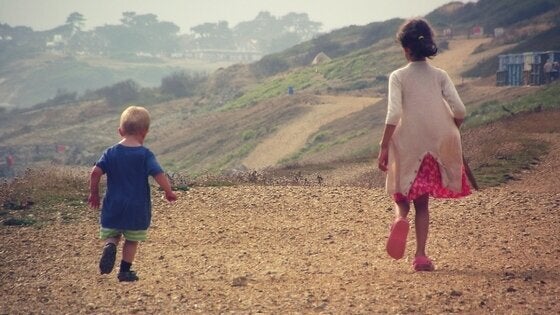 Today you are the ghost at the classroom door. Yesterday you were the ghost of our cliff top walk. I felt you careering through the breeze and darting through the long grass as we walked. A different ghost of you exists for every occasion. You are the sunbeam dancing through my window in the morning and a whisper of wind through the trees at night. Expanding, contracting and shifting shape as you fill us with eternal love and regret.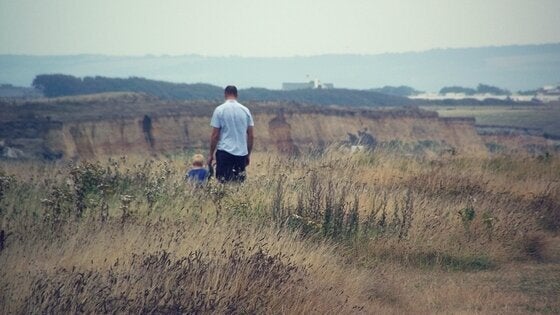 I watch the reception teachers chivvy along children and parents alike, completely unaware of the fact there is a name missing from the register. Uniform never purchased and labelled, a lunch box never filled, a hand never to be raised and a pencil never picked up. Your friends embark on this milestone together while, just like first words and first steps, it has passed you by.
As always, for you we can only imagine. We will always imagine.
I wonder how many other mamas are doing the same this morning, how many other children should be starting reception, how many other hearts feel clogged with sorrow. A small army of classroom ghosts who missed out on their first day of school.
So from today onward, I'll see you there. Smiling and waving from the classroom door as you wait for class to begin.