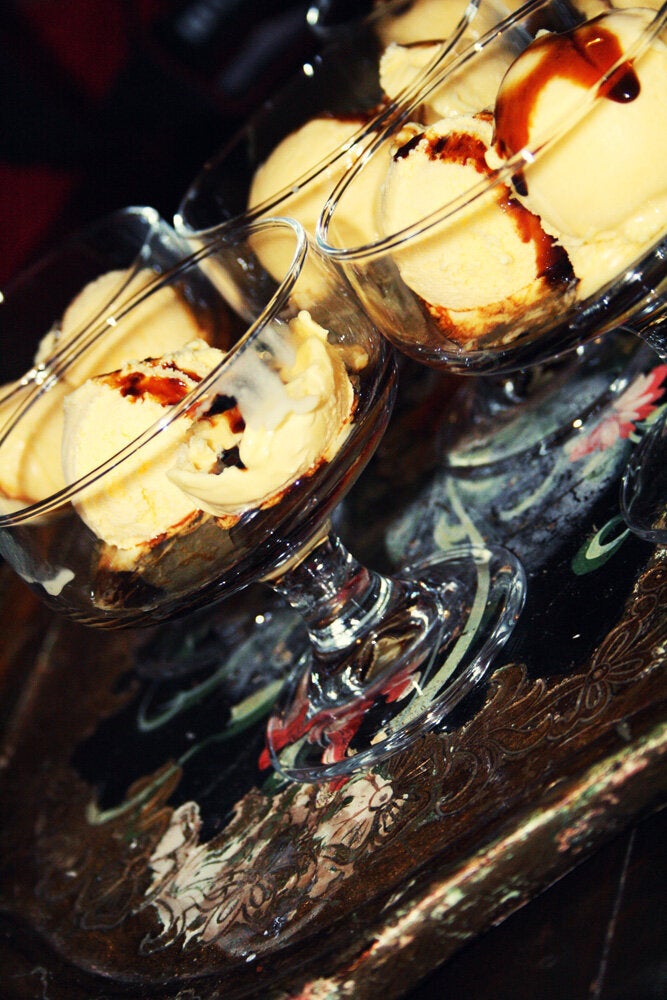 We began day two in Bologna with breakfast at our apartment, before piling into a bus, which would deliver us to a day filled with adventure. Our first stop brought us to the nearby city of Reggio Emilia and an exploration of the area before we emerged on a tour of the Reggio Children International
Centre, a hub for innovative teaching and learning and place for professional development. After a magnanimous buffet lunch and the obligatory espresso, we made our way to the friendly town of Brescello, famed for Italian film characters Don Camillo and Peppone; their tale was completely alien to me, but I imagine it is a must visit place for avid fans.
The day's events however, were simply an appetizer to our final excursion of the day - indulging in an education on Traditional Balsamic Vinegar and more importantly, the tasting of said vinegar. Balsamic vinegar remains one of my favourite cooking ingredients. I use it predominantly in salad dressings, but it tends to find its way into pasta sauces too and is a must with sweet summer strawberries. So you could say I was a little excited (read: seriously, jumping up and down excited) to be visiting Acetaia San Giacomo, a producer of traditional Italian balsamic vinegar.
Upon arrival, we were greeted by owner Andrea Bezzecchi who would be giving us a tour of the site, but as one fellow Blogville writer chased after a playful cat, Andrea thought it only fair to introduce the cat lovers amongst us to a mother and her eight beautiful kittens. Balsamic vinegar forgotten for a good ten minutes, we delighted in carrying and cuddling the adorable balls of fun and fur before our tour officially began.
Andrea began with an introduction to Traditional Balsamic Vinegar, its history, concoction and preparation, all of which was illustrated wonderfully on the walls by a local artist (a great vehicle for learning if like me, you're dyslexic and have a short attention span). Now until this visit, I was unaware that there is a clear distinction between Traditional Balsamic Vinegar and the balsamic vinegar we at home are familiar with. The latter can be produced legally by anyone, anywhere and at best has matured for three years and at worst, has been artificially sweetened and aged in steel barrels.
Traditional Balsamic Vinegar or Aceto Balsamico Tradizionale is a very different product, following a distinct and strict procedure, produced only in Reggio Emilia and Modena and is protected by EU classification. The process begins with cooking the 'must' - unfermented whole white grapes (yes, white grapes - who'd 'ave thunk it?!), usually Trebbiano or Lambrusco, and reducing it to a rich dark syrup. The reduced 'must' is then poured into a wood barrel containing balsamic vinegar from a previous batch. That balsamic vinegar is then poured into a smaller barrel containing a small amount of balsamic vinegar from an older batch and so on and so on. With the barrels produced from a variety of wood, such as cherry, oak, juniper and more, each batch of Traditional Balsamic Vinegar is unique in its flavour.
Speaking of flavour, we were all yearning for the tasting session to commence and enthusiastically followed Andrea into his home, where atop a long wooden dining table, sat a curious combination, a plate laid with baked Parmesan crisps, dressed in coffee, fresh mint and Balsamico. I hesitantly picked one up and bit into it - it was unusual, but I found myself reaching for another - strangely delicious.
Next, we were introduce to a balsamico referred to as 'Saba' - a product made from the same un-fermented grapes, but is not fermented or aged; a balsamic with a sweet caramel flavour, with a hint of tartness. We then tried the youngest of the Aceto Balsamico Tradizionale, aged for at least 12 years and referred to as 'Aragosta' and identifiable by it's red lid. The silver label 'Argento' is an 18 year old Traditional Balsamic Vinegar and gold label 'Oro', a Traditional Balsamic Vinegar aged for at least 25 years. I felt rather privileged to be tasting a an 'Oro', but to my surprise, I found I favoured the Argento best. If that wasn't enough of an indulgent treat, we were then served bowls of vanilla ice-cream drizzled with the sweet 'Saba' we had initially tasted. You might think it an odd combination, but the pairing was a perfect fit.
As you might imagine, a bottle of Traditional Balsamic Vinegar is pricier than what you might pay for a bottle of the non-traditional variety, but if you enjoy good food, investing in a bottle or two (to be used sparingly, of course) should not disappoint. And if you are ever in Emilia Romagna or planning a trip to the region, I would highly recommend this tour!