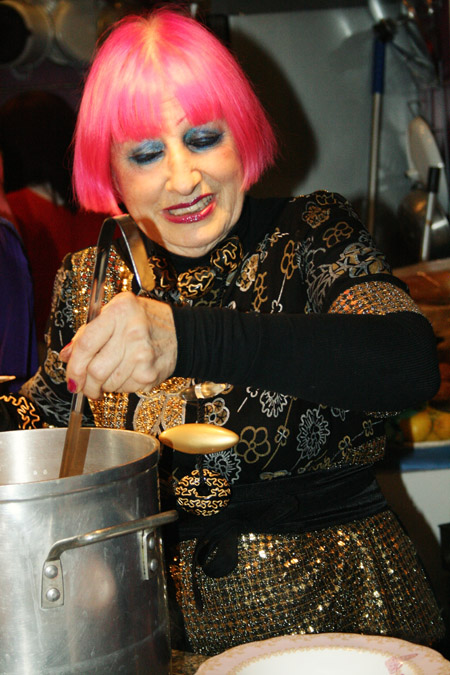 With the passing of London Fashion Week comes the tide of press days, product and store launches and intimate collection previews. My inbox is bubbling with press releases and invites and my calendar threatens to flood. A liberal glance at each one, then delete, flag to follow up, or add to calendar. Rarely do I get an invitation that requests my presence at supper, with an internationally renowned designer, so when this does happen, everything else under 'tasks' 'meetings' and 'appointments' is reassigned to the reschedule category and to supper I go.
See all my photos of the event at my blog, Head in the Clouds
Last week, British designer, the eclectic pink-haired Zandra Rhodes, hosted a dinner party for an intimate group of journalists and I was privileged to be one of the guests. Set atop her very own museum, the Fashion and Textiles Museum on the quaint cobbled street that is Bermondsey Street, lies a fountain of striking colours that is Zandra Rhodes' penthouse apartment. It's an unusual arrangement, but oh so very cool! I mean, who hasn't wondered what it would be like to live at the V&A, The Horniman Museum, Somerset House or some museum or art gallery somewhere, that captures your senses and promises to never let it go?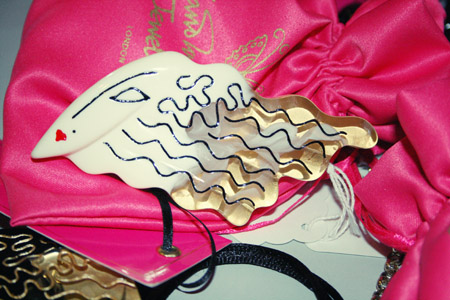 Entering the penthouse, Zandra greets my super talented illustrator friend, Emma Block and I, like old friends and welcomes us enthusiastically into her home. "I love your hair," she tells me, as she offers us a drink - mmmmm... elderflower "thank you!" I exclaim "Yours is fantastic too!" She is keen to converse with us, and guides us around the presentation of her retrospective collections, that span several decades. Zandra brings our attention to a piece from her very first collection in 1969, a stunning yellow circular coat that has travelled far and wide, which now sits amongst years of creative work. One of my favourites is an ensemble from the 1979 'Chinese Collection' - a delicate spearmint green chiffon full skirt and top, embroidered in a rich raspberry pink. I'm tempted to ask Zandra if I may try it on, but I wimper wistfully at it instead.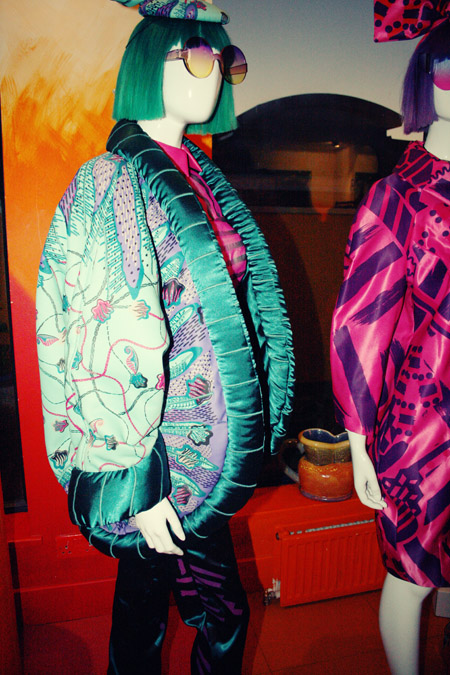 These wondrous archived pieces have been aired especially for our pleasure; awakened from the darkness of giant trunks and presented proudly alongside Zandra Rhodes' new Autumn/Winter 2012 collection. The new collection incorporates the on trend digital print technique, which Zandra has explored for the first time. The colours jolt vivid memories of Disney's 'The Little Mermaid', coral, rhubarb, lavender and azure, adding the signature Zara Rhodes' fun to a chic and commercial collection. The collection is accompanied by the most fantastic perspex sunglasses by Kitty Joseph - doesn't Emma look awesome in them?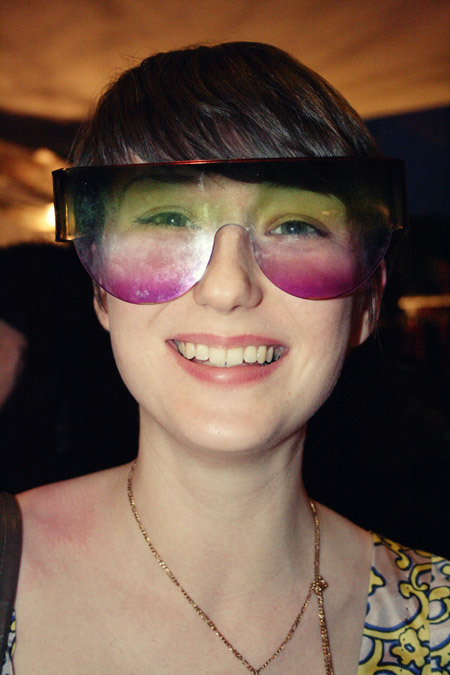 I ask Zandra about her inspirations behind her collections and the process of designing her clothes. She tells me that finding new inspiration that will translate to her signature style is something that gets harder with every collection and it's always a huge challenge to create something new and wonderful with her unique stamp on it. She directs us excitedly, towards her range of jewellery, where I discover a wonderful ceramic face broach and consider if it's rude to ask its price at a dinner party. Emma finds delight in unearthing a wealth of clip on earrings as her ears aren't pierced, and a discourse on piercings and vintage earrings ensues.
As the apartment begins to grow noisy from the animated chatter of guests, Emma and I step out onto the balcony, only to discover that it runs along the entire penthouse, with Camellias weaving the path to a secret garden and the view of the Shard. The commencing of supper is announced, perfectly timed, as by now it's getting rather chilly outside.
Inside, Zandra is the master of her kitchen as she stands over a steel pot, ladle in hand and invites her guests to try a zingy lemon, egg white and rice soup with chunks of bread. I'm an incredibly fussy eater, having been spoilt by my mother's and grandmothers' amazing cooking, and this soup sounds rather curious to me, but I find that it's actually very tasty. Not only does Zandra Rhodes create extroadinary designs, but she's a good cook too!
It's getting late and I've promised to be at another event that evening, so sadly Emma and I say our goodbyes to the other guests and to our wonderful host Zandra Rhodes, and regretfully abandon a surreal and most enchanting dinner party.