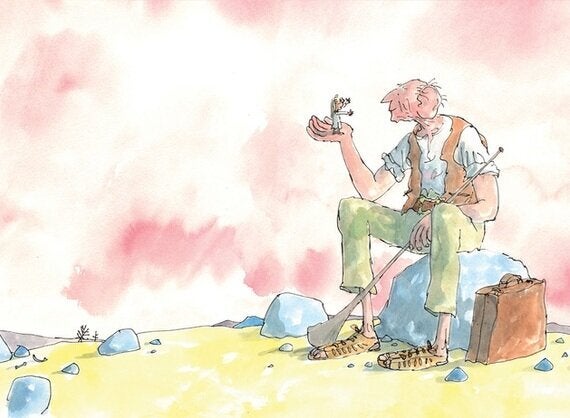 On 13 September it's children's author Roald Dahl's 99th birthday. 25 years since his death his stories continue to resonate and capture the imagination of adults and children. Should Dahl be awarded a posthumous Queen's honour for services to the imagination?
Roald Dahl was born in Wales to Norwegian parents in 1916. While he is best known for his contribution to children's literature, Dahl also wrote books for adults, including an autobiography entitled 'Boy'. In it he explains how despite struggling academically at school he developed a love for literature through writers like Rudyard Kipling, Captain Frederick Marryat, H. Rider Haggard and G.A. Henty.

Upon finishing school Dahl embarked upon a career with the Shell Company and was soon posted to Africa. He wrote a book about his experiences around the world in 'Going Solo', including his first time being published, when he wrote an account of a local woman being taken away by a lion in an African newspaper.
In World War II Dahl joined the Royal Air Force and learnt to fly warplanes. He enjoyed a distinguished career in the RAF, being made an acting wing commander and 'flying ace' for shooting down enemy aircraft.
His RAF career inspired his first book - The Gremlins - for Disney. The book's namesakes were mythical pests known in the RAF for messing with machinery. Disney intended to turn the book into a full-length movie, but it never materialised.
Between 1945 and 1960 Dahl published five books for adults before his first children's masterpiece, James and the Giant Peach, was published. Dahl declined a number of offers to create a film version of the story, but it eventually happened after his death in 1996 after being granted approval by his widow, Liccy Dahl.
Is it time for Dahl to be honoured?
Dahl turned down an OBE in 1986 because he was holding out for a knighthood, which would have made him 'Sir Dahl' and his wife 'Lady Dahl'. Unfortunately by the time of Dahl's death in 1990 he still hadn't been knighted. It seems unfair that Dahl's illustrator would receive honours but not Dahl himself.
There is some confusion about whether Queen's honours can be awarded posthumously, as current knighthood campaigns for football manager Brian Clough, footballer Billy Wright and codebreaker Alan Turing have discovered.

The confusion comes from a couple of unusual cases. Golfer Henry Cotton received an MBE shortly after his death in 1987. The difference is that Cotton had accepted the honour a short time before his death.
Stephen Sutton battled cancer from the age of 15 and raised over £4million for cancer research shortly before his death in 2014 at the age of 19. Stephen was awarded an MBE in the Queen's Birthday Honours list in 2014. While he did receive notification of the award, he died just a few days later. His mother attended the ceremony and collected the honour on his behalf.
Technically neither of these honours were awarded posthumously; both had the opportunity to accept or decline the award, and this is key. With the exception of military personnel, honours are not awarded posthumously, not least because the individual doesn't have the opportunity to accept or decline the honour. While Dahl captured the world's imagination with his stories he missed his only chance of a Queen's honour in 1986.
Images: The B.F.G., Matilda and Little Red Riding Hood and the Wolf (Revolting Rhymes) by Roald Dahl, illustrations by Quentin Blake from roalddahl.com.
Popular in the Community