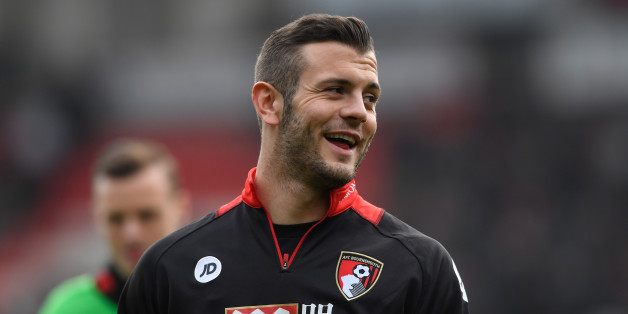 Stu Forster via Getty Images
Ridiculed by many, on-loan Bournemouth midfielder Jack Wilshere appears to have finally bucked his worrying trend of picking up endless injuries by having his most consistent season to date.
With good reason, the 25-year-old has long been maligned for his woeful fitness record which has seen him become the punchline to many a joke and indeed, he will continue to be so until he can prove that this year has been no aberration.
That fact he has made 23 appearances for Eddie Howe's side this season is bordering on a miracle, considering he made 26 appearances for Arsenal in the last three years.
Though his performances haven't been spectacular, Wilshere has at least shown to his parent club that he is capable of staying fit and whilst many believe that his recent omission from the Cherries' starting lineup has been due to a lack of form, a recent interview with the club's chief doctor suggests that the reasoning could well be more fitness related.
Dr Craig Roberts recently told the ​Training Ground Guru website: "Jack has had a lot of overuse type injuries over the years. He's had some traumatic ones as well, which every player can get, but he's a player who is prone to break down if the load is too high."
The former South African rugby team doctor has provided a fascinating insight into how the club have deployed the concept of 'acute-chronic training ratios' to manage Wilshere's fitness, as Bournemouth continue to do something that Arsenal have yet to do - keep the Englishman injury-free.
The concept, which has seen Wilshere miss some training sessions, means he is managed on an individual basis, as emphasis is placed not only improving his fitness, but perhaps more importantly, his body's tolerance levels.
"Jack didn't like it, because he just wanted to get out and train and play. But until we were able to build up the load that he could tolerate, we had to be very careful in terms of what we did," Roberts explained.
"We've got to a stage now where he is doing most of the sessions but we still are managing him in terms of how much he does."
Football is often renowned for being a team game, meaning that almost everything from playing matches to training nearly every day is done as a cohesive unit.
Whilst acute-chronic training ratios is not a ground breaking concept, it has been used by Bournemouth to meet Wilshere's own needs and as the relevant formula helps to establish his tolerance levels, it could well become a technique used by many professional football teams in the coming years.
The stats suggest the method, developed by Australian sports scientist Tim Gabbett, has paid off with the Cherries' playmaker.
Wilshere was unfortunate to suffer an ankle fracture at the start of last season; the result of an impact injury rather than due to a heavy workload. The campaigns before that however, saw him pick up a number of stress/ hairline fractures that were a result of 'overuse', or rather because his body had been pushed beyond its limit.
Since joining Bournemouth on-loan last August, Wilshere has yet to register a similar problem, which in itself highlights the midfielder's requirement to have his training routine monitored on a much more individual basis compared to some; a sentiment that Roberts has been quick to point out.
"We still have players - he's not the only one - who we need to manage during the week. Certain players, the way our manager likes to train, cannot do three heavy days in a row, they're not able to do that." he added.
Though Wilshere bares the brunt of jokes regarding his fitness, he isn't the only player to have been blighted by injuries throughout his career. Fellow compatriot Andy Carroll is just one of a number of Premier League stars who also has the tendency to breakdown all too easily.
Carroll himself has admitted in recent times to missing training altogether in between matches, as he and West Ham seek an answer to his habitual injury problems.
Whilst a variety of factors are thought to make a modern player more susceptible to injuries - such as firmer pitches, lightweight boots and intense fitness regimes to name a few - what acute chronic training ratios show is that not only does each individual have different levels of tolerance that must be built up over a sustained period of time, but that underuse is just as harmful, as those levels are never enhanced.
If Bournemouth and Wilshere can continue to demonstrate it's success, then it's highly plausible that many clubs will reconsider how they run their training sessions, as the focus shifts away from collective fitness and more onto improving each individual's tolerance.
What that means for the team session is uncertain, with the likelihood being that they become significantly more fractured and flexible than they currently are, whilst the strict fitness regimes will surely be relaxed.
Although that may frustrate managers initially, it could prove beneficial in the long-term, as those typically injury-prone players start to understand what their bodies require and look to gradually build both their fitness and tolerance levels at a rate that is more appropriate for their own needs.