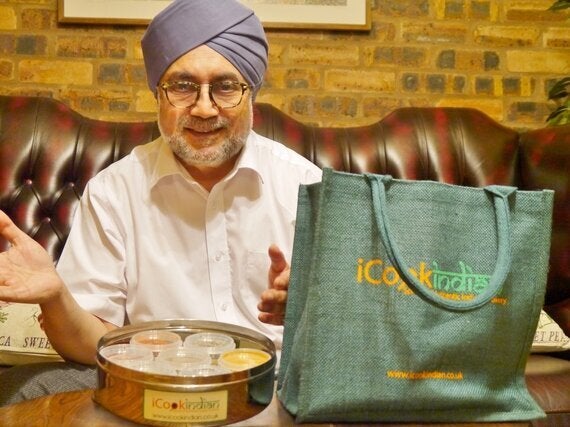 Photo credit: iCookIndian
You will probably not be familiar with the name Amarpal Harrar, or his company iCookIndian, but he is the secret ingredient to some of London's most respected dinner parties.
Based in Staffordshire, Amarpal runs iCookIndian, an authentic Indian cookery school that also offers at home cooking experiences. It is these experiences that have established Amarpal as a key entertainment figure amongst popular names in the capital.
He is known to the likes of M&C Saatchi, high profile employees at KMPG, Chevron, Autotrader and many more.
Here we talk and find out where it all began for Amarpal.
Tell us your story, where did it all start for you?
I came to England at the age of seven with my parents. It was a challenge to learn to speak English and understand the culture.
In 2013 I lost my job as a key account manager after 20 years. 3 years earlier, I was diagnosed with Parkinson's. I also have Type 2 diabetes. Dad was seriously ill. I found the stress of my new situation made my Parkinson's tremor worse. We are a close family that has been resilient with dilemmas but this was something else.
What was this going to mean to us? We decided to brainstorm life going forward. This was the opportunity to reinvent ourselves. To this point, we discussed what we could do and what our strengths were. After also consulting friends and neighbours we decided to focus on cooking as that has always been my biggest passion. Everything I know about authentic Indian cuisine comes from my late mother who would involve me in cooking and we decided to create a unique experience. We came up with iCookIndian, a unique company that would demystify the process of creating Indian food.
An opportunity came up for an interview with another pharmaceutical company. I discussed it with Dad who suggested that I should go for the interview AND start up the business. Sadly, Dad passed away a few days before the interview. I got the job.
Having accepted the job, we started work on the business at the same time. iCookIndian was launched in October.
Why did you decide to start iCookIndian?
We started iCookIndian on 5th October 2013 and we did it to change our world for the better. We wanted to share authentic home-style cooking with our customers and provide them with experiences that would truly be memorable.
Where do you get your inspiration from?
My love for food started very early, at the age of 5, in the village I lived in in India. I used to go into the fields, gather the wheat, and then thresh it to separate the seeds. I would take the seeds to Mom who would mill the seeds to get the flour. Chapattis made with freshly ground flour - yum! Mom has been my inspiration for everything that I know about cooking.
How do you want people to see iCookIndian?
A bespoke pop-up hands-on school of Indian cookery that focuses on teamwork/team building, group events, hen and stag nights.