There was a sombre mood at Paris Fashion Week's menswear shows for Autumn Winter 2012, with many well known designers hedging their bets for what men will want to wear later this year once the weather cools.
The eccentricities, headline-grabbing outfits and just downright bizarre were in relatively short supply at the Paris Menswear shows, with even some designers who are famed for these idiosyncrasies toning them down, at least for this season anyway. The reason? Even the world's most cutting edge boutiques and luxury department stores do not want to be left with unsold stock on their hands, come Spring next year. Designers are therefore, quite sensibly, planning to give these buyers exactly what they want.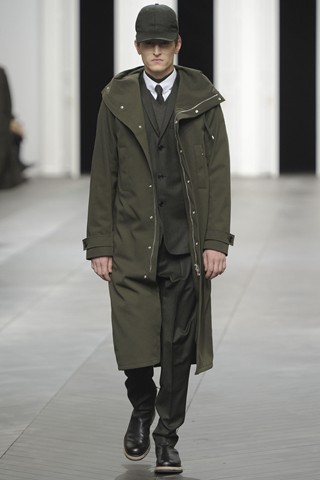 Dior Homme showed a collection of muted army greens and blacks and distinctly wearable heavy pea coats and wool suits, all under the creative direction of designer Kris Van Assche. It was all about creating a work wardrobe for Winter with a difference, and even the the label's famed 'Dior Homme' branded jeans were nowhere to be seen on the catwalk as recession hit France gets ready to go back to the working uniform of dark trousers, white shirt and dark jacket. So, yes, you may infer the mood was pretty dark at Dior Homme.
Next was the Givenchy menswear line by Ricardo Tisci which showed a collection of unusually restrained and largely wearable (for the more everyday dresser anyway) tailoring inspired garments. Again, it was all about black, navy blues and dark greys (and a few red striped jumpers) with less of the shock tactic 'talking point' garments that the designer has shown in previous seasons. Givenchy's much praised printed t-shirts remain though and with good reason: the 'star' is the new motif, or should that be star, of the AW12 show (fans of the brand will remember the rottweilers and Birds of Paradise flowers that have emblazoned Givenchy's t-shirts over the past few seasons).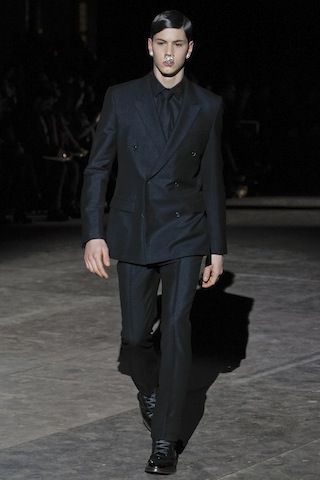 Finally, Kris Van Assche showed slim tailored suits with trousers ending at the ankle, that reminded us of 60s Britain and The Beatles, alongside garments with a bolder colour palette of electric blue and Prince of Wales checked jackets, which cemented the designer's reputation for mixing up the traditions and conventions of menswear tailoring.