The scene for this year's Eurovision was set by a somewhat dramatic reflection on last year's competition in Malmö. After creating the suitable excitement, the event opened with the usual display of pyrotechnics and strobe lights that would be enough to give anyone a stinging headache (5 minutes in - a new record for me). Without too much frivolity we were treated to the first act of the night, which was Mariya Yaremchuk of Ukraine; it was hardly the best opening song - mediocre, pretty out of tune in some places, but with good intentions nevertheless.
Next up was Belarus' Teo. Likened to Robin Thicke by many a commentator and Eurovision pundit, it's immensely confusing how this song even made it past the semi-final. The song, 'Cheesecake' (even the title makes me cringe), was creepy and quite kitsch - which is great by Eurovision standards, and finished 16th, one above the UK (but still far too high). Though, to Teo's credit, he was pretty well-groomed.
Next up was Azerbaijan. Usually, the Azeris send out some pretty good acts - last year Farid Mammadov finished second; 2011 saw Ell and Nikki steal the show in Dusseldorf, and Zafura finished in an impressive fifth place in Oslo. The story was different this year, however. Azerbaijan slumped to 22nd and scored a meagre 33 points. The trapeze was a bit gimmick-y, and, in my opinion, was far too much of a ballad. Trying too hard?
Iceland followed, and immediately lifted the spirits of the viewers with the message of their feel-good song 'No Prejudice', and really consolidated the message of not only this year's competition, but for Eurovision as a whole. Resembling what can only be described as The Wiggles on speed, with some Frankie Boyle thrown in (facial hair wise; if we were talking lyrically, it would definitely not be suitable for broadcast). Their colourful suits and incredibly well-maintained beards can be viewed here.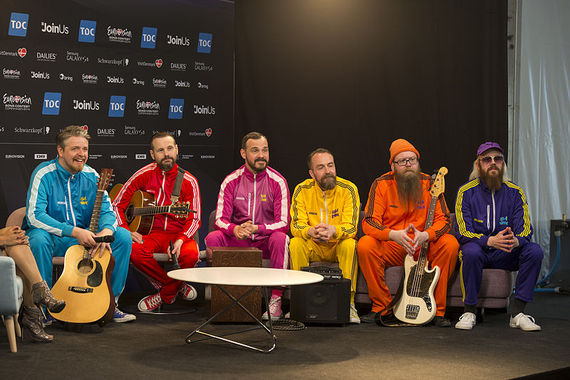 Pollapönk during a meet and greet in the run-up to the contest. Note the New Age style Bee Gees/Grigori Rasputin tribute on the end. (Photo: Albin Olsson, License: CC-BY-SA-3.0)
Next up was Carl Epsen of Norway. Epsen is a carpenter by trade, but has a powerful voice, as he displayed last night. To the tongue-in-cheek viewer the lyrics of his song 'Silent Storm' ('there's a silent storm inside me') could be indicative of digestive problems, but it was annoyingly an emotional thing, or something. There was a mixed reception to this song, but I thought it was pretty great, very powerful. It finished a respectable 8th place, scoring a total of 88 points.
The next two to follow were Romania and Armenia. Romania's was typical Europop from their favourite duo Paula Seling and Ovi, which featured a 360 degree piano, and an embrace towards the end that made us all warm inside/throw up a little. Armenia's entry, 'Aram MP3' (no, really), shouted most of his ballad, but shouted it well. He was in the top three for a while, before being trounced by Sweden as the vote went on.
Next up was Sergej Cetkovic of Montenegro. A particularly special year, as it was the first time the Balkan state has qualified for the grand final. The song wasn't particularly special, though the traditional tinges and the ice-skater were a nice touch (even though I hadn't a clue of what it was attempting to represent).
Now to Poland. Yes, it sure raised a few eyebrows. It was obvious from some of the 'actors' which audience Poland were trying to appeal to, but I'll stick to the music. All-in-all, a catchy tune, but turned into a bit of a noise in parts. Not really an effective tourist outreach programme, in my honest opnion. Despite winning quite a few popular votes, it was shot down by the juries, and finished 14th with 62 points.
Following the Poles were Greece, who treated us with a memorable melody that was certainly in the style of Dizzee Rascal and Tinie Tempah. Like Montenegro, there were a few traditional elements, mixed in with the more modern hip-hop style. Though it seemed to get a decent reception, it finished all the way down in 20th, with 35 points.
Germany and Sweden were 12th and 13th in the running respectively. Germany's song 'Is It Right', performed by Elaiza, was delivered at a fairly easy tempo, and had a wonderful backing accordion. The song was nicely delivered, and was certainly one of my favourites, but finished in 18th, with 39 points. Sweden, represented by Senna Nielsen, came out with a bit of a power ballad. In my eyes, it was hardly a winner, but it was just the right song to gain a respectable result - and so it did - 3rd, with 218 points.
Then came France. Lord. They finished last with a whopping TWO points. And it's no surprise. This typically europop-ish anthem was entirely about moustaches, and included some very 'colourful' graphics. Whilst the song finished rock bottom, it certainly isn't the end. I have no doubt parents will be hearing this song at their kids' school discos for years to come. All I can say is, God have mercy.
Following France were Russia. All I can really say is, meh. Their song was pretty mediocre, and the reception was hardly friendly - certainly a symbol of how political the event has become (but perhaps understandable in this context). Though, despite what I say, the Tolmachevy Sisters finished 7th with 89 points. An impressive feat for two 17-year-olds.
Then came my personal favourite Italy. The song 'La Mia Citta' (My City), performed by the incredibly charming Emma Marrone, was utterly sublime. Everything from the striking music to the pageantry really cut it for me, and there was a fantastic display of ancient Roman imagery (that toga-style dress was pretty great). The song itself was great fun, you could even say intense, and has stuck in my head for the last couple of weeks now (in the best possible way). I'm not afraid to admit the performer was the most captivating part of the whole thing. I voted for this song and this song only - there's no doubt it definitely deserved to finish much, much higher than 21st. Salve, regina Emma! (Is that right?)
After Italy, I was only really taken in by a few performances. Namely Spain (Ruth Lorenzo), whose song Dancing In The Rain certainly rained (eh? Eh?) on the parade of Finland, whose own version of One Direction were pipped by Spain to tenth spot. Following these two came Roger Whittaker--sorry, I mean Sebalter, who I'm convinced whistled more than he sung actual words.
We then saw Hungary, who, like Greece, performed a 'BritHop' style number - though I'd got bored of all that by this point. The song was pretty strong, and finished 5th with 143 points. Then we had the Mumford and Sons of Malta (23rd place, 32 points), a Bruno Mars/Michael Jackson cross for Denmark (9th, 74 points), The Netherlands, who performed a catchy little folk song, that finished 2nd with 238 points, and were definitely the dark horses of the competition. Then we had Valentina Moretta of San Marino, who has been trying for 3 years now to make it to the final, and on Saturday she did for the first time, though sadly finished 24th with just 14 points.
Then of course we had Molly of the UK, who wrapped the performances up. Her song 'Children Of the Universe' deserved much higher - it was passionate and rather emotional. Though, sadly, it didn't quite have the umph to get it up there with the other acts. Needless to say, however, Molly received a fantastic reception, and gave a tremendous performance.
But of course, it was Conchita Wurst of Austria who stole the night. Her song 'Rise Like a Phoenix', was incredibly reminiscent of an old Bond theme, and ran away with the competition, racking up a total of 290 points. But it wasn't just her song that won it. Her bubbly personality won the hearts of all Eurovision fans, and deservedly took the trophy back home to Austria. Conchita's message at the end was what struck many, though. Her call for tolerance and respect should not go unheard, especially in those parts of Europe where intolerance still runs free.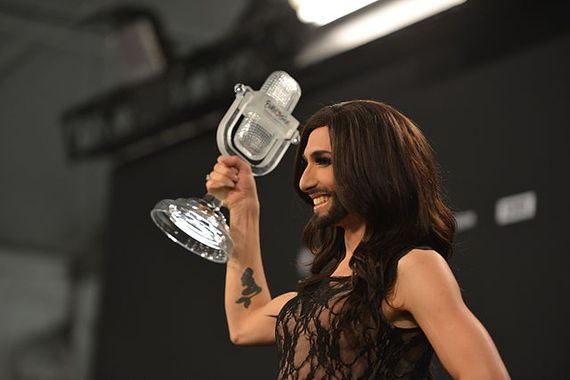 Conchita at the Winner's Press Conference. (Photo: Albin Olsson, Licence: CC-BY-SA-3.0)