It's so easy to pile on the pounds when you're pregnant but one of the key things to remember about eating for two is that it doesn't mean eating twice as much!
Maintaining a healthy weight gain during pregnancy will make it much easier to regain your pre-baby figure after the birth - experts at NICE (the National Institute for Clinical Excellence) have identified pregnancy and the early months after the birth as the time when women are most susceptible to putting on weight.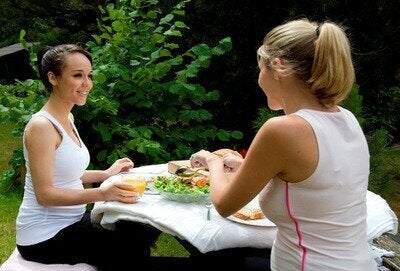 Tempting as it is to have 'one for you and one for the baby' you don't actually need to boost your calorie intake until the third trimester and even then you won't need more than 250-300 extra calories a day. And that's the equivalent of a moderately sized jacket potato or a cheese sandwich.
Most of your pregnancy food needs can be met by following a normal, healthy diet but it's worth being aware of the different food groups you should include each day to make sure you get all the nutrients you need for you and your baby.

Need a tick list? Here is an easy to follow guide of essential foods groups for the pregnant mamma!
Plenty of protein. Ideally meat, fish, cheese or eggs - or vegetable proteins such as beans, lentils or tofu. The amino acids that make up protein are the building blocks of cell development and are essential for your baby's growth. Aim for around 70gms of protein daily.
At least five to six portions of fruit and veg a day - try and include the 'rainbow' of colours to get a good mix of essential vitamins and minerals.
Plenty of carbs - which you can find in cereals, bread, pasta and savoury biscuits. Go for wholegrains wherever possible, with all the goodness and extra fibre to keep your digestive system healthy.
Lots of calcium, essential for developing bones and teeth. Dairy products are the obvious source but you'll find calcium in green leafy vegetables, beans, nuts and seeds too.
Folic acid is essential during the first trimester for healthy neural development. You'll find it in green veggies, potatoes, chickpeas, wholegrains, sweetcorn, broccoli and soya milk.
Foods rich in iron such as red meat and green leafy vegetables. Team your iron rich meal with Vitamin C (such as a glass of orange juice) for easier absorption of iron - and avoid caffeine.
Healthy fats, the monounsaturated varieties found in olive oil, nuts and avocados; poly unsaturated fats (those in oily fish and soya beans) and Omega oils are required for your developing baby's brain and nervous system. Avoid hydrogenated fats.
Make sure you drink plenty of fluids, ideally water!
Your healthy pregnancy diet doesn't have to be boring! If you are looking for some healthy lunch inspiration here is a recipe designed to pack in a healthy dose of essential vitamins try this delicious Tomato and Lentil Soup! The lentils are a great source of iron and protein too!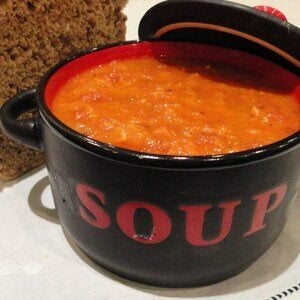 2 onions, chopped
2 cloves of garlic, crushed
2 rashers of bacon chopped
1 tbsp of light olive oil
1 cup of lentils
2 cans of chopped tomatoes
3 ripe fresh tomatoes, chopped -
½ tsp of smoked paprika (more to taste)
500ml of chicken or vegetable stock
Sauté the chopped onions and garlic in the oil over a moderate heat for a few minutes until the onion is starting to soften. Add the bacon and continue to sauté until the bacon is cooked. Add the chopped fresh tomatoes and stir over the heat until they start to collapse. Stir in the smoked paprika.
Tip in the two cans of chopped tomatoes and stock. Bring to the boil. Add the washed lentils.
Reduce the heat and simmer until the lentils have softened and the soup has achieved the right consistency - add more liquid if it's too thick, simmer a little longer if it's too runny!
If you prefer a smooth soup you can blitz this in a food processor but it's good left with a bit of texture. Serve with wholemeal bread for a healthy pregnancy lunch and add a swirl of crème fraiche or yogurt to make it look pretty!
Leave out the bacon and use vegetable stock for a delicious vegetarian option.