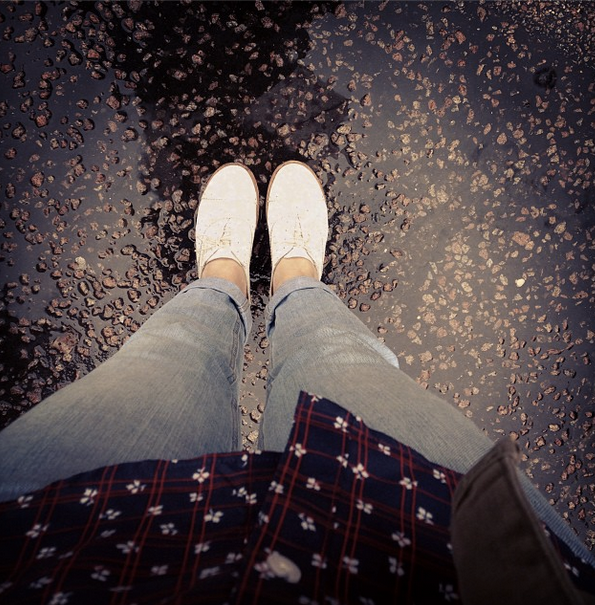 Hang on - I've missed something. What's happened? Fashion week is long over and I feel all topsy-turvy, all out of sorts.
It feels like since the moment the sparkling catwalks of Paris closed for the season, all I've seen is long-legged style stars - those be-lashed gazelles renowned for sporting six-inch stilettos - wearing flat shoes. Brogues and monk shoes, slippers and ballerina pumps - why, all of a sudden, are flat shoes fashionable?
That's a good question, and one that can be answered either very simply, or in slightly more detail.
First - the simple answer - have you ever worn a six inch heel for more than four hours?
That's why we're wearing flat shoes.
More seriously, though, it's true that the flat is back. Far from being the comfortable option for those who couldn't possibly be taking style seriously, the flat shoe's style renaissance has finally come. Last season saw the high heel's heyday heralded as 'over' in fashion terms, and the brogue, the butch flat and the dainty pump were ushered promptly into the place of vertiginous spikes.
There are a few reasons why this is a trend that's refusing to budge for AW13 and well into next Spring/Summer - beyond the simple fact that they're comfortable.
Firstly, as with all serious trends, there's the Alexa-effect. Yep, fashion's favourite doe-eyed darling favours a flat shoe - and what Alexa does, the fash-pack always back. Spotted this season on the front row in everything from mannish loafers to buttoned mary-jane pumps, Alexa Chung makes the flat shoe work hard.
Whilst she probably doesn't ever have to run for the bus if we're all being honest, she looks like at any minute she could. She could sack off her waiting Addison Lee and leap elegantly, right out of that coveted front-row seat, run right down the catwalk of the Burberry show, through those perfectly polished doors and directly onto the 189 to Brent Cross, without so much as turning an ankle.
She's not alone either - stylebubble blogger Susie Bubble is frequently spotted in a chunky creeper or orthopaedic-chic 'flatforms' and InStyle's Junior Fashion Editor, Hannah Rochell, has made her name running the popular blog dedicated to flat shoes, 'En Brogue'.
With the revival in 90s style, another dimension has been added to flat footwear - high tops are stomping back onto the scene in every shape and colour. In Spring they were sported on the catwalks as Ashish and Moschino Cheap & Chic opted for vibrant but very comfortable lace-ups, which means that, according to the law of fashion percolation, they've filtered firmly onto the high street shelves in time for autumn.
So, that leads us onto the second serious point to be made about flat shoes - as with all vicious-fashion-circles, it's true that the more popular a trend is, the more effectively it's catered to. From the big brands and beautiful collaborations to outstanding high street steals, there's an endless cascade of both casual and statement styes out there.
If you buy just one pair - or daydream about buying just one pair, make them sparkling birthday shoes from Charlotte Olympic, encrusted with a glittering astrological motif. If you're committing to the trend completely, don't stop there - cover all bases with leopard print smoking slippers, high-shine patent brogues and thick, black-soled loafers.
Fashion is fickle, of course, so we're not donating our heels to the nearest second hand shop just yet - simply pop them into storage, and invest in a few flat pairs to see you through the season. After all, shoes that you can run for the bus in should always be considered an investment, right?
Related