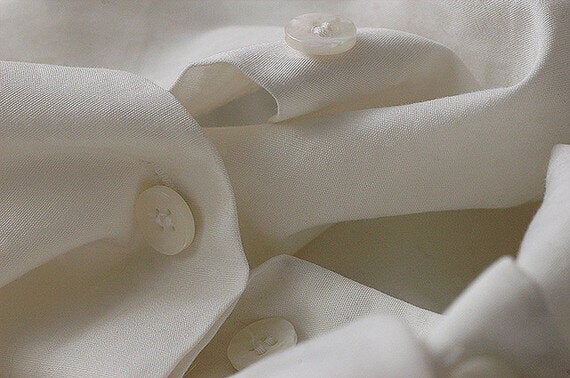 Last weekend, a friend and I were stood in TOPSHOP debating the pros and cons of an entirely impractical purchase I wanted to make.
In fact, this is a story which could start 'On any given weekend, a friend and I will be stood in TOPSHOP debating the pros and cons of an entirely impractical purchase I want to make', but it just so happens that last weekend's impractical purchase is the first one I've been able to make an entire trend-based blog post out of.
I was standing in front of my - very practical - friend holding a white coat. A soft, wool blend, structured, double-breasted white coat. With a masculine flair and sleek, flattering oversize cut, it was perfect. I held it up, clutching it at the shoulders and pleaded:
'But I don't DO anything that will make it dirty!'
My friend raised an eyebrow and replied, 'you mean, apart from live in London?'
She was right. I didn't buy the coat. But that doesn't mean I haven't been thinking about it, in all it's cosy, not-quite-cream glory. From Celine to Simone Rocha, this season was awash with one bright shade of white, and now it's found it's way onto our high-street rails it's harder to resist than ever before.
So why, when we live in big cities, drink coffee from structurally unsound paper vessels on public transport and have recently begun to enjoy a restaurant trend that openly describes itself as 'dirty food', is Autumn Winter 2013 the season of top-to-toe white?
Surrounded by catwalk photos, designer look books and samples all day every day, I've begun to see all white looks as an extreme, ultra-modern extension of monochrome. We've been pairing black and white since... well, I guess as long as priests' cassocks have existed maybe? Anyway, since whenever - it's a long time. And it's an easy pairing. It's the classic combination that comprises official suiting, the tuxedo. Black and white means business. Perhaps because of that, though, black and white can also sometimes seem a bit serious.
Cutting out the safety net of simple black pieces and replacing them with bright white transforms a serious look, and instead makes a statement. The best thing is that that statement can still comprise sleek tailoring, denim or lace. In fact, what you wear can be exactly the same as you would if it were black - the only difference is that it's not.
The two crucial fashion keywords for wearing head to toe white a la the Autumn Winter runway are texture and layering.
In terms of texture, touchy-feely fabrics are perfect for breaking up the naturally glacial nature of white shades. At the always-chic Celine and Carven shows, felted boiled wool and angora gave structured white pieces a soft ladylike feel, while Simone Rocha used white fur and sheer lace in arctic shades to make an impact.
Once you've got texture nailed, layering comes naturally. Try white jeans, with a white cable knit jumper and - if you dare to make the leap I didn't - that all important white coat. Voila, you're layering like a pro. If you want to go all-out Isabel Marant style, invest in a white biker jacket and slip it over a white jumper, white shirt, white jeans and - yeah, you saw it coming - white wedge-heel trainers. The pieces themselves are casual, and effortlessly cool, but by combining them all in the same shade you create something instantly high-fashion.
It's not fashion for the faint-hearted (or the unsteady of hand, or red wine drinkers... or those who like gravy on their chips) but it is undeniably, instantly stylish.