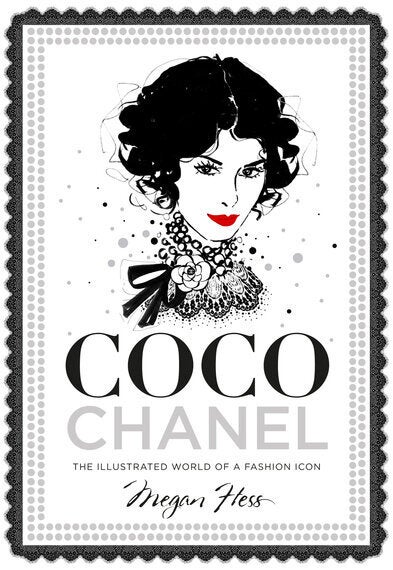 "Few people in the history of fashion can claim the influence of Coco Chanel," writes Megan Hess in the introduction to her book. It is difficult to appreciate just how groundbreaking the French designer was. Born in 1883, Chanel pretty much created the modern woman, liberating them from restrictive corsets and heavy decoration - and even long hair. She introduced activewear for women, simple silhouettes and, of course, that perennial favourite, the Little Black Dress. And perhaps more importantly, she was arguably the first woman to establish a global brand.
Ahead of her time in not just her dress sense, she lived an unconventional life with a string of admirers including the Duke of Westminster. Though she came from humble beginnings, she counted Salvador Dali, Winston Churchill, Elizabeth Taylor and a host of celebrities and socialites among her friends.
"My life didn't please me, so I created my life," Chanel once famously said. Born the illegitimate daughter of a laundrywoman and a merchant, Chanel was just 12 when her mother died and she was taken to a convent to be looked after by nuns. It is here that the designer's penchant for monochrome palettes and simple styles were forged.
Chanel's passion for invention began with her own life including changing her name from Gabrielle and reinventing herself. She was her own advertisement, wearing the unadorned felt hats that she made and jodhpurs to go riding - unheard of at the time. With the help of a wealthy and well-connected patron Balsan, Chanel opened her first boutique in Paris in 1908 and quickly attracted a loyal following. Just two years later, she opened an atelier at 21 Rue Cambon called Chanel Modes.
Her simple, elegant and chic designs caught the public mood and in just a few years, she was able to buy the whole building, establishing a workroom and apartment above the store.
"I make fashions women can live in, breathe in, feel comfortable in," Chanel said. She is the reason why the shops today are filled with Breton shirts for spring, and women wear trousers. While her interlocking Cs is one of the most instantly recognisable logos in the world.
Coco Chanel: The Illustrated World follows the life and work of the designer from her early life and the start of her business to her death in 1971 and the handing over the design mantel to Karl Lagerfeld.
There are no surprises here and anyone who has seen the 2009 Audrey Tatou film Coco Before Chanel will be familiar with much of the material presented here. Nonetheless, Coco Chanel: The Illustrated World of a Fashion Icon is a gorgeous book, attractively presented and drawn with flair and wit. It serves as an excellent introduction to the world of high fashion and would make a lovely gift for a young niece.
Available from Amazon and all good bookshops