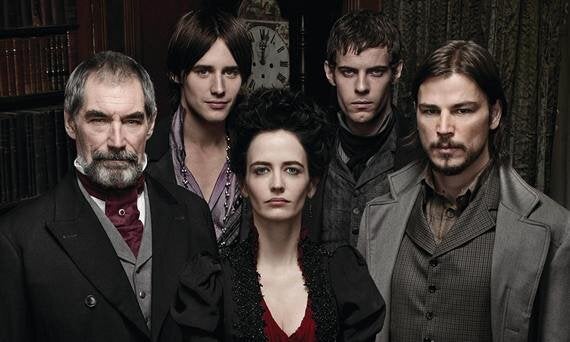 From The A-Team to CSI, some of the most popular and enduring television shows have centred on a family, either real or created. John Logan's gothic horror Penny Dreadful is no exception to this generalisation. The show's father figure Sir Malcolm Murray is played by Timothy Dalton, Eva Green's Vanessa Ives is the matriarch, while Josh Hartnett and Danny Sapani are the wayward stepchildren, gunslinger Ethan Chandler and taciturn heavy Sembene. Since the show first aired on Showtime in 2014, it has consistently won over critics and audiences alike.
"Looking back now, I think my affection for monsters feels like more like a kind of kinship," writes the show's creator John Logan in the book's introduction. "Penny Dreadful always exists in that cusp of darkness and light, angel and demon."
We get interviews with the cast and crew. Refreshingly, this isn't one of those books filled with fawning star interviews, but really insightful pieces into how the characters were created and what a good actor can bring to the table.
"The ultimate challenge and goal of Penny Dreadful is really simple. It's to say, 'We are all monsters'. Within all of us we have secrets, we have demons, we feel alienated from the world around us. For the unbelievable Victorian locations and costumes, for the complexity of the plot, for the intricate nature of the characters and the relationships, it's a story about love," says Logan.
Even though much of the show was filmed in Ireland, this is a series where the city of London functions as an additional character. Thus we get the city's dank alleyways, grey waterworks and shadowy warehouse districts - even if they were recreated in a studio with special effects.
Writer John Logan reveals that while the show spent gestating in his head, it actually happened rather quickly with a dream team assembled to execute his vision once Showtime had signed off on the project in a matter of months. Veteran actor Simon Russell Beale appears in the pilot as Ferdinand Lyle, while Oscarwinner Sam Mendes was the executive producer.
The attention to detail is truly astounding - even down to the walls papered with authentic posters advertising boxing bouts.
The Art and Making of Penny Dreadful is handsomely presented with gorgeous full-colour illustrations throughout, immersing us in a salubrious Victorian netherworld of brothels, opium dens and gravediggers.
The Art and Making of Penny Dreadful is available from Amazon.com and all good bookshops
Related