It's easy to dismiss symptoms that you don't think are important. In some cases there are no symptoms, in my case and luckily for me there was. Early diagnosis can save your life, know your body and never ignore changes that may occur. Always seek medical advice if you're unsure.
In the summer of 2013 I had just returned from a family holiday and was feeling unwell. My only concern was making a phone call to see my doctor. I had been experiencing symptoms for quite some time and I knew I could no longer put off that call. A week later I sat in the surgery awaiting a blood test. After a thorough examination my doctor confirmed she could feel a lump in my rectum and would refer me to see a specialist. I think even then I knew it was going to be bad news; I tried to recollect how long I had ignored the symptoms. It was only bleeding when I went to the toilet surely that was piles wasn't it?
Within the following few weeks I attended various appointments and after biopsies, scans and a colonoscopy I was told I had Bowel Cancer. Nothing can compare the feelings of shock and complete sadness on hearing you have cancer. Other emotions like anger and 'why me' are inevitable, you try to push them to the back of your mind but with each new day they come crushing back once again. The only saving grace was the support from family and friends and my own unending ability to conquer this disease within me. I knew I had to stay focused and positive which paid off when I was finally told "We can cure you". I cannot express how liberating it was to hear those words, even after being told I would receive a permanent colostomy and every part of my rectum removed, to know I was going to survive was the best news I've ever had.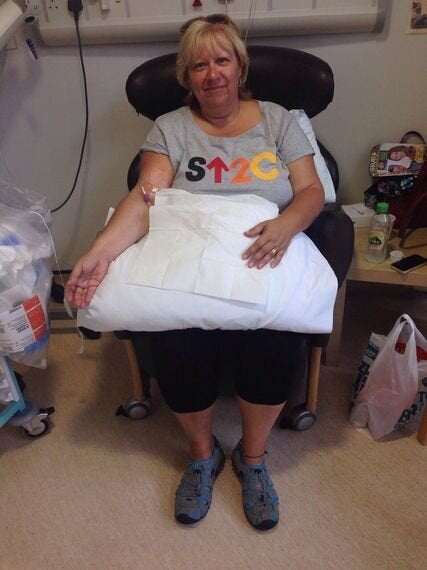 After 4 weeks of radiotherapy and chemotherapy every day, I tried to lead a normal life once again always with the thought of my looming operation at the forefront of my mind. My husband was my rock always at hand with a smile and complete positive attitude, and my lovely brave daughter phoning me every day from University with her cheerful chatter and funny stories. It was so hard on both of them but more so for her as she was studying away, her longing to be here and support me was overwhelming. By not revealing my true emotions to protect her made me accept my own positive feelings about my cancer.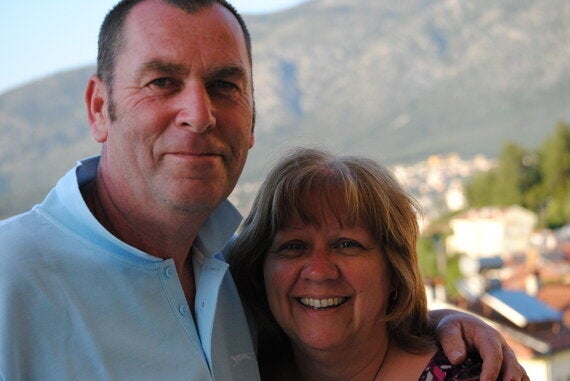 I eventually prepared my state of mind and when my operation date arrived I was feeling surprisingly calm, self-preservation was definitely the answer and I underwent a lengthy successful operation that resulted with me back home after only three days. I went on to have a further six months of chemotherapy as a precaution and my overall success rate for recurrence is now an amazing 93%. I have to say that life for me with a permanent stoma has never been a problem; in fact I find it at times quite convenient. As I always say I can go anytime, anyplace and anywhere. I can still do all the things I used and loved to do.
These last two years have been an emotional roller coaster, always on the up and never on the down. I have been back at work for a year now and in that time I have written and sold many copies of my book about my own Cancer story, travelled abroad four times, took part in Race for Life this year and now advising my daughter with her own Cancer magazine ideas as she completes her final project at University.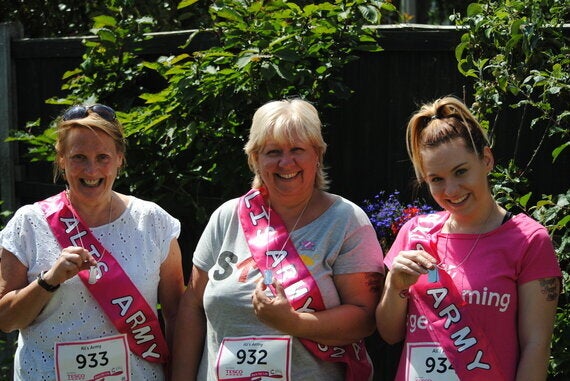 I often think live every day as if it's your last. Make every day count as life can change so quickly. Always stay focused and believe in yourself. Mind over body can be the best healer overall. Yes I turned to my family and faith for hope but honestly I think a lot came from my own faith in myself. We can all be victims, but yet survivors too. We have all fallen prey to some tragedy in our lives whether it be illness, catastrophe or bereavement and yet we have all survived in one way or another each and every day we are still here.
All proceeds from my book 'The Bad News' go to Cancer Research UK and you can purchase a copy at Lulu.com
Alison is supporting Cancer Research UK's latest campaign encouraging the public to spot cancer sooner. Early diagnosis is one of the greatest weapons in the fight against cancer and by spotting it early you give yourself the best possible chance of beating cancer. Get to know what's normal for your body and tell the doctor if you notice anything unusual for you. Cancer Research UK has a wealth of information available for anyone with any questions, including the website cruk.org/spotcancersooner and nurse helpline 0808 800 4040