As adults, for the most part, we play our part in fundraising. We respond to appeals on the television highlighting often unthinkable living situations of those less fortunate than ourselves. We sponsor our friends and family in their efforts to raise money for various causes that have touched our own or their hearts. Occasionally we even don a ridiculous outfit and do a bit of running or sponsored sport or dowse ourselves in freezing iced water... and that is all important and worthy.
It's not often, however, that we really give up something that means a lot to us for the sake of others, something that we think we would miss (but don't really need in the grand scheme of things). What I'm getting at, is that we often forget about the critical importance of charity and fundraising, the lifeline it offers others and sometimes it takes a child's perspective to remind us of this.
On Monday 27 April 2015, as I was driving my just turned seven-year-old to school, a news story about the earthquake in Nepal came on the car radio. Many questions about earthquakes and what caused them filled the remainder of our journey. Alasdair eventually went on his way to class, comforted that we didn't live on a fault line, but upset by the newscaster's fear that thousands of people including many many children may have died.
On the way home from school, having clearly thought about this all day, he asked me if he could ask his friends to donate money to Nepal rather than to give him presents at his upcoming birthday party. Alasdair also wanted to donate some money from his own piggy bank.
I have to say, there are some occasions when your child just simply leaves you speechless and this was one of them. In that single moment I don't think I have ever felt so proud of my little man - I instantly agreed and said that I would match fund £1 for every £5 his friends donated. Being a boy who loves maths, the sums this led to kept him entertained all the way home.
I helped him to set up a fundraising page via JustGiving where we found the link to the Disaster Emergency Committee Nepal Appeal. His friends started to donate and it looked like he'd reach his original target of £300 by the party. But then the DEC caught wind of his story and all of a sudden Alasdair and it featured in a national news advert.
Drawing on the DEC principle that Together We're Stronger, the advert strikingly positioned Alasdair's face merged with Sarisma, a child from Nepal who had been made homeless by the earthquake. It was a sobering reminder of the harsh reality in Nepal and why this was so important.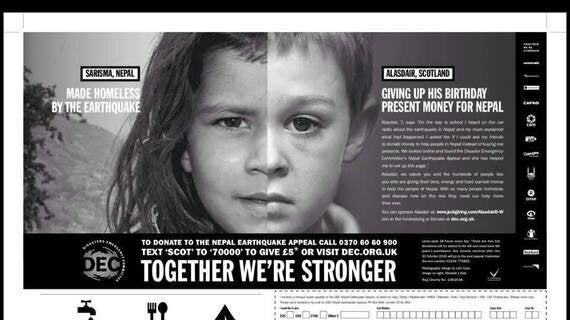 Provided with permission from the DEC
His story was also included in the latest DEC appeal newsletter and YouTube appeal video.
The national exposure meant that more and more people kept donating to his page and this is something we have talked about a lot over the last week - we are forever grateful to his and my friends and family for their support, but even more so to the total strangers who have supported him after seeing his advert in the newspaper. We will never know who many of these anonymous donors were and we cannot thank them enough. People of all ages, inspired by Alasdair's story, took the time to go to his page and donate.
All of this extreme generosity has humbled me and inspired Alasdair to raise even more. He decided that over the May Bank holiday he wanted to do a sponsored swim - but it couldn't be a normal swim - it had to be different. "How about swimming 100 metres in a loch?" I suggested, to which he replied - "great idea, but only if you do it too mum"... ugh!
Inspired by his willingness to help others by genuinely giving up something that mattered to him, I agreed to join him in the freezing waters of Loch Fyne to complete this challenge.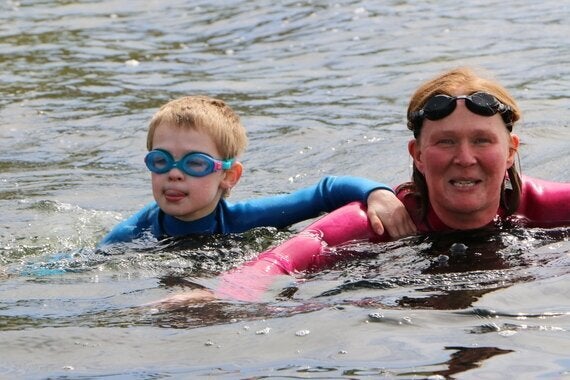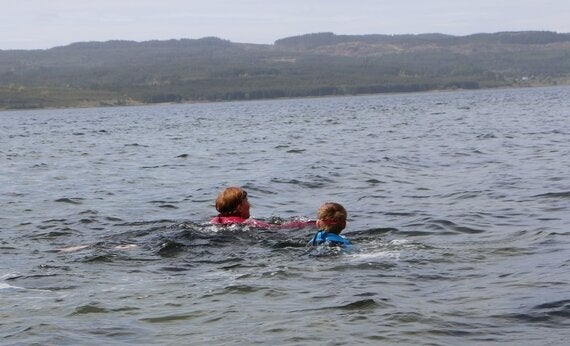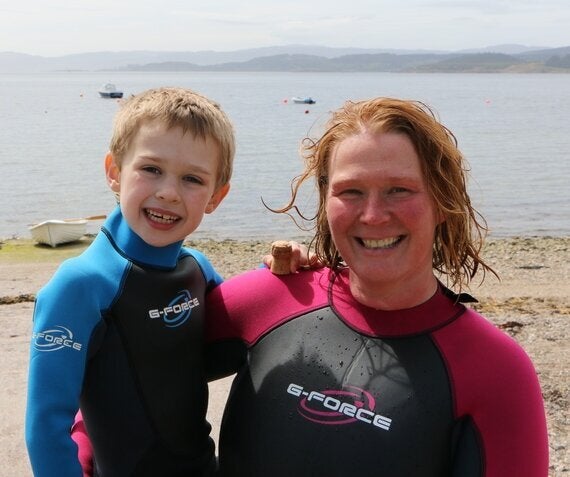 Photos by Joe Buchanan-Wollaston
Neither of us could have imagined that his efforts to raise a few hundred pounds would have led to raising almost £4,000 following our loch swim. Whatever total he raises in the end, he has never lost sight of why he was doing this, frequently asking about how the rescue efforts were coming on. What will stay with me though, was his decision to give up something important to him (and the ease with which he gave it up) for the good of others. Children can be excellent teachers of what really matters in life.