Quite why everybody is so fixated with Mesut Özil's withdrawal through injury at half time of Arsenal's Champions League draw at the Allianz Arena on Tuesday rather than the outstanding performance of the youngest player on the pitch - a player who missed a huge chunk of the season through injury and showed no sign of being overawed by the intimidating surroundings of Bayern Munich's home - is utterly bemusing. Rather than praise a young man who could be England's best hope of lighting up this summer's World Cup in Brazil, we are forced to go over whether the Gunners' record signing is too tired, injured, didn't 'fancy it' or is not quite as good as he was originally cracked up to be.
Whatever the reason - almost certainly his hamstring injury - the point remains that Özil was largely peripheral in his 45 minutes, while Alex Oxlade-Chamberlain carried the fight to the opposition and looked the visitors best chance of inspiring an unlikely comeback. Of course, that comeback never materialised, but Oxalde will have done much to pacify not only Arsenal fans worried at a lack of options in midfield with Walcott, Wilshere and now Özil out injured, but also England fans that fear the national team is always too rigid to make any significant progress at the major tournaments.
Most noticeable was Oxlade's confidence on the ball. Time and again he drove forward, relieving the pressure that was building on the Arsenal back line as Bayern unsurprisingly enjoyed 67% possession and probed for a goal. Whenever the ball went out of play, Bayern rushed to get it back in and the tempo with which they played gave Arsenal little time to settle or get organised. They struggled to work their way forward with their usual passing game. Özil completed just 58% of his passes, Podolski 76% and Oxlade 74%, and each time they gave it away another wave of Bayern attacked ensued.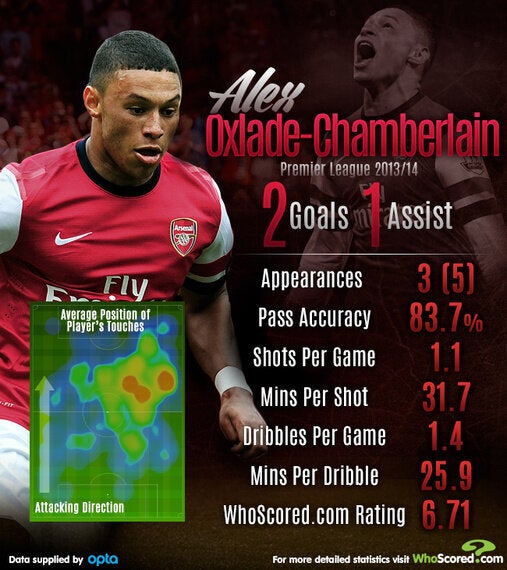 When Oxlade-Chamberlain ran with the ball at his feet, though, with Bayern so high up the pitch they looked wary of challenging him, his quick feet a major threat to their backtracking defenders. With only seven minutes on the clock he beautifully controlled a ball Santi Cazorla had played up the line and drove at Dante, who stood no chance against Oxlade's pace and took him down, making little attempt to play the ball and gratefully accepting a yellow card that may have been red if Franck Ribéry had not been covering. Later, the Southampton youth team graduate ran from his own half, beat or outpaced three men and drew a foul from Thiago Alcántara in a dangerous position. Oxlade completed as many successful dribbles as the whole Bayern team managed (10), despite touching the ball fewer times (56) than the vast majority of their players.
Arsenal and England are well-stocked in central midfield areas. Arsenal so much so that they still receive criticism for buying Özil 'when they really needed a striker' and England have so many that at least one of Frank Lampard and Michael Carrick is likely to be left at home in the summer. Oxlade is not naturally a deep-lying or defensively-minded player; he made no tackles and just two interceptions against Bayern and has made just four tackles and two interceptions in eight Premier League appearances this season, but showed that he can play in that role when given little defensive responsibility.
England will come up against at least one team (Italy) at the Brazil World Cup that will dominate possession against them and a player to carry the ball like Oxlade did last night could be a necessity. Chasing the game against a team like that, he could change the make up of a match and allow England the chance to move up the pitch. When Italy knocked England out of Euro 2012, they had 68% possession and 36 shots to England's nine. Then, England's best hope was the lottery of a penalty shootout, but one would hope that they are an improved outfit, or at least have better attacking players at their disposal this time around, and Oxlade is one of those.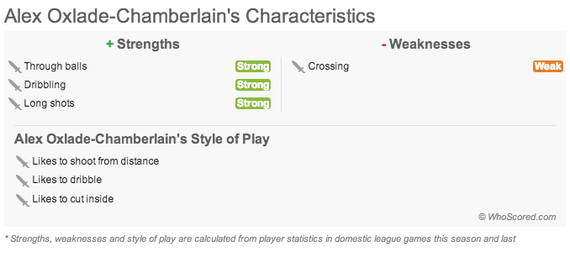 Averaging a successful dribble every 25.9 minutes, Oxlade ranks in the top 10 in the Premier League this season, and third amongst English players, though he has significantly more to offer in terms of final ball than either of the two players above him, Andros Townsend and Wilfried Zaha. He also offers greater versatility in that he can play anywhere across midfield and also is more two-footed than either competitor.
When Theo Walcott was ruled out of the summer's competition, pessimism amongst England fans grew. Raheem Sterling and Ross Barkley have gone some way to allaying fears that England will be going to South America without anyone that resembles an exciting, in-form, creative player, with moments of brilliance this season. However, Barkley was rushed back from injury and doesn't look to have rediscovered form, while, as impressive as Sterling has been at times, there is nothing to say he won't find the occasion of a World Cup too much.
Wayne Rooney's form has dipped dramatically of late, and there have even been calls for him to be removed from the starting eleven for England. Those calls are somewhat extreme, but that is yet another position in which Alex Oxlade-Chamberlain could slot in. Fitness permitting, he gives England great hope ahead of this summer's tournament, and on last night's showing and many more previously, he should be handed a start against Italy on June 14th in any one of the myriad positions he can play.
Should Oxlade-Chamberlain start for England at the World Cup? Let us know your thoughts in the comments below