Has any footballing matter ever gone without debate? For that matter, has any such topic ever evoked more widespread fervour than the announcement of the PFA's yearly team of the season? The latest instalment is no different, and there is plenty to discuss and argue over regarding the XI players selected by their fellow professionals as the best performers over the current campaign. What better to add fuel to the fire than WhoScored's statistically calculated team of the season so far?
In goal, Petr Cech was voted goalkeeper of the season by the PFA having kept more clean sheets (16) than any other stopper in the top flight, but there is certainly an argument to say that José Mourinho's extraordinary organisational skills have been a greater contributing factor to the Blues' defensive record this season. The back four and midfielders in front of them are nigh-on impenetrable at times, and though Cech boasts the second-best save success rate in the Premier League this season (77.1%), he is tested with chances of inferior quality, and only a total of 105 times; significantly fewer than WhoScored's goalkeeper of the season, Vito Mannone (158).
The Italian has saved 79.0% of the shots on target he has faced and has also come off his line to claim 56 crosses successfully, a full 19 more than Cech despite making 8 fewer appearances at this stage and thus has the best average rating of all stoppers this season (7.10), some distance ahead of Cech (6.82).
Seamus Coleman has indisputably been the best right-back in the league this season, marauding up and down the flank for an impressive Everton side who so nearly clinched (and might still clinch) fourth place. Adept defensively, Coleman is also a handful making runs from deep, and is the Toffees third highest scorer this season with 6 goals.
Vincent Kompany's error at Anfield nearly gifted Liverpool the title, and his performances this season have not been up to the consistent level we have come to expect of him. (In fact, he recently made an appearance in WhoScored's 'average performers XI' for this season). Gary Cahill has been impressive, but as with the goalkeeper behind him, Chelsea's organisation means he has not been tested as much as other Premier League centre-backs (and unfortunately there is no individual statistic for a player's role in a team's organisation).
Martin Skrtel has been revelatory after only last summer he was linked with an exit from Liverpool. The Slovakian has been a mainstay at the heart of the Reds' backline, making an unbelievable 395 clearances over his 34 appearances; a full 54 more than any other player in any of the top 5 European leagues. His 7 goals - scored from only 8 shots on target - makes him the top scoring defender, too. Partnering him at the back is a player who has had some backing for an England call up this summer; Curtis Davies. The Hull captain ranks 6th in Europe for clearances (303) and has won more aerial duels (164) than any other defender in the Premier League this season. Always tipped as a youngster to make it to the top, he is showing signs that he may finally be fulfilling his potential with greater responsibility.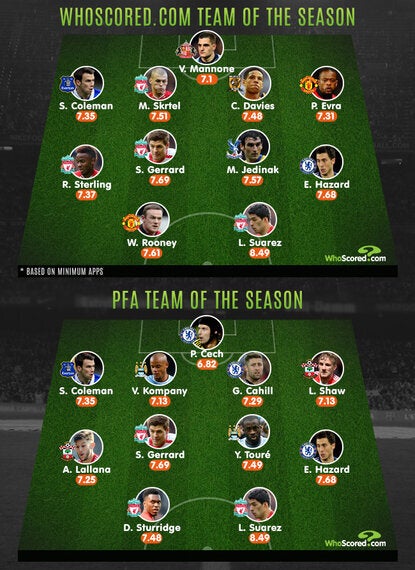 Luke Shaw's inclusion in the PFA's team of the season is largely down to his age. Many fellow pros will have given him extra credit given that he is still only a teenager, but looking at the stats, he arguably should have provided more than 0 goals and 1 assist, particularly for a player so praised for his ability going forward. Patrice Evra has perhaps not stood out because he arguably has not enjoyed as good a season as previous campaigns, but he has still been a solid left-back for Manchester United. 75 tackles makes him United's top-tackler this season and 173 clearances ranks him second amongst full-backs only to Branislav Ivanovic (174). Evra's performances have been quietly consistent all season, and they mean his rating (7.31) only very narrowly edges out Joel Ward (7.29), Leighton Baines (7.29) and César Azpilicueta (7.26).
Crystal Palace captain Mile Jedinak is in WhoScored's team of the season with an average rating of 7.57. Although his approach may not be anywhere near as spectacular as Yaya Touré's, he is arguably more important to his side than the Ivorian is to Manchester City. The Australian has made an unbelievable 66 more tackles and interceptions than any other player in the top flight (262) and deserves huge credit for his part in turning the favourites for the drop into a solid mid-table side with an almost unrivalled defensive record.
WhoScored and the PFA are in agreement that Steven Gerrard has been one of the best two central midfielders this season, while Eden Hazard is the best left-winger and Luis Suárez has been by some distance the best player in the league. He is joined flanked on the other wing by teammate Raheem Sterling in the statistically calculated best XI, with the youngster's incredible rise over the second part of the season enough to warrant a spot ahead of Aaron Ramsey and the players' choice, Adam Lallana.
Lallana comes close with a rating of 7.25, but Sterling's 7.37 gains him a place in the team. A recent double goal salvo and assist in a 3-2 win over Norwich epitomised the youngster's recent rise and he is now a shoo-in for the England squad going to Brazil. So too, for that matter, is Lallana. Sterling, though, provides something different for the national team that may spring a surprise or two in the summer.
Up front, Wayne Rooney just beats Daniel Sturridge into the team for his overall contribution to what has been a poor season almost all round at Old Trafford. Rooney's 17 goals and 10 assists makes him one of only 4 players to have reached double figures in both columns as he did his utmost to stop the rot that David Moyes oversaw. An injection of excitement into the end of United's season - with Ryan Giggs' appointment - saw Rooney net a brace at the weekend and England fans will be hoping this is the kind of form that could see he and Sturridge strike up an effective partnership at the World Cup. Given United's failings this season, Rooney's inconsistencies have not been clouded over by the performances of others. 6 goals in his last 5 Premier League appearances, though, hints that he is back to form at just the right time in terms of England's summer, while his early season form was somewhat forgotten when it came to the players voting.
Which team of the season do you think is more accurate? Let us know in the comments below.