When we welcome a new baby into the world we tend to shower this innocent creature with gifts. This baby with no material preference, no expectation and no recollection of what's just transpired really can't tell you the difference between smocked or crochet... but we can, and that's why we do it. Whist buying a gift for a newborn we often buy with ourselves in mind or the parents. As a second time mother of a newborn we received an abundance of gifts. Flowers and pretty pink rompers came pouring in by the dozen, deliveries to the house and hospital were around the clock and though we were entirely grateful for each and every one of them I couldn't help but wonder selfishly what about me? As I sat in my hospital bed, unable to move (post C Section), drip in arm, with a newborn crying next to me I felt like a broken woman. Nine long months of riding a hormonal and emotional roller coaster, gaining weight losing self esteem, (though growing an incredible little human) there I was, paralysed from chest down stitched up, drugged up and bed bound. Forget the baby, what about me? I thought. Here is a foolproof gift guide for the friends, family, husbands or wives of new timers, old timers, active mums, bedbound mums and every kind of mother that's just given birth. We all know how vulnerable and dazed one can feel during those first few days, here are 5 foolproof gift ideas for a mum in need of a little pick me up post partum pamper.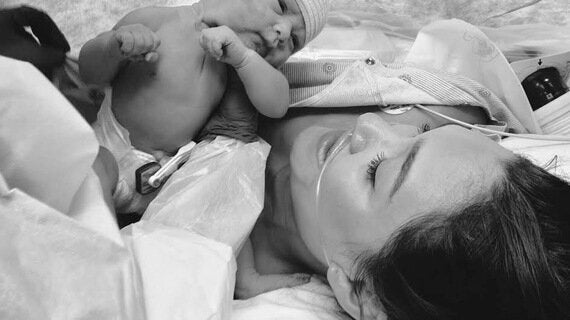 After hours of laboring or having a doctor rummage around your insides eventually you're going to want to shower. With help from hospital staff or a loved one even the simple act of getting out of bed walking to the bathroom to shower can feel totally new and foreign. A gorgeous body wash accompanied with exfoliating gloves depending on how you gave birth of course can do wonders. Earthy notes of geranium, lavender or what ever her poison can help soothe and relax this Mamma. Easily accessible, found almost anywhere from high street to your local pharmacy she'll be forever grateful.
Forget pajamas or a tricky nursing top with clips and buttons, she's just been through the wringer and though being topless would probably be her first option a nice night robe something light and easy will do the trick. A bright and fresh robe for in between feeds and visitors is ideal for this new Mamma and will transport her from her elevating hospital bed to slightly better days. She can use it in the hospital and at home where it will be put to great use.
Note: satin/silk options can be rather slippery especially up against the body of a new born. (We learnt the hard way).
Whilst packing her hospital bag it is typical of the new mother not to include a facial mask and why would she? She's going into hospital not getting ready for an event, right? wrong. She is in hospital but this is one of the biggest events of her life. New Born babies tend to sleep a lot and there's a lot of time in between so why not whip out a facial mask and enjoy! Aside from cosmetic benefits (who really cares when your knee deep in it and drinking from a straw) the act of self-care when feeling completely out of self can be really nourishing. To be safe opt for an organic mask especially if Mamma is nursing.
There's a whole history behind Chakra spray and its homeopathic benefits. Many believe "The Chakra" representing 7 wheels of energy affects our wellbeing - Chakra spray can help bring these centers back to balance, who doesn't need a bit of balance post-partum. To cut to the quick Chakra spray is a combination of essential oils mixed with witch hazel and distilled water. Regardless of the wellness properties and whether your Mamma appreciates them or not Charka Spray smells divine. With a few squirts your room will go from smelling like a hospital cafeteria to smelling like your own utopia.
As Brits and as humans we all love a good cup of tea but nobody loves it more than a mother who's just given birth. Hospitals generally cover the basics but if you're anything like me, a slave to the brand I craved the familiar comfort of my lemon and ginger tea. There are lots of different options but it's best to stick to something caffeine free especially if you're unsure of Mammas nursing status. If you know your Mamma and you know her tea, bring in a box, make a cuppa, sit down with this incredible woman and admire her new creation.