Rarely do two artists so accomplished at combining the conceptual and the aesthetic exist, let alone exhibit together.
Lee Ufan and Anish Kapoor's shows opened this week at Lisson Gallery in West London giving you the opportunity to experience a rare London show from Lee and striking new works from Kapoor.
Korean artist Lee Ufan has long been a famous face in the art world in Japan. Lee recently gained fame with his installation in the Palace of Versailles, following in the footsteps of Jeff Koons, to great acclaim. His peaceful minimal paintings and sculptures are now growing ever popular with audiences and art world insiders alike.
Here (below) is a short interview providing insight into Lee Ufan's history and the exhibition.
Your exhibition runs concurrently with Anish Kapoor's, do you feel there is any relationship between your practices?
Anish Kapoor and I are old friends and I have a lot of respect for him. His work make us feel the waves of breath of the cosmic space. My own work makes you feel infinity. I believe that we share common points in our vision of art and in our vision of the universe.
Some of your first well-known work was with the postwar Mono-Ha movement in Japan how do you think your practice has evolved since then?
I started my own full-scale activities as an artist in about 1968. At that time, I mainly focused on Cubist works, and actively involved myself in painting from 1972 but I did it alongside sculpting as well.
The realm of expression has expanded and diversified over time, and the acceptance of unmade/unfinished parts has become a more substantial challenge and more advanced abstractness than reality.
Is politics still a source of inspiration and if so, what inspires you?
My works of art are getting stricter and stricter and simpler and simpler in recent times by leaving only one trace of touch with a big brush on a certain part of a large canvas or by building a round arch over the road of a park (as in the Palace of Versailles) to control perspective.
This can be an aesthetic matter, but for me it is fundamentally a matter of politics in a sense of establishing relations between the inner and outer parts, communicating between others and me.
Your work is commonly referred to as minimalist yet you seem to enjoy leaving elements to chance in your work. What is it about the incomplete or 'Chuuto Hanpa' that fascinates you so much?
Perfection is a kind of theology but imperfection is cosmic sensitivity. "Chuuto Hanpa" means an equivocal or dubious state in a way, which indicates that the world of variability or changeability is neither one thing or another.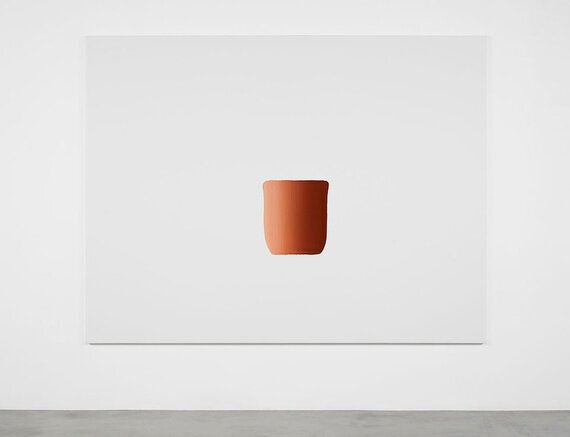 Lee Ufan, Dialogue, 2014, Oil on canvas, © the artist; Courtesy, Lisson Gallery
When installing an exhibition do you conceive it as a body of work or do you just put the works together in the space in a way that makes sense to you?
I think of and manufacture my own artist works in my studio many times, be that as it may, I am not in the position to put my own artist works onto a certain place and display them for show. That's because the nature of my work is so strong that the works don't exist solely in themselves but with a rigid meaning irrespective of paintings or sculptures. Meaning my work is bound to look different little by little according to how it's exhibited.
Given your work is concerned with relationships and what they can manifest, would you say the installation of a show is an extension of the making of individual works for you? If so could you tell me a bit about that?
As an artist work is not complete just in itself, its exhibition is also a tentative and implicit metaphor. The exhibition is a channel and an interim port which could be connected in a natural way or in an artificial way. I call it a relatum.
You are often quoted as saying that you aim to, "lead people's eyes to emptiness and turn their eyes to silence", for me this calls to mind a meditative state. Are you looking for an answer or do you like the sound of the question?
Art is a metaphor that connotes a lot of meanings or positions. However, the ultimate interest of an artist is in trying to transcend the finitude of human existence. In the long lasting changes of a desert, in space and time, we can see disappearance and appearance, and silence. As the scattered debris and fragments in the desert imply infinity more than the perfect relics do, art can become indicates transcendence when functioning in a relationship with the external world over perfection.
Although you have long enjoyed a career as an international artist your success outside Japan has increased hugely in recent times why do you think this is? How did it feel to exhibit in the gardens of the Palace of Versailles, in France, last year?
The Palace of Versailles seemed to be of great help in introducing my work to a wider audience. My contribution, however, was minimal and simply added to the overall space of the gardens. You could well say that it was an exhibition which made the viewer understand art that brought about a resonance with the space through the relationship between the sculpture and the gardens.
Lee Ufan and Anish Kapoor exhibit at Lisson Gallery, 27 & 52 Bell Street, London NW1 from 25 March - 9 May 2015, the exhibitions are free.