According to StartUp Britain, 581,173 new businesses set up in the UK in 2014. In fact 2,835 new businesses started on the day I wrote this article alone. Not too long ago, I was one of those new businesses.
Fresh out of my health coach training program, with visions of leaving my corporate career for a life of entrepreneurial freedom and flexibility, I tried to ignore the statistics shouting that only half of new businesses survive beyond 5 years.
There's a place for never-failing optimism (especially in entrepreneurs) - but what about the wisdom in learning from others' mistakes?
So, I started interviewing entrepreneurs. Not just any entrepreneurs - but wellness entrepreneurs who used an online platform to grow their businesses - the type of business I wanted to create. After 47 interviews, I've seen a multitude of ways you can build a successful wellness business online - but just a few common underlying principles. Here I'll share some of the key themes I learned from interviewing successful wellness entrepreneurs.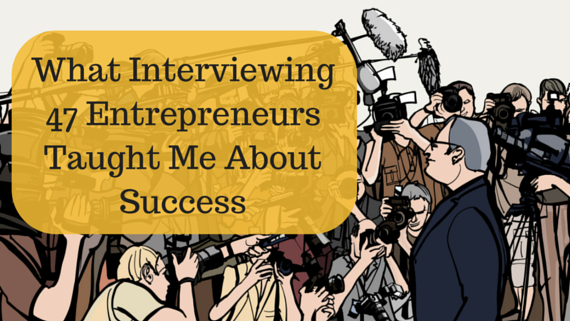 Wellness Entrepreneurs Share Their Secrets of Success
At some point every entrepreneur needs to stop planning, and just jump in. Putting out a Minimum Viable Product and finding your first paying customer is the fastest route to clarity - you'll never find the right product trying to figure it out yourself. Sean Croxton of Underground Wellness said "You can take a million courses, but until you put yourself out there... you aren't going to go anywhere. As hard as it is, you just have to start."
Adina Grigore, founder of natural skincare line SWBasics echoed this idea of starting before you're ready: "Get your product out there and see what people think--you won't necessarily feel completely prepared, but you have to push through. People aren't nearly as judgmental as you think they are."
2. Build an audience first, then ask them what they want.
This was an overarching strategy which works especially well with online marketing. Build an engaged audience around your topic by sharing valuable content, then ask them what problems you can help to solve. Not only do you get clear direction from potential customers about what they want - but it takes the pressure off you from having to invent the ultimate product or service. Mark Sisson of Mark's Daily Apple shared this about product creation: "There has to be bi-directional interest. Listen to the ideas, concerns, and questions that your audience voices, and figure out what parts resonate with you as well. It is in this intersection that you can often do your best work."
3. Infuse YOU into your brand to attract your ideal customers.
Lots of people provide similar products and services. You don't necessarily have to create something completely new to be successful. But you DO have to add your own unique angle to it, to resonate with your best customers. Generic products and services just don't cut it. Instead, these entrepreneurs recommend incorporating your unique story, quirks and experience into your brand. Women's Empowerment Coach Julie Santiago shared: "It is often the parts of yourself that you are most self-conscious and embarrassed about and that you try to hide that make you most appealing to others and most authentic. The more you show this side of your life, the more you attract the right type of person to your blog or business, someone you can truly help. "
4. Guess what? You're not the best at everything, and that's ok.
Because entrepreneurs wear so many hats when starting a business (marketing, product development, sales, accounting, IT department) it can be tempting to think that you know how to do everything best. But you've got to build a team to succeed. Even with a micro-businesses or as a solopreneur, you can build a virtual team at low cost. Mark Sisson advised: "Take advantage of technology, especially when building a team. You can collaborate with people from across the world, who are the best at what they do. This also means that you can focus on what it is that you're good at, and let others help with the rest."
5. Share what you're working on and get support.
From mentors to coaches to advisory boards to mastermind groups, the entrepreneurs I interviewed stressed the importance of finding a community for support, encouragement and accountability. Starting a business is a rollercoaster ride of emotions, and you need people to celebrate with you as well as push you back into action after a setback. Nisha Moodley creator of Fierce Fabulous Free says: "Get support early on, and create a community to meet with and collaborate with when you need help. Find people with similar ambitions whose businesses are at a similar level. Having an outside perspective and someone to hold you accountable is incredibly helpful."
6. Make time for self-care
Of course I couldn't interview 47 wellness entrepreneurs without getting some wellness advice. Everyone agreed that you have to build time for self-care and exercise into your schedule, no matter how busy you feel. Denise Duffield-Thomas, Author of "Get Rich, Lucky Bitch" says to get rid of the guilt: "If you give and give with nothing in return, you will quickly burn out, and no longer be able to help anyone. Serving everyone else while not taking care of yourself will damage you, which damages those you help in the long run"
After so many interviews, my key takeaway is this: if you're starting a business this year, find those people who have done what you want to do - and ask them about their success. While no one can guarantee you'll make it past the 5 year mark, give yourself the best chance of success by learning from others who have done it!