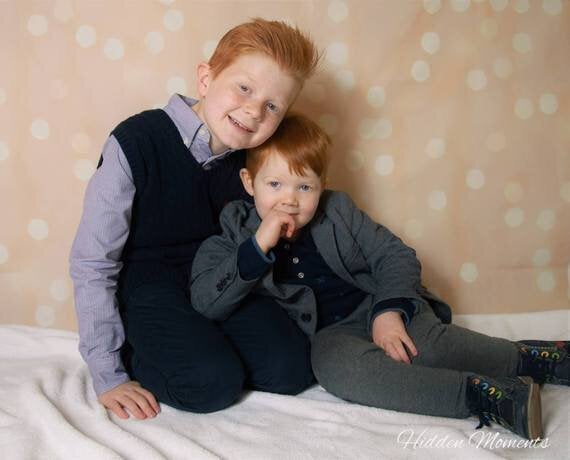 The day I had my second son, I remember sitting in the hospital cafe - on a break from continually circumnavigating the building trying to get things moving - I tearfully asked my husband, 'What if I don't have enough love for this baby?' 'What if my heart is already full?'
A five year age gap with my first son had led me into a mothering comfort zone where I felt secure in my abilities as a mother of one and had a top notch loving relationship with my little boy. The thought of spreading that love widthways between two children where one was still a stranger at this point, filled me with self-doubt.
This second pregnancy had been a cross to bear to say the least: lengthy, painful, and definitely not enjoyable. I felt this wasn't a good omen as it was in stark contrast to my blissful pregnancy with Harry, no.1 son. I bloomed, I rocked maternity wear and revelled in being with child.
In stark contrast, the birth itself with Harry had been traumatic to say the least, prompting a 6 day hospital stay with my new bundle of joy, unable to walk and a spell on a Zimmer frame, thanks to a wrong turn with the epidural. My birth plan for an idyllic water delivery was unceremoniously chucked out of the inner city hospital window.
However, once over that, I was off and limping and his early years were blissful, living the yummy mummy lifestyle to the max in London whiling away my days with a new like-minded group of friends.
We are friends to this day, those first-time mum unbreakable bonds strong, despite us moving to far flung corners of the world - social media keeps the lines of communication well and truly open. I revelled in the new job title I had, proud as punch at my new vocation in life and my son grew in confidence and blossomed into an angelic example of humanity before my very eyes.
So how on earth could I, under-qualified and lacking in training for the job in the first place, replicate this fluke a second time when, five years older, far more worldly wise and now living a small village life, I'd struggled through the pregnancy desperate to just get this baby out?
I'd prayed for a healthy baby - but please, a girl this time around. I never doubted I'd have a daughter, I felt it had been written all my life. I'm such a girlie girl and had envisioned countless times that my daughter and I would shop together, paint our nails together and how I'd braid her hair for school of a morning.
At our 20-week scan - which seemed to take an age to come around as it was all I was focused on from the word go - I shed a tear. Well a few to be honest. Tears of joy that my baby's heart was beating strongly and was in perfect health. A feeling I knew I was utterly blessed to have as I know the agony so many have to endure with a different outcome. But also, a few utterly self-indulgent, silent tears for the daughter I would never have, the times we would never share and the female bond which would never exist. The moment passed quickly and quietly, my own selfish personal watershed which few would understand or empathise with.
I had a similar feeling when Harry was revealed to be a boy, but It was easier to cope with when I knew I could have another go at it. A miscarriage 18 months later left a scar that never quite healed and many questions unanswered. This time around was everything, the final kick of the ball, this shop would be closing for good after this last hurrah.
Once the selfish seconds had quickly been pushed aside, I devoured the scan picture of our new son and marvelled at the incredible abilities of Mother Nature.
I can honestly say that from that moment it was full steam ahead in preparing for bro' central in our house and I have seldom looked back on what might have been.
That day in the canteen though, the worries and doubts which most mums go through were darting through my brain. I was to be induced again, which didn't help and the prospect loomed ahead of me. A horrible, inhumane experience, I had always dreaded this a second time as it had been so traumatic previously.
Would I have the energy for another child? I was now pushing 40 and was worn down by the demands of motherhood already!How would I cope with a fresh wave of softplays, football practice in -4 conditions, a tonne more dinosaurs and countless cars, trucks and cranes?
Reassured by my husband at the ludicrous nature of my worries, I pushed them aside and embarked on my next birthing process which, although the induction part was every bit as awful as the first time, the actual birth was idyllic in contrast. Indulged with dim lights, classical music playing, a single medical professional, my hubby and in an (almost) painless euphoric haze, out came my bouncing baby boy, all 10lb, 4oz of him - ouch!
I felt him ease gently out of my body, in slow motion, the moment etched in my mental rolodex forever, I have never experienced anything like it before, and am in no doubt I never will again. In that moment, as the adrenalin wore off, I held that chunky, heavy boned, wrinkly boy in my arms and realised there was a previously unlocked chamber in my heart, brimming readily with love, just for him.
Out of hospital within a few hours, and feeling on top of the world at our birthing prowess, we felt like an invincible team already!
That darling boy is now nearly 4 and I cannot imagine a more unique, clever, witty, challenging and loving child. There have been countless ups and numerous downs, but how could I ever have doubted what an impact he would have on my life, how he could team up with his brother and make me the proudest mother of boys I could possibly be.
When I kiss him goodnight, asleep in his bed, I pray for at least one more day with them both to enjoy the colourful, exhausting, enriched and blessed life they have given me. It has not been all hearts and flowers, they are a force to be reckoned with, a full time job each, their boyish ways an education to me every day, but I love it, they make me a better person and I wouldn't change a single thing. NOW my heart is full.