It is testament to the cult status of southern American rockers, Clutch, that before I had even heard about their London gig, they had already sold out the originally-scheduled venue, been upgraded to a larger one, and sold that out too.
So the fact that I was able to gain admittance to their Tuesday night (January 22) concert at Camden's Koko - stepping out of the bitter cold and into the rich red tones and ornate Victorian-era decor of the old theatre - felt special.
And it was special; Clutch are a special band. Their mix of blues-inspired hard-rock is so addictive, so groove-laden, that the room didn't stop moving all night.
But it's not just the music. It's the highly narrative, and sometimes absolutely bizarre, lyrics woven in and out of the stomping beats that make Clutch so great.
"So Beebopalloobopawopshamboo / And domo arigato if I got to", anyone?!
Fittingly for a cult band, frontman Neil Fallon - in all his bearded glory - is the perfect cult leader. Feet planted firmly apart, shoulders back, hands gesticulating wildly, his presence on stage is akin to an impassioned preacher.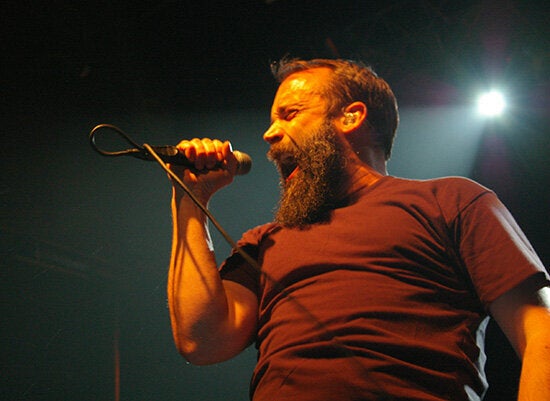 Proceedings commenced with the track "Pure Rock Fury" (from the 2001 album of the same name), like a prognostication of the evening to come, and the first step in a musical trip up and down the band's 20-plus-year catalogue of work.
Personal stand-outs included "The Mob Goes Wild" from 2004's Blast Tyrant and the title track from the holy grail that is 1998's The Elephant Riders. Live-shy "A Shogun Named Marcus" (Transnational Speedway League, 1993) even got an outing.
We were also treated to a few tracks from the band's forthcoming new album, due for release in March. And to my great amusement, during "Earth Rocker" Fallon did the 'ooo, scary' wiggly fingers move I'd imagined in my head when I first heard the ghost-like "bleurgh" sound in the song.
Clutch are a unique beast. They're not pretty, and they're not hip, but what they do is so good, and the way they do it so powerful, that it transcends whatever the current musical fashion may be and makes everything else seem insignificant.
To return to the religious allusions introduced at the beginning of this blog: seeing Clutch live in concert - it's been... spiritual.