When Charlotte Purdie became a new mum last year, she admitted at times it felt "isolating" not being able to find a clean or comfortable place to breastfeed her newborn baby.
But instead of succumbing to the problem, she decided to do something about it. This week she opened The Milk Lounge, a family friendly cafe in Nottingham.
Now usually, when entrepreneurs use their initiative to solve a problem in the community, they're met with praise from the public and messages of congratulations.
But for Purdie, she's been getting death threats and abusive phone calls. And I really, really don't get it.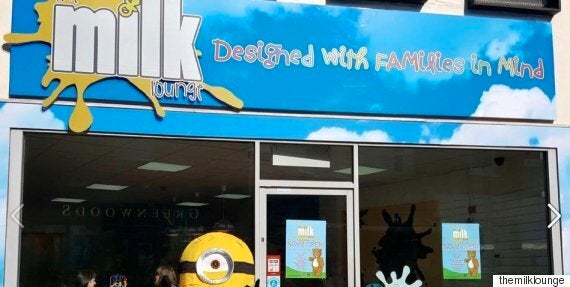 Purdie opened The Milk Lounge as a "family friendly" cafe. There are designated turning spaces to accommodate prams, a private feeding room for expressing mums, a "breastfeeding peer" to offer advice for new mums and helpful facilities such as those wanting to warm up bottles.
There are changing rooms, a toddler's area with a small play space, a welcome meeting for mum or dad groups, formula in stock to buy if you've run out and the ability to buy feeding aprons. Nothing controversial, right?
Men are, of course, welcome and encouraged to come in to the cafe, and Purdie hasn't taken any side in the breast or bottle feeding debate.
In my opinion, and I really hope the majority of other people's opinion, there are no grounds whatsoever to hurl abuse at a woman who is simply trying to create a more friendly place for families.
Yet, Purdie told the BBC: "I have received death threats and abusive phone calls in the middle of the night since I opened. We are a family friendly cafe but some people are against us."
She hasn't segregated members of the family or segregated those who don't breastfeed.
As she said, "Dads are as welcome and as important as mums are here" and "Whether breastfeeding or bottle feeding it can be hard to find the right facilities that you require."
So I've been going over and over in my head trying to work out why it's happened.
Purdie isn't receiving death threats because she's opening up a family friendly cafe, is she? Because with the tonnes of cafes with small play areas for kids (including Peter Andre's), I've never known any of them to get hit with criticism.
So obviously it's down to the breastfeeding. (And FYI, it's mainly news publications that are dubbing this a "breastfeeding cafe", ignoring the fact she's calling it a "family friendly cafe" that is helpful for bottle and breastfeeding mums).
To put it simply, this woman is getting abuse for supporting breastfeeding mums.
What on earth is their issue?
No one is forcing anyone to go in this cafe. Purdie isn't requiring everyone in Nottingham to go there for coffee and watch people feed their babies and make friends with women who breastfeed. If you don't want to see breastfeeding mums, you don't have to.
But on the flip side of that, feeding is a necessity for babies. Whether it's from a bottle or a breast, it's their sole intake of food. It feeds them, keeps them alive, nourishes them. For those people low enough to hurl abuse at this woman and call her up with death threats, you do know you were fed milk as a baby too, don't you?
On what grounds should a woman receive abuse for providing a space for mums to feed their babies? There are no grounds. None. None whatsoever.
In my opinion, The Milk Lounge is a bloody brilliant idea. I know for a fact Purdie will make new mums, some who feel isolated and lonely as they enter parenthood, more comfortable and relaxed however they feed their baby in public.