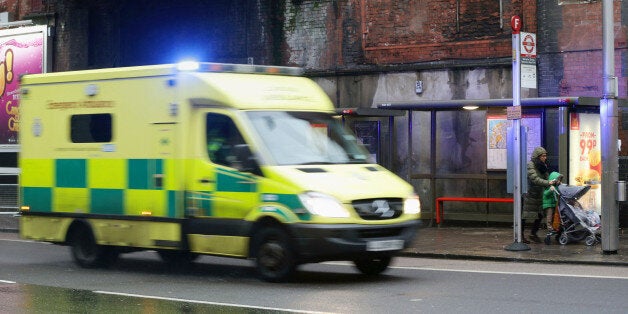 There is a good reason why the SNP are always keen to talk up the issue of the Constitution, to hype up their rhetoric on independence and grandstand on grievance: it's to hide their own failings on everyday issues like the NHS.
Its report reveals a disastrous decade of SNP mismanagement. 10 years of SNP control of our hospitals has led to massive job vacancies, too few doctors and nurses, rising waiting times and the Scottish Government's own set of patient standards being missed.
It reveals that in the eight key standard areas used to judge NHS performance, the SNP are hitting only one. After a decade in Government this is a shameful verdict on their record.
And it shows the extent of SNP cuts to our NHS. Health boards in Scotland had to make nearly £300 million in cuts in the last year - and have to find another £500 million in this one. That's almost £1 billion in SNP cuts to Scotland's health services in only 24 months.
Before the election, when Labour campaigners highlighted the threats to local services at the Lightburn Hospital or Inverclyde Hospital, the SNP branded us liars. It's now clear from this this report shows who was telling the truth - because of SNP decisions health boards are having to cut budgets and slash services to get by.
Or put simply, children's wards, maternity units and orthopaedics across Scotland are facing cuts, closures and downgrades under the SNP. These are the same services the SNP promised were safe when there were votes to be won. But now that the votes are in the bag, the promises get left behind.
Today, Audit Scotland has shone a light on the life-threatening condition our NHS has been left in.
Audit Scotland reveal that NHS funding is not keeping pace with increasing demand and the needs of an ageing population.
Some health boards are not getting the funding they are entitled to under the SNPs own funding formula. The NHS in Lanarkshire, Lothian, Grampian and Highland have been short-changed by the SNP to the tune of over £55 million
With the Scottish Government missing key patient standards and the NHS in the middle of a workforce crisis, which sees thousands of key posts unfilled, Health Boards find themselves turning increasingly forced to use private nursing agency staff.
It is perverse that because of SNP cuts, it's costing Health Boards up to £84,000 every year for private agency nurses instead of the £36,000 for NHS nurses.
It is sickening to read in the report that some consultants are making the equivalent of £400,000 a year, four times the annual cost of NHS consultant colleagues.
The seeds for this problem were sewn when Nicola Sturgeon was Health Secretary, cutting places for medical students, nurses and midwives. The impacts of her abysmal failure in workforce planning are now coming home to roost.
It is a workforce crisis that sees nine out of ten nurses saying their workload is getting worse, one out of four GP surgeries saying they are understaffed and only a third of NHS staff believing there are enough of them to do their jobs properly.
Our NHS staff are the foundations that our most valued public service is built on - if the doctors and nurses are telling us they are not getting the support they need we should listen.
So what now? And what would Labour do differently?
One major source of pressure on our NHS is from delayed discharge - patients who are clinically fit to go home but cannot because there isn't a social care package in place for them.
In February last year the SNP promised to eradicate delayed discharge from our NHS. But instead of investing, the SNP cut hundreds of millions of pounds from the budgets of councils which provide social care - the very service needed to help people out of hospital. The result has been hundreds of thousands of days spent in hospital by patients who don't need to be there. Another broken SNP promise.
That is why Labour would do things differently. We would end the sticking plaster solutions of the SNP, and the crisis in Social Care, and use the new powers of the Scottish Parliament to stop the cuts, to invest in our services, to invest in Social Care to take the pressure off our hospitals and NHS staff.
It was Labour which created the NHS, and it is Labour which is putting forward the solutions to protect it. We will always fight to protect our NHS, but we need the public to use their voice too. This is our National Health Service - together we can save our NHS.