CES 2012 (the Consumer Electronics Show - the largest of it's kind in the world) took place last week with many different companies showing off a vast range of gadgets and equipment.
One of the coolest things I saw at CES was the Victorinox SSD - it's a Swiss Army Knife and an SSD - how cool is that?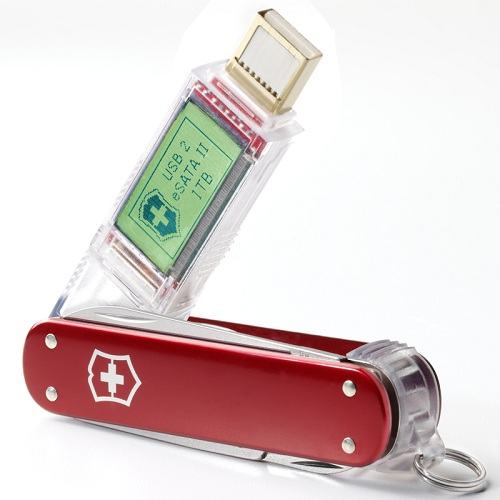 Okay, let's step back for a second. Victorinox make Swiss Army Knives. They also make storage devices for your computer. And for a while now they have been combining both of these, and in some cases adding even more, for example a laser pointer, and storage device, and Swiss Army Knife. You might even say they produce the Swiss Army Knife of storage devices!
At CES this year, Victorinox announced their latest offering - the Victorinix SSD, which is both a Swiss Army Knife and also a 1 TB (you read that correctly, 1 TB) solid state drive (SSD).
The dual connector (combination USB 2.0/3.0 and eSATA II) fits any USB or eSATA port; offering the fastest read and write speeds of any external SSD in this form factor, which makes large data transfers a breeze. And the integrated bi-stable LCD graphic display screen allows users to record what is stored on the drive and also displays an available capacity status bar.
Each SSD is packaged with two Swiss Army Knife bodies - red and black. The red knife body includes implements - blade, scissors, nail file/nail cleaner and screwdriver, while the black knife body is bladeless. Use the red knife body for everyday use and snap the drive into the black knife body when traveling via airplane.
The device itself is tiny and very light-weight. It will easy slip into your pocket and you won't even know it's there. And don't worry too much about the security of your files on the device, Victorinox will have you covered their as well.
No specifics on price yet, or on an exact release date, but expect to hear a lot more about this very soon.
via: UWHS