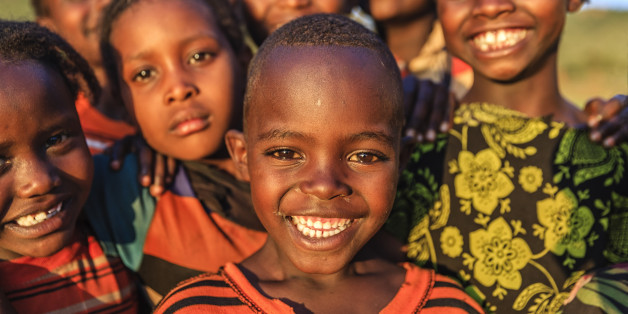 Bartosz Hadyniak via Getty Images
It's said a problem shared is a problem halved. That's one of the great things about friendship. But what if that problem is global poverty? You'd still be left with a huge conundrum, right?
According to the UN we now face the biggest humanitarian crisis since World War II, with Yemen, Nigeria, South Sudan and Somalia a particular focus. Faced with this seemingly insurmountable need it's easy to feel there's no antidote. I work for Tearfund, a Christian relief and development agency, often dealing with stories about heartbreaking situations. But the best bit, by far, is hearing and sharing stories of lives transforming, resilience growing and friendships strengthening in difficult circumstances.
In September I visited Malawi, a country that gets relatively little media attention but faces monumental challenges. I witnessed friendships that bridge gaps of age, religious denomination and life experience.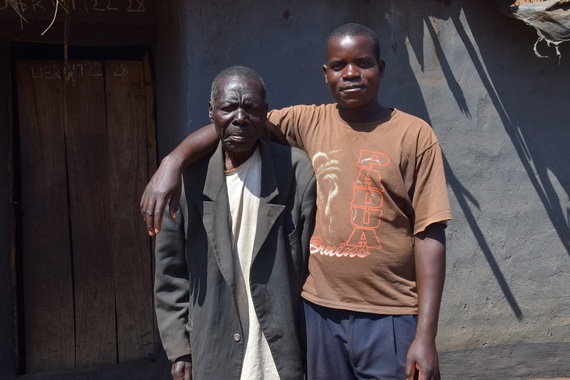 Despite the four decade age gap between Maliko and Lazarus they are inseparable friends. Photo: Aaron Lewani/Tearfund
Maliko, 28, who lives in Kamangira village, is 43 years younger than his best friend Lazarus. He told how Lazarus tells him tales of an era when Malawi was a British protectorate, home to exports of tobacco, tea and groundnuts.
"I chat with Lazarus to learn how things were done in the past. He is able to recall how life was when Malawi was called Nyasaland before we received our independence," he said.
Malawi has suffered drought for the second year running, leading to the most severe food crisis the country has faced in a decade - with 6.7 million people suffering food insecurity. Though the situation is improving, it is complex and Malawians still face daily difficulties. Today is the UN's International Day of Friendship which has made me reflect on the power of friendship I saw in the midst of great struggle, as people trusted me with stories from their lives.
Tadala and Lakelo have a strong bond despite being from different religious denominations. Photo: Aaron Lewani/Tearfund
Another unlikely pair of friends, from different Christian denominations, said they were close despite worshipping in different churches. Approximately 27% of Malawians are Protestant, 18% are Catholic, and 42% say they are of another denomination. Lakelo, 51, and Tadala, 48, said: "We just like each other. When we don't see each other we really miss one another."
Tadala added: "She came from another village because of her marriage, we started chatting and since then we've been best friends."
It might sound naive but I couldn't believe that in a country where 65,000 children under five are in need of malnutrition treatment people were prioritising anything other than their own needs. But everywhere I looked I saw strong bonds of friendship.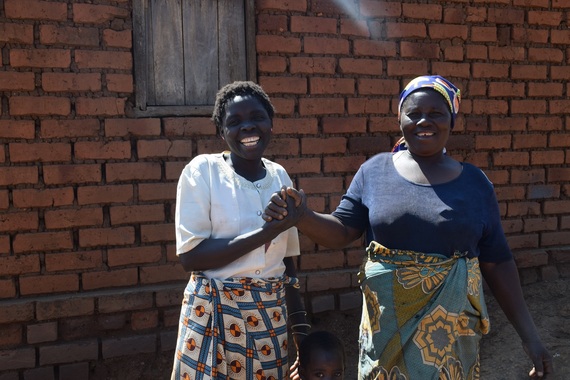 Rute befriended a widow called Matilda who helps her to forget her worries. Photo: Aaron Lewani/Tearfund
One Malawian, 25-year-old Rute, told how she befriended a 62-year-old woman called Matilda who lost her husband.
Matilda said: "I am a widow now and Rute is a friend who keeps me company and make me forgets all my worries."
Rute added: "She gives me wisdom on how to take care of my family and somehow it works."
On my trip I was graciously welcomed into the homes of some very generous people - who gave freely with the little they had to offer - extending a hand of friendship to me despite me being a complete stranger.
In a small village in the Dowa district of central Malawi I was welcomed into the home of Lyson and his wife Theresa. I remember it being a particularly hot day, but also strangely tranquil. Because of failed rains, they'd not had a good harvest and were resorting to mixing their normal maize flour with maize bran, which is what is used to feed livestock.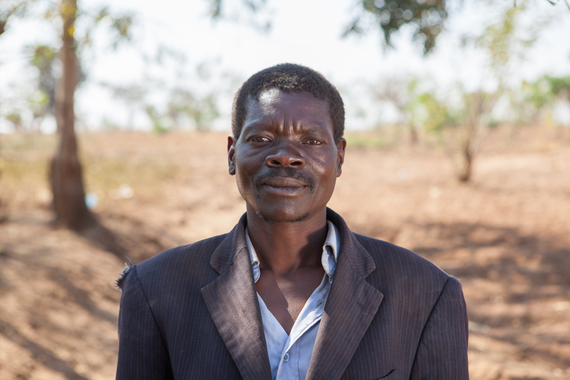 Lyson had little but extended a warm hand of friendship. Photo: Rhiannon Horton/Tearfund
After being introduced to his family Lyson confessed to me he hated having to use pig food to stop his children going hungry, but he had no choice. I found out he was about the same age as me. I could tell he was a gentle, sensitive man who cared deeply about his family. I like to think if time, geography and circumstances allowed, our friendship would have grown.
Back in the UK, I was able to share his story through my work, raising awareness of his plight and that of many who are going hungry today. Six months later I heard through one of our church partners, Ministry of Hope, that Lyson and his family were doing much better. He was able to learn new farming techniques and harvested 12 bags of maize, which he hopes will last them for the next six months.
I can't personally take credit for solving Lyson's problem, or even halving it, but I know neither would be possible without a simple bond of friendship.
For more information about Tearfund's work in Malawi visit tearfund.org/hungersteals