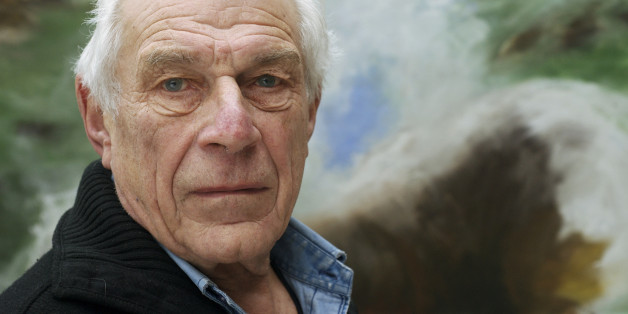 Ulf Andersen via Getty Images
Though we did not know it at the time, Bowie's untimely death on 10 January 2016 was a harbinger; His Blackstar sat on our shoulders throughout the rest of year.
Now, as 2017 begins, the angels have set the rumour mill churning once more. And though many will never have heard of John Berger, his passing at the age of 90 is just as significant.
More than any others, three books were formative in my early twenties: My father's copy of Raymond Williams's 'Keywords', 'Mythologies' by Roland Barthes and Berger's 'Ways of Seeing'. I'm too young to have appreciated his 1972 TV series based on the book, but I do remember its screening.
Berger is a writer more remarkable than any other I know, though I'm no authority. Many of his books bring together essays, prose and poetry in a seamless, undulating landscape of literature; they are joyfully unrestrained. He wrote with great depth and beauty, with intellect, with the heart of an activist and the soul of a romantic.
In several newspaper obituaries, Berger has been described as a Marxist. This seems over-simplistic to me and in the columns of some, a calculated put-down; 'a fine writer has died, but it's okay as he was a Marxist.' And yet, like many critical theorists and cultural and literary figures, he drew on Marxism, in the same way that many draw on feminism, as a position from which to view the world.
Perhaps I'm over-interpreting this, but if I'm not then it seems as though contemporary commentators are once again describing the outline of an indefatigable dominant ideology to box off any thinking or artistic endeavour that may threaten this way of seeing. What Berger has given us are alternative ways of seeing with which to form our challenges to this; we must use them.
In 1972, Berger won the Booker prize for his novel 'G'. But open any of his books and you'll find writing that will stir and provoke you. In fact it is hard to use words to describe Berger's writing because, alongside his, they will always fall short.
Perhaps my favourite - and it's an emotional choice - is his 1984 'And our faces, my heart, brief as photos', which I first read in the early 1990s. And upon hearing of his death, if you do nothing else, open this book and simply allow him to draw you in.
My wife and I had only one reading at our wedding and it was from this short book (You'll find the passage on pages 78 and 79). Our lives have been held together by many things, but his words are the literary resin that binds us.
As we turn to face what 2017 holds in store for us - as the angels chatter distills and clarifies - the incredible legacy of Berger's writing is something magical to draw on. It can help see us through.