I crave to be on a football field once again.
Since finishing college and entering the big wide world of work over 12 years ago, it slowly dawned on me that there has been a steady, and, at times, inevitable decrease in the amount of time I dedicate to hobbies and interests. This gradual reduction has resulted in a decline in the quantity of hobbies I partake in, causing a waning level of happiness within me.
In between gaining employment for the first time all those years ago, and to the present day of writing this, I have experienced the 'usual' life-changing milestones: I have saved long and hard for a house, got married, had a child, and moved house again - all the while flitting between jobs in an unknown career flight path.
Jobs throughout my 20's often meant weekend working and other unsociable hours spent doing things I didn't genuinely enjoy doing. Running parallel to this were hobbies I did genuinely enjoy doing -- namely playing competitive football 1-2 times a week, and in later years following my beloved Manchester United up and down the country and around Europe. To date these were times in my life I will always cherish and look back on with fond memories as they were truly happy times. And times well spent. And money well spent. Although happiness was priceless.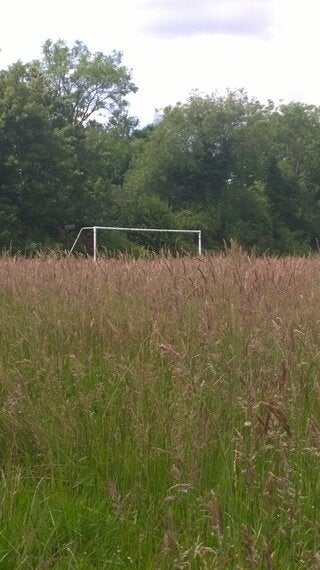 Photo: An abandoned football pitch I once played on during my teen years. It lays abandoned, like I have abandoned football itself.
I also played golf (badly) with my Brothers and Father 1-2 times per month - being outdoors hitting a ball around with your family was enjoyable, if stressful, as golf enthusiasts will testify.
I also visited my American friends in Illinois once a year - an enriching, cultural experience of two nations learning from one another.
I also played videogames a couple of times a week - completing a huge game such as Fallout 3 was both satisfying and rewarding in its own, geeky way.
With sadness, I no longer partake in any of those activities or interests.
I am not running down the left wing, beating two, sometimes three players, to then cut inside to strike the ball in to the back of the net. Nope.
I am not strolling around a beautiful golf course, cursing at every shit shot I hit. Nope.
I am not sitting beside a pool, in 100-degree sunshine, in the middle of the American Mid-West, sipping on a bottle of beer, listening to country music. Nope.
And I am not sitting in my lounge exploring the vast metropolis of the latest Grand Theft Auto videogame. Nope.
It does actually break my heart that those happy life moments have significantly dwindled - dwindled due to a hectic modern-day lifestyle of go-go-go. Things change or evolve over time - and without proper attention, hobbies and interests are one of those areas of life which can be regularly left to rot.
Yes, I am now a family man with a beautiful wife and daughter, but for a happy, balanced life it is crucial you plan for occasional time dedicated to you. Only you.
Somehow amongst all of my life events, I have let slip my leisure time.
My only hobby of note today is writing. And I bloody love it. But it is not enough.
As I sit here with the worst head cold and sore throat I have ever had, I am committed to changing this. Aside from my horrific flu-like symptoms, I see myself in the prime of my life, physically. I am 30. I should be running around a football field for 90 minutes every single weekend doing something I have loved since I was big enough to kick a ball.
Fitting hobbies and interests around your current lifestyle is about setting yourself realistic expectations and tremendous time-management skills. You can still do what you want to do in your spare time. You just have to plan it a little more than before your baby was born.
From next season (August/September), I am setting myself the realistic challenge of raising myself from the football graveyard to come out of football retirement and back on to that pitch to score some more goals.
I have plenty more match-winning goals left in me. You are a long time dead.
I have around 6 months to get myself in to shape.
I will start by putting on my Manchester United training top to go for a light jog around my local lake.
The moment my football boots touch that beautiful turf of a football field, will be a moment to cherish forever.
For light-hearted musings about fatherhood take a look at my page.
Related