Valentine's Day is upon us and with it comes society's most de rigueur gift giving requirements. The emergence of online shopping means these gifts are easier to give than ever (and excuses when they're forgotten are harder to come by). Nothing stirs love in the hearts of marketers more than compulsory shopping seasons - and Valentine's Day is no exception. Chocolates, jewellery, and flowers pop up all over the internet looking for interested (and in some cases, desperate) consumers.
We examined the data collection activity on a set of romance-themed websites to take a look at this data-driven quest for attention*.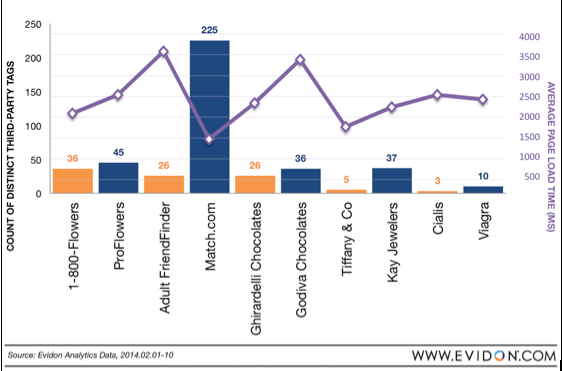 In addition to being the most romantic month of the year, February is also Worldwide Data Privacy Month**, so it's natural to take a moment out of your Valentine shopping to wonder exactly what data these sites are collecting, and how it's being used.
Some close competitors show similar data collection strategies. Both flower delivery services in our survey use a number of data collection tags, as did both chocolatiers. Luckily for some there's also evidence of marketing limitations - both erectile dysfunction drugs deploy very few data collection technologies, which is likely due to legislation that prohibits direct-to-consumer advertising for prescription pharmaceuticals.
Tiffany & Co. uses only 5 third-party technologies - with most of the information coming from Google Analytics (a service that creates statistics about any chosen website's traffic) and other tools that capture information about the performance of the website itself. This illustrates a big use of this data: audience analytics. These tools use your IP address, browser settings, and other clues to help measure what the site's audience looks like and how they behave. This information is usually just shared with the site itself, and is pretty non-specific (though many countries include IP address in their legal definition of "personal information").
Kay Jewelers' site includes many more tags, including several "conversion pixels." When you see an advertisement elsewhere on the web, it places a cookie in your browser that you carry with you as you browse. Conversion pixels are tiny images that phone home to advertising networks with that cookie information, which helps measure the effectiveness of ad campaigns all over the web. "Segmentation" scripts work in a similar way, but in reverse - they place cookies when you visit a site so you can later be targeted with an advertisement as you browse. (That's why it seems like you see more ads for shoes after you've been clicking around your favorite footwear site. Your cookies reveal that you're in a shoe state-of-mind.) Kay Jewelers also deploy social tools from Facebook, Twitter, Google+ and Pinterest - all of which communicate back to those social networks whether you click on them or not. This helps those networks effectively advertise to you while you're reading tweets, updating your status, browsing your pin boards, or sharing with your plus circles. Incidentally, Tiffany & Co. relies on a "Drop a Hint" email link as its only integrated product-sharing tool.
The biggest difference between competitors is somewhat surprising - Match.com deployed 225 distinct data collection tools, while its more risque equivalent Adult FriendFinder dropped only 26 tags from third parties. Generally, not-safe-for-work sites are much more active in collecting user activity, so these two romance brokers illustrate an exception to the rule set by the rest of the web. In terms of the data collected, both sites obviously use a great deal of personal data for their data services. But both sites have privacy policies that dictate pretty clear lines between the information you provide them and the data they collect automatically via marketing tools. So while potential matches might get to see your particular personal proclivities, advertising networks will be restricted to knowing that you're interesting in finding a date or discreet rendezvous.
So while much of this data isn't exactly "personal" in nature, it can still cause users a little discomfort (and possibly even spoil a surprise) if a heart-shaped pendant or box of chocolates follow them from site to site. These sites could show some love in the form of increased transparency - make it more clear, on the site itself or in the subsequent ads, what data was collected or how it was used. Most of these companies aren't out to win our hearts, just our wallets. But studies show that consumers have a more favourable perception of a brand that is open about its data collection practices - so with a little more disclosure, sites could see their customers stop playing hard-to-get and shop happily ever after.
* Evidon reports on the proliferation of third-party tags on the web with data derived from real-user, real-web traffic. Our 10 million Ghostery user panel takes an anonymous and secure census of over 3,600 tracking technologies across 26 million domains. Sites with top-level domains of '.co.uk' were surveyed where possible, otherwise the survey defaulted to '.com'.
** http://www.educause.edu/focus-areas-and-initiatives/policy-and-security/educause-policy/community-engagement/data-privacy-month
Related