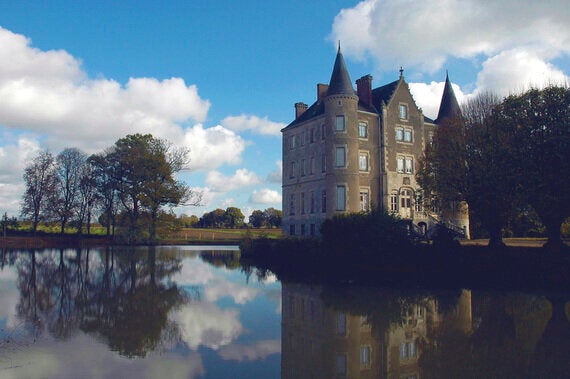 For so many of us, living 'the good life' abroad is the dream isn't it?
According to a survey by Abbey National Offshore, more than three-quarters of us would like to live abroad during our lifetimes. The main reason is finding a better quality of life.
For me and my husband Dick (Strawbridge), this was certainly one of the driving factors when we took the plunge to buy a 45 room 19th century chateau in France just shy of two years' ago - for £280,000 - the same price (well less) than our one-bedroom flat in East London!
I'm a city girl obsessed with charity shops and if money was no object we would have bought a huge townhouse with an acre of land and a huge workshop for Dick in London! But as yet, we don't have ten million in the bank. So like the other 1.2 million Britons now living in the EU, we compromised with a chateau, 12 acres and countless outbuildings, all easily in reach of London! Dick now regularly jokes that the kids will grow up in a place where when they do play hide and seek, they may lose each other for hours. A far cry from life in Bethnal Green!
Of course, the road to our dream life hasn't always been rosy (you may have seen our renovation played out on Channel 4's Escape to the Chateau - we had no heating or hot water and were living in a crumbling shell; not ideal with little ones!), but despite all the challenges along the way, it's been completely worth it.
If you're thinking of making the move abroad and want to limit the affect this may have on your children - here's a few tips I've learnt along the way...
Move sooner rather than later
We were fortunate to move to France when our children were still technically babies which made moving them easier - there wasn't any school routine in place to unsettle or the upset of leaving friends behind. Of course, you can't turn back time, but for smaller children; there really is no time like the present. We forget that children are adaptable and can actually adjust to a new life easier than us grown-ups! Arthur has come on leaps and bounds since starting school in September and can't really remember life in England. It may always feel like it's never the right time, so just do it anyway!
If you can, get family members to make the move too!
Not always easy, I know, but during our search for the perfect property my mum and dad, who are both retired, decided they wanted to make the move to France with us. This has allowed us - and Arthur and Dorothy - to have the best of both worlds; a new life abroad and with loved ones, not only sharing in the experience, but also being on-hand to help out. Some days, all you want is a cup of tea with your mum (or a cuddle from your nan!) and by bringing them along for the adventure, you have that too. Think of the benefits of multi-generational living and get everyone to smell the roses. We're also creating a home for them here that will meet some of their needs as they develop over time. A rather handy set-up for everyone!
Learn the language before you go
Communication is key when moving abroad. Especially when moving to villages or close knit communities or if like us, you're planning renovation works and starting a new business. The best advice is to try and learn a new word a day. Don't get bogged down with technicalities but do try to with the pronunciation. And practice definitely makes perfect. By learning the basics before you jet off, the kids have a grasp of the language which will help them settle in quicker. Then, as study after study shows; they'll probably pick up the lingo before you do, often within a few months in their new country!
Find the heart of the community and tap into it
In France this is the Marie where you'll find everything you need to know about the local community, including finding a school for the kids. It's natural to feel nervous about their first day at school but in our experience, you have nothing to worry about. We've found the school system in France to be very nurturing and children pick up the language so easily.
Finally, just go with it. You chose to live where you did because you love it - so just embrace it and encourage the children to too! Where we live the shops are closed at lunchtime, people are very family orientated and food is very important. By making the culture's priorities normal it makes the whole experience easier and in turn, ensures that the children grow up enjoying the life you so thoughtfully chose for them.
Visit http://chateaudelamottehusson.com for further information or tune into Channel 4 on Sunday's at 8pm to follow Dick and Angel's progress in the second series of Escape to the Chateau.
Related