When my daughter was diagnosed, I thought we would lose her. That's what I thought when I heard the word cancer.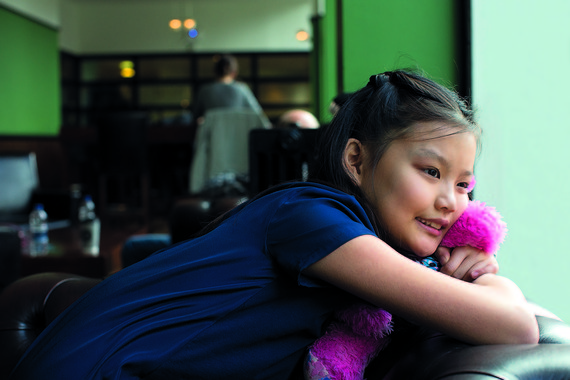 Alyssa
It was March 2014 when my beautiful daughter Alyssa, was diagnosed with acute lymphoblastic leukaemia (ALL), aged seven. The doctors initially suggested she may have tonsillitis or the mumps, but when the symptoms didn't go away I took her straight back to the GP as I was worried it was something more serious. Eventually she was referred to Preston Royal Hospital where the doctors immediately suspected leukaemia.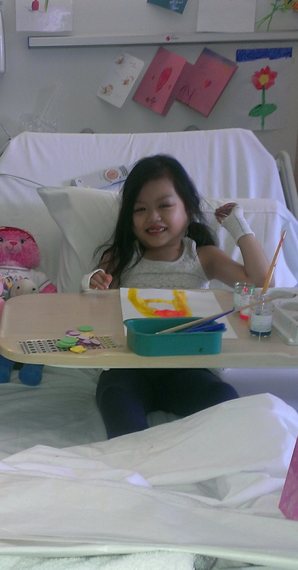 Alyssa in hospital
The first 24 hours were the worst. But, once we got onto the oncology ward and started talking to the consultants, things started to calm as we knew she was in the right place. I remember speaking to a registrar at the Royal Manchester Children's Hospital who said that most children with ALL survive, and that made such a difference.
For those first few days, I was just with Alyssa. My husband Michael spoke to the doctors and I just wanted to look after her. Alyssa spent the next four weeks receiving intense chemotherapy treatment and then had to have more chemotherapy for the next two years. She also took part in a trial at the Cancer Research UK Clinical Trials Unit as part of her treatment.
I stopped working for eight months as I wanted to be with Alyssa at hospital, and my husband Michael also took time off work. When he had to go back, both of our parents were fantastic with helping look after our other daughter Lauren, who was just four when it all started.
When finally we got the news that Alyssa was in remission, it was the best thing we could hear.
I'd say the experience has made us closer as a family in some ways, but it is hard. If I could stop any other parents having to go through it I would.
That's why we support Cancer Research UK Kids & Teens, as it's only through research that one day hopefully no child will die from cancer, and there will be new, better and kinder treatments available.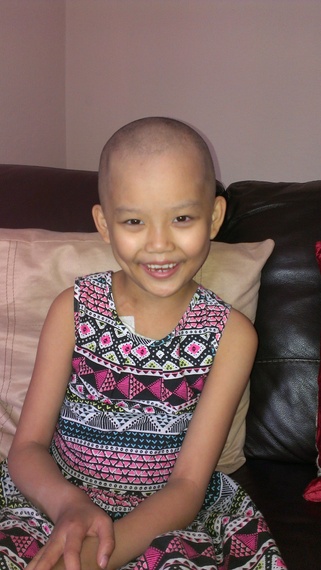 Alyssa during treatment
During Alyssa's treatment, there were lots of things that she just couldn't do. She couldn't swim because she had her Hickman line in, and she couldn't go horse-riding when one of her friends had a party.
She also lost her long beautiful hair due to the chemotherapy. But through all of the awful and painful experiences, she has always had an amazing "get on with it" attitude and I'm so very proud of the way she coped. She was amazing.
But it wasn't just hard for Alyssa, it affected Lauren too. She's been such a good sister and we tried to keep it as normal as possible for her, but it was difficult - she couldn't have her fifth birthday party because of the risk of infection for Alyssa.
Thankfully, things are better now. We are out the other side, and have been able to do lots of the things we never got to when Alyssa was ill, including going on holiday. It's been lovely to see the girls having all these experiences and smiling and laughing together.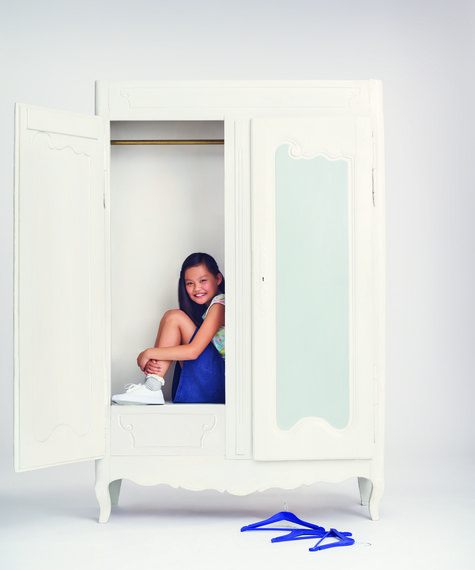 Alyssa is the face of TK Maxx's Give Up Clothes For Good campaign, the UK's longest running clothes collection for Cancer Research UK Kids & Teens which raises money to help beat children's cancers sooner
Alyssa's also got to do some other things too - she's currently the face of Give Up Clothes for Good, which is a campaign by TK Maxx to raise as much money as possible for Cancer Research UK Kids & Teens. She was also in a video with singer and Give Up Clothes for Good ambassador, Kimberley Walsh, raiding her wardrobe and helping to choose clothes to donate to the campaign.
It's made her so happy to think that her story will hopefully inspire others to raise money which will be used to develop new, better and kinder treatments for children and young people with cancer.
She's talked about wanting to be a nurse when she grows up, but at the moment she wants to look after dolphins after we swam with them on a trip. To be honest, we don't care what she does - we are just delighted to be even talking about her growing up after everything she's been through. We will be happy with whatever she wants.
Help beat children's cancers sooner this September during Childhood Cancer Awareness Month, by supporting Cancer Research UK Kids & Teens, in partnership with TK Maxx.
Get involved by donating to the campaign, buying a pin badge from Cancer Research UK and TK Maxx shops, or donating a bag of unwanted clothes, accessories and quality homeware to your nearest TK Maxx store as part of their Give Up Clothes for Good campaign.
TK Maxx is the biggest corporate supporter of research into children's cancers for Cancer Research UK. Since 2004, TK Maxx has raised over £30.3m for Cancer Research UK's work through stock and cash donations. Of this, £26.3m contributed specifically to pioneering research into cancers affecting children and young people, and £4 million contributed to general cancer research.
Visit cruk.org/kidsandteens http://www.cancerresearchuk.org/support-us/donate/kids-and-teens or the TK Maxx website https://www.tkmaxx.com/uk/en/give-up-clothes-for-good for further information.