I think we all have a fascination with gaining access to the forbidden, hidden places and spaces, whether they be palaces, prisons, behind the scenes of an art gallery or other people's houses; spaces we imagine to be one thing and we yearn to find out the reality. Thanks to Artangel's Inside I had the chance to go into a special place that I never thought I would be able to - Reading Jail.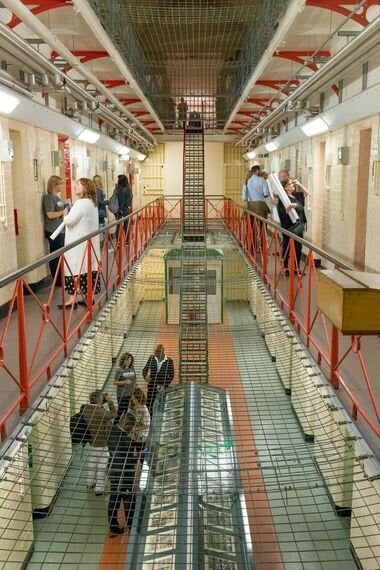 There's something about the architecture, the walls and the very bricks that have witnessed great tragedy or upheavel, or in my case, the penning of a piece of prose that has fascinated me for as long as I can remember. De Profundis (1897) was written in cellblock C, landing 3, cell 3, a space that I never thought I would enter. Revisiting Richard Ellmann's biography of Oscar Wilde I'm reminded of the details of his imprisonment and the fight he had to obtain pen and paper with which to write the 50,000 words that make up De Profundis.
Several writers and poets including Patti Smith, Lemn Sissay, Ralph Fiennes and Maxine Peake have been invited to read De Profundis, the extended letter that Wilde wrote to his lover Bosie Douglas. On the day I visited, writer Colm Tóibín was reading De Profundis from the cell in which it was written. What an experience it was, staged to perfection, for which Artangel should be congratulated!
As Colm sat in cell 3, the image of him, often head in hands, was beamed live through to the Chapel on the opposite landing. With Wilde's original cell door as the backdrop, the audience were treated to a five hour continuous reading of De Profundis streamed direct from the cell on to two screens set either side of the door.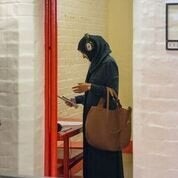 With the Chapel flooded with natural light, the audience sat silently in reverent rows on hard wooden chairs listening to Colm read in an Irish lilt, so familiar to Wilde himself. I did wonder how it was going to work. Were the audience expected to sit through the continuous performance? But no, we were encouraged to silently come and go as we pleased, walking between the landings, visiting other cells to view the artists' work produced in response to the setting. These included works by Marlene Dumas, Nan Goldin, Felix Gonzalez-Torres, Richard Hamilton, Steve McQueen, Doris Salcedo, Wolfgang Tillmans, and of course Oscar Wilde himself.
A little while later I had the good fortune to meet Colm Tóibín at a literary event. I told him that I'd been in the audience at Reading Jail and as much as he was interested in my experience as a witness to the event, so I was interested in his as the personification of Wilde. We both used words like 'intense' and 'extraordinary' to describe our experience of that moment on different sides of the cell door. I showed him the picture I'd taken of him through window slit during the reading and he asked me to email it to him, which I did.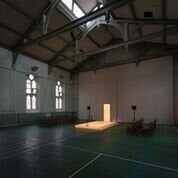 During our conversation, I was fascinated by Colm's comment that he hadn't noticed the passing of time during the five-hour reading. It made me think about the forbidden setting and how proximity of the walls and the tragedy of others can change your experience of aspects of everyday life like the passing of time.
As each visitor who had wandered between the once 'inaccessible - or inescapable - cells and corridors' of Reading Jail, we reflected on what Wilde's final work meant to each of us personally. Moreover, as the most poignant of art works do, the visit gave us all the opportunity to reflect on our own misery from often forced separation from loved ones; our experience of the sometimes painfully slow passage of time; of betrayal that we've felt; our own salvation; and most of all the love that many of us have felt, and lost.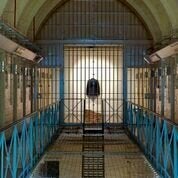 HM Prison Reading, Reading
NOW 04 September 2016 - 04 December 2016