As far as I can tell and with limited research girls tend to stalk 'hot girls' on Instagram. I know I am guilty of this. I follow over 100 people. 7 of them are male. My boyfriend, my Ancient Alien oracle, 2 of my favourite artists, 3 makeup artists and my Dad. My feed consists of Victoria Secret models, and this new wave of Instagram famous models. How many times have you heard 'She's really big on Instagram'? It's all disgustingly narcissistic yet some of us ladies lap it up like the Snap Chat dogs we are. These girls are perfect. But, I'm just going to point out the basic points that make an 'Insta Model'.
Firstly, everyone of these girls seem to wear a lipstick in the shade of brown/lilac/mauve and have ridiculously big lips. If you don't have them, draw them on for your life and pout God damn it! If you're lips don't look like they should be mouthing 'Call Me' on Babestation then keep drawing. Next, to draw attention to how big and luscious your lips are these girls take pictures of themselves poking them. For absolutely no reason. This obviously makes you irresistible to the world.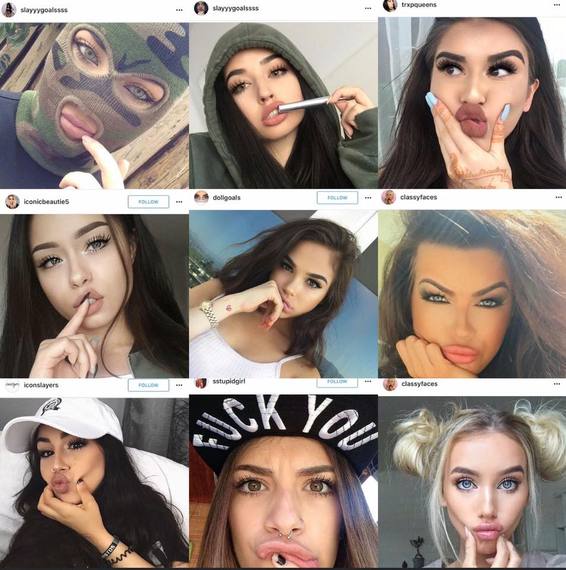 Suddenly, by doing this you become the Pied Piper of the internet and people will follow you, entranced by the magical poking and squishing of your lips.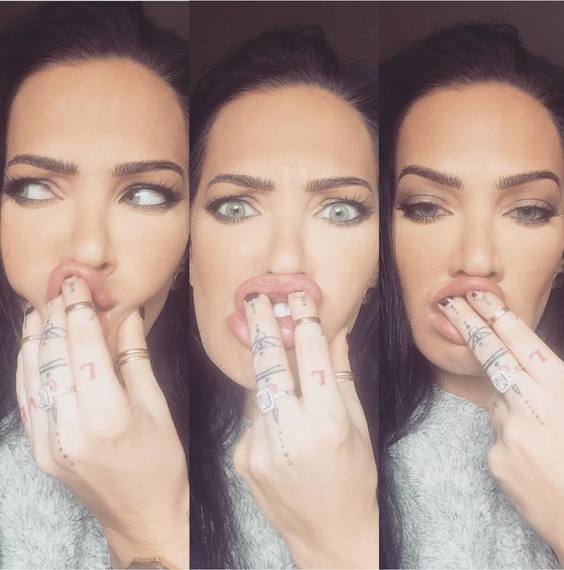 Next you'll need long nails. They all have nails so long they could climb trees like a sloth. Again, always painted a nude/brown/lilac colour. Who wants short nails? The point you're conveying to your Insta following is that you are female and you do not ever need to make a fist. At least an inch or above, and nude. You must photograph them sporadically to prove you still have them.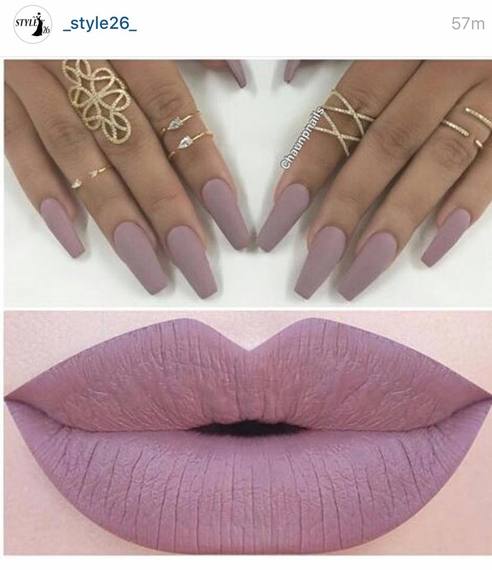 Then, you'll need to perfect the messy up do. This is near impossible for us mortals but it must have the correct ratio of scrape up and the perfect amount of baby hairs hanging down in perfect tendrils. Most important, it must be cute. Your goal is constantly portray you are teenage and perfect. Side note: The smallest baby hairs around the face are acceptable to be flattened on to the forehead. Channel North West. That's the right amount of youth and wealth you are going for. If the messy bun is unobtainable, go with boxer braids.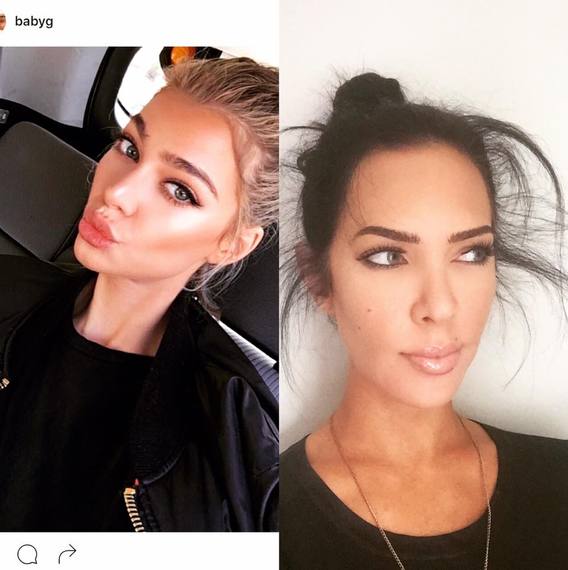 Make sure you only upload pictures of YOURSELF. This is the point of the selfie. You need to make sure as people look at this picture you've taken of yourself, they hear Ron Burgundy's voice saying, 'Hey, everybody, come see how good I look!' shouting from your image. It has to either be a close up of your face showing how immensely beautiful you after your fine Face Tuning to remove any kind of skin texture, or one of you looking like you're doing something without realising the photo is being taken (like looking out a window). You just want to show off your outfit, hair or body. Gratuitous cleavage and yoga pants pictures never hurt anyone also. Get some pictures of you hanging out in a white pillared doorway if you're in Europe, these are good to show your outfit. Obviously. Always look down, maybe pretending to laugh, or look wistfully in to the distance like you're trying to divide 43 into 35,291. Who takes some of these pictures is a mystery? I've seen the mocks of the Instagram Husband who's roped into taking constant pictures of their wives for social media but the couple pictures? Who? What is the context of the conversation? 'Hey bro, will you just take some pictures of us for our instagram so we can use the #couplegoals'.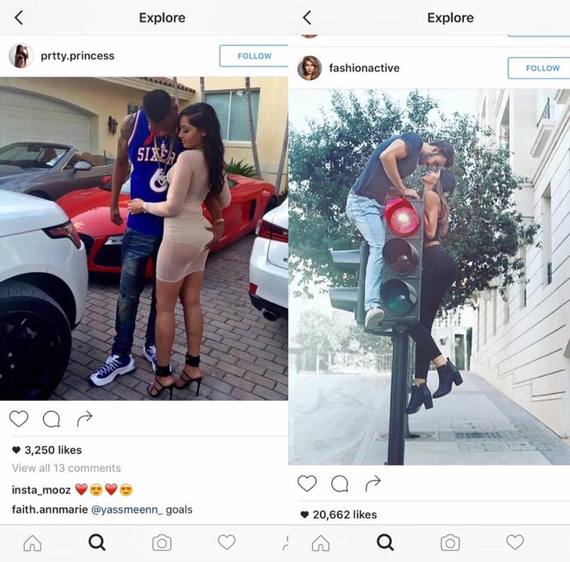 Nothing portrays a successful relationship more than the man wearing more jewellery than his missus, grabbing her half dressed behind on a drive way. I mean -- GOALS! If you can't reach that, just climb a traffic lights.
You must determine your 'success' and 'goals' by what handbag you have, and what car your man is driving and what watch he is wearing while doing so. If you're lucky, you've bunny boiled your way to a rich BF that is attractive enough to have his face in a picture (with a filter). This is important because you must photograph this to show your followers. Show them that success and #goals must only be materialistic, the pinnacle of scoring big. Never show intelligence. No one wants to see that. IQ is ugly. Just Rolexes, Hublots and Ferrari steering wheels. This is the PhD of the Instagram. You have made it. You have a camera and a way of telling the time.
Roses. More roses. Then, get more roses! You need to take A LOT of pictures holding roses. Bunches bigger than you could ever fit in a vase. Then make sure your uber rich man fills a room with them and pose in the middle looking bashful. Every girl needs 3000 roses. They're so practical. Now the world knows how rich bae is and how much he loves you. If he's rich enough to afford all these roses his face probably won't be photographed. He probably looks like your creepy step father.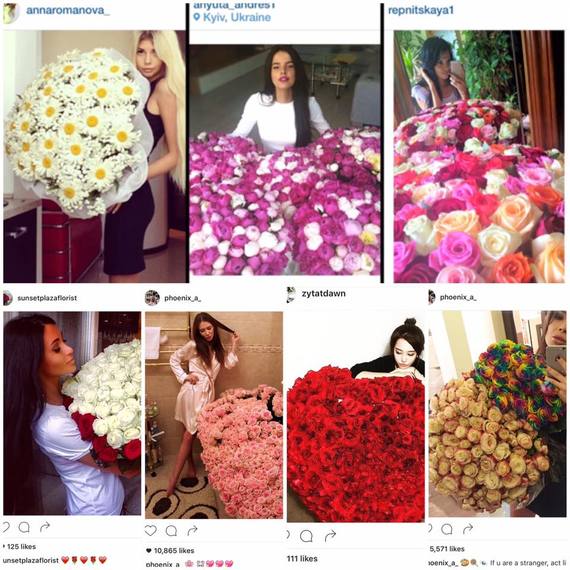 While there is a flock of sheep, a herd of cattle and a gaggle of geese, the collective word for female instagramers are a 'squad'. You must have an attractive squad in order to attract followers, food and men. Refer to it as 'fleeky'. This means desirable. Ask someone ugly to take pictures of you and fellow squaddlings doing things. Such as squatting in front of law enforcement. This is referred to as 'slaying'.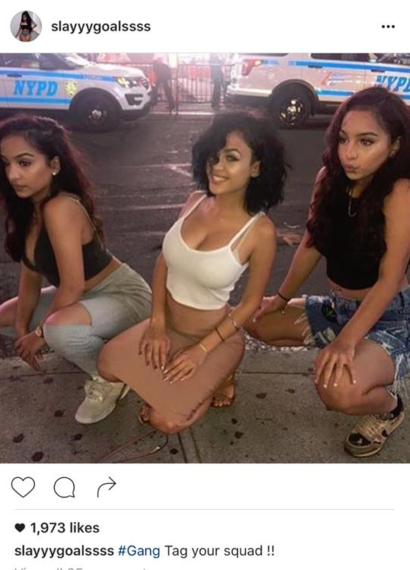 You have to incorporate Snapchat into your Instagram now, because every filter makes you look 100 times better than real life. While there's a significant amount of air brushing occurring with every one of them, you're still in denial. Plus it's more excuses for more selfies! Everyone obviously needs to see how good you look with a flower crown and rainbow sick. How will they get by otherwise? Choose a friend or family member who isn't as attractive as you and take an essential 10 second video of you both with dog ears while you shout 'stick your tongue out!' There's something beautifully poetic about designing an app for image conscious, Botox loving women, yet them having to raise their eyebrows to make it work.
Picture yourself in a gym occasionally. Being fit is trendy at the moment. But you don't actually want sweaty, ugly pictures like Adriana Lima. You just need people to think you train. Put on your mink lashes and get an ugly friend to come and take pictures of you breathing in. 
Once you have a small following you must get sponsorship deals with some kind of Skinny Tea and a Coffee Scrub. Then every other picture will become you trying to sound convincing like you're not being paid to promote this but all the while still showing off that you're big enough to have a 'deal'. 'Yum, I love this Skinny Bunny Tea, it makes my tummy completely flat and perfect. Don't forget to use code: BULL101 for 10% off.' You also want to seem more like a celebrity by thanking and tagging your hairdresser every time they do your hair. Maybe we should try doing this with other things to make you sound more of a big deal.
'I want to thank Sheila at Tesco for my amazing avocado, kitchen roll and frozen pizza. It was just what I needed. @SheilaAtTesco'.
Lastly, just remember, never be tempted to buy followers. If instagram ever does a cull of spam profiles again you'll be exposed. The amusement of seeing someone with 54k dwindle to 2k is something you won't recover from. The shame of seeing someone who has purchased their army but forgotten the likes or comments. It's expensive to look popular. We can't be seeing 100k followers and 24 likes with one comment from someone saying 'Nice'. It has to be legit popularity. From strangers. 
Hope this had been a useful guide on becoming an 'Instagram model'. It's a really useful skill to have on the resume and has a lot of purpose.
Remember Squad, slay it till we can't even!