This is a picture of my mother and brother protesting for clean streets, in the early 1970's in London; I've always loved the banner 'People Matter Most'. I think this gives a good impression of the activist family I was born into.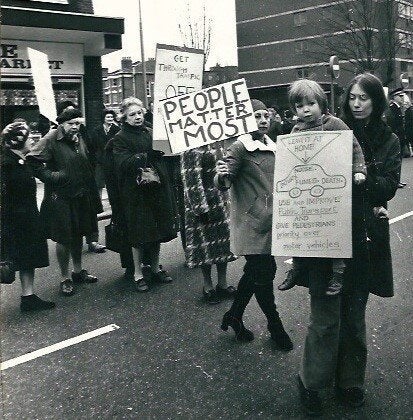 I am an artist, designer, innovator and entrepreneur motivated by the constructive, creative use of space technology for peaceful purposes in order to solve some of our most pressing 21st Century problems on the planet today. This is ultimately behind my most recent venture - The Thames Deckway mission.
I first trained as an sculptor at the St Martins School of Art, then I moved to the National College of Art and Design in Dublin as an exchange student before returning to London to complete my Masters at the Royal College of Art. I became interested in systems science and wrote my thesis on the relationship between mind and matter, inspired by a research trip to Arizona to visit the artist James Turrell. In 2005 I moved to the Netherlands where I worked at the European business incubator within ESTEC (the European Space Agency's research and engineering HQ). This gave me access to international environmental scientists, astronauts, astro physiscists, engineers and other experts - all of whom expanded my horizons and inspired me. In fact, I found that Astronauts understood the fragility of our planet earth and the human condition unlike anyone else I'd met before - they endorsed my early ambitions to create new educational narratives when communicating human space flight and tech solutions. This image shows some of the personal encouragement I received following an unexpected invitation ( 8 hours notice!) to present alongside the astronauts André Kuipers and Jean-Francois Clervoy (ESA/ISS) on 'Visions of Future Human Space Travel' in Brussels - noted support from Buzz Aldrin (Lunar Module Pilot on Apollo 11)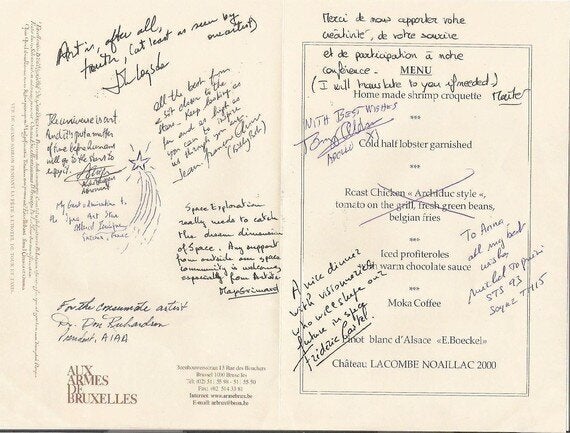 Following my time at the space agency, I returned to live in London where I met people that continue to inspire me such as Sarah Outen, a British athlete and adventurer, who I met through the Women for Technology network. I lived in Rotherhithe in close proximity to the river. During this time I began to identify the pressing need for London to deal with it's congestion and pollution issues using creative applications of space technology. Inspired by the under used potential of the Thames, I coordinated my work consulting with the space architect David Nixon who I met at the European Space Research and Technology Centre (ESTEC) in 2005. David later became the co-founder of River Cycleway Consortium Ltd.
I live alongside my loving partner Mark who shares my values and calls me 'an incurable optimist!' I lost all other members of my family prematurely; my brother, sister and mother in my twenties and my father more recently. Experiencing loss and overcoming grief has made me more resilient. I believe resilience is an important characteristic for the endurance of long-term ventures. These experiences have made me open to challenges motivating me to live my life to full capacity, i.e. to take (calculated) risks and be fully appreciative and compassionate of those around me.
My innovation is called the Thames Deckway; a unique high-impact civil engineering project for smart cities - providing safe, green transport infrastructure. The Thames Deckway will create an exciting cycling experience removed from London's dangerous roads that encourages people to cycle who would otherwise not; in doing so it encourages more cycling journeys and reduces stress on London's strained transport system. It will also generate renewable energy and may also be used in emergency flood relief scenarios.
The Thames Deckway was inspired by my time working within the space industry. Other influences were Leonardo da Vinci's water devices, waterways and cycle systems in the Netherlands, as well as a strong motivation to bring together creativity and engineering for social and environmental impact. On a personal level I am absolutely driven by a desire to make cycling safer and healthier.. I came from a family of cyclists, and the death of a childhood friend who fatally collided with a truck in London, along with my own near misses cycling in London and concerns about air quality and urban health have motivated me to taking a systems approach to designing green infrastructure projects.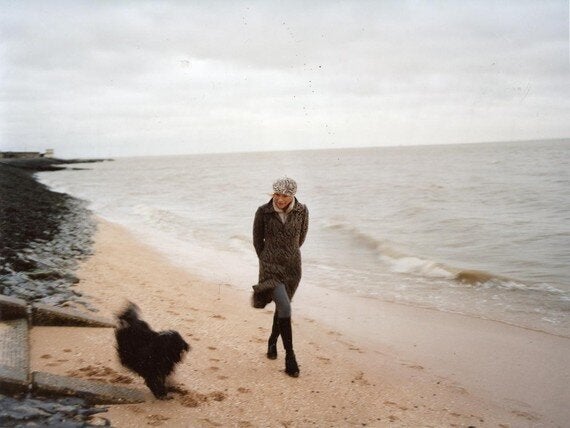 Having developed the blue-print designs for Thames Deckway, David Nixon and I brought together the consortium and worked on creating a brand. We then pitched to diverse stakeholders such as Transport for London, The Environment Agency, New London Architecture, City Hall, the Department for Transport and the London boroughs. The next step, which is something people don't necessarily talk about enough, is funding.
Innovate UK and the infocus awards were recommended by a former colleague who believed that I was working below the radar of recognition! The application process was simple - there was none of the long time-consuming and arduous paperwork that I'd experienced from other applications. I found the questions asked by Infocus regarding the entrepreneurial and innovation process to be a genuinely useful exercise. Also perspective from external bodies such as Innovate UK on your own business goals is incredibly useful and essential in creating a viable business model.
I met the former British Cycling Team coach recently, at Innovate in Manchester, and asked him for his training tips for success. His advice was to focus on small incremental goals and not the entire race. He also told me that racing cyclists tend to learn the most from analysing their racing failures. I think there's a lot of cross over between endurance sports psychology and being an entrepreneur - when you're in it for the long haul it takes self acceptance and 100 % dedication.
In addition to seeking out opportunities to gain support and funding - my top tips to other entrepreneurs and innovators are to:
●Be yourself & stick to your values.
●Trust your strengths, learn from your weaknesses.
River Cycleway Consortium Ltd are currently seeking an investment partner for their pilot in east London. To find out more please visit www.thamesdeckway.co.uk / http://www.linkedin.com/in/annahill
Anna has just been honoured as one of the 15 winners of Innovate UK's 2016 Women in Innovation awards, a series of awards dedicated to addressing the disproportionately low numbers of women entrepreneurs in the UK. Here, over a series of 15 posts we'll meet the inspiring innovators and entrepreneurs that Innovate UK is celebrating, each of whom will receive a tailored business support package, expert business mentor and £50,000 to help them reach their full potential.
Dr. Ruth McKernan CBE and Chief Executive of Innovate UK says: 'From fully autonomous drone software to affordable solar power technology and even a digital education portal which engages school children with the molecular world, the calibre of ideas is an eye-opening view into the talent and vision of the UK's female entrepreneurs. It is very clear that harnessing the talent of women entrepreneurs could significantly enhance UK economic growth. I am delighted that we are taking action; supporting and funding female entrepreneurs to help them succeed and inspire other women to come forward, apply for funding and turn their ideas into successful business.'
If you have an innovation or business idea and are looking for support then visit www.innovateuk.gov.uk for further information - go for it!
You can follow Innovate UK on Twitter at @innovateuk or subscribe to their YouTube channel at www.youtube.com/InnovateUK.
Related