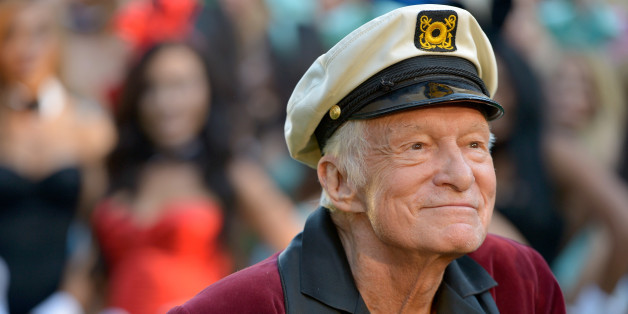 Charley Gallay via Getty Images
Hugh Hefner, the American businessman behind Playboy magazine, has died of natural causes aged 91. He founded the men's magazine in 1953, with the image of the Playboy Bunny becoming a cultural symbol that has seen global recognition and success. Many have since lauded Hefner as the leader of the sexual revolution.
At the beginning of Playboy magazine's success in 1953, Hefner described the aim of the magazine as follows:
"We want to make it clear from the very start, we aren't a family magazine. If you're someone's sister, wife or mother-in-law and picked us up by mistake, please pass us along to the man in your life"
Today, however, the Playboy brand has become infiltrated into family life, namely through girls being encouraged to buy into the brand. From Playboy bunny symbols emblazoned on the back of women's cars, to Playboy bed sheets, to Playboy tattoos, to Playboy pencil cases; this so-called 'sexual revolution' is being encouraged not only through women but through children also.
When listening to LBC Radio yesterday morning, I heard an ex-glamour model being interviewed regarding her time modelling in Playboy and her experience of meeting Hefner. Although the radio presenter probed her and asked whether she felt she had been exploited in any way, her reply was that "Hefner was a lovely, gentlemanly man" and that "glamour models are the strongest women you will ever meet". And there was me thinking that female politicians, females in the military, female medical workers and female philanthropists would be more likely to tick the box of 'strong women'. Apparently not.
The presenter accepted this statement and so the announcement of Hefner's death wailed on as if we were mourning the loss of a national icon.
Is the Playboy brand iconic? Arguably yes, but is this for reasons worth celebrating? Should young girls who heard that glamour model speak on the radio this morning take forward what she said as empowering, or should the radio presenter have intervened and probed the glamour model further for making such a senseless statement?
It's worth noting that this glamour model also said that the money she had earned had allowed her to buy a house. She then proceeded to say how hard it is for people to get on the housing ladder and that glamour modelling had given her a way to do this.
Again, the radio presenter Nick Ferrari, accepted this and moved on to the next topic of the day. However, when a later caller phoned in about an entirely separate issue and ended up saying a very soft swear word in the heat of his argument, Ferrari apologised to 'any children who might have been listening'. Apparently a soft swear word is considered more detrimental to them than hearing a woman say that glamour models are the strongest women they will ever meet and that pursuing such an 'occupation' will get them on the housing ladder.
So why do I disagree with women who claim that Hefner's sexual revolution empowered them? My counter-argument is simple: Hugh Hefner did not lead a sexual revolution for the obvious reason that women were never sexually liberated.
Of course, we cannot deny what the glamour models may or may not have felt. If, like the woman on the radio, many of them argue that they did feel liberated and had the time of their life posing topless, then I'm very happy (and somewhat relieved) for them.
But what about women as consumers of sex? What about women as sexual subjects as opposed to sexual objects?
The women in Playboy were never being satisfied, they were constantly doing the satisfying. If that's a sexual revolution - where one gender gets pleasured and the other doesn't - then we are living in rather sexually depressing times.
And with children increasingly being brought into sexualised culture, we have to ask ourselves what the Playboy brand is teaching our young girls. For example, the selling of Playboy fragrances and pencil cases down the children's aisle sends out a cultural message that we our raising our young girls to pleasure the opposite sex. Such a message, subliminal though it may be, trains them into denying themselves any sexual entitlement of their own.
The symbol of Playboy and other cultures that have flourished within it, (such as the lads' mag era), leave behind a 'legacy' of sexual oppression where women's bodies have been pushed and pulled in every direction, cut and rebuilt, photoshopped and airbrushed, and fashioned to consistently serve the purpose of a male gaze.
The thought of this having been the other way around, with men's naked bodies being plastered over reams of pages and young boys being trained to be sexually submissive to women, is laughable. And that's just what this claim of sexual revolution is - laughable.
The sexual revolution is yet to fully happen. Of course, progress has been made but it's easy to forget amid our glossy Instagram culture that women and girls have been done a great disservice by Hefner and the tainted legacy he has left behind.