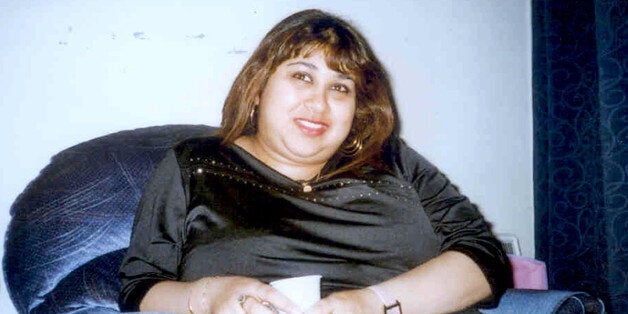 At the end of June in 2009 I'd just come in from a night out and the phone rang - it was my mum, in a dreadful panic. She was watching Crimewatch which was featuring the case of Michelle Samaraweera, a woman who had been raped and murdered by a man at a children's playground a few minutes down the road from where I live. The same suspect had also, the Detective on the programme said, raped two other women in the immediate area in the last three months and ''could strike at any time'' (his words). Had I known about it? asked my mum. Well, no I hadn't. And after panicking a bit I began to wonder why I hadn't known - I rang a few local friends: some had seen it in the local paper, some hadn't, but all were worried. I contacted the local police team to find out what was happening - I knew there were lots of women like me who had been walking home from the tube at night, oblivious to any risk. The police told me that there were lots of undercover police in the area as they were trying to catch the perpetrator. I sort of got that, but where were the uniformed police providing a reassuring presence? How were the police going to tell women what was going on so that we could make informed choices about how we travelled about the area and how we got home late at night? And why on every street corner in Walthamstow were there police signs telling you to watch out for your mobile phone getting stolen but nothing about a serial rapist attacking women on the streets? I felt angry, powerless and wanted to do something in response to what was going on.
I contacted my friend Kate and between us we cobbled together a 'Reclaim the Streets' march that took place a few days later which, in 2009 before the explosion of social media, consisted of a few posters put on trees, a banner held up as 40 or so of us walked down Walthamstow market, and a sombre vigil next to the playground where Michelle's body was found. Michelle's family also came which was amazing of them, their grief was palpable and incredibly upsetting to witness.
I don't know whether it was because Michelle was the same age as me when she was murdered, or whether it was the horrific circumstances of her death in a playground I frequently use with my kids, or the proximity to my house, but her death has stayed with me and I think about her all the time. Every few months after her murder I contacted the local police, (who are not directly involved in the investigation) asking for updates on the case, whether anyone had been charged or arrested. Very little came back from the police until recently, the feedback was that aspects of the case were too sensitive to share information about publicly.
The children's playground where Michelle was murdered has been done up over the last few months, with brand new play equipment and seating areas installed, and is as busy as ever. The bench that was put there as a memorial to Michelle at the request of her family is still there. Lots of people who have moved to the area in recent years are probably not even aware of the events of 2009. But enough of us do remember. We won't rest until the man UK police have charged with the assault and rape of three women and the rape and murder of Michelle Samaraweera is extradited from India, and brought back to the UK to face justice. Now some fresh momentum has been built up around Michelle's case I hope beyond anything that this happens this year - nothing can justify why no one is yet behind bars for these horrific crimes.